Traveling with kids is a balancing act. It's hard to keep kids engaged if you're only focused on checking of a list of must-see destinations. We've learned through experience that for our boys to really enjoy a trip it's important to plan activities just for them. For our trip to Cuba we created this fun list of things to do in Havana with Kids. It was a winner!
1. Classic Car Tour with Photoshoot
Taking a ride in one of the Havana's iconic classic cars is a must-do. It's a no-brainer on the list of things to do in Havana with kids. And what better way to memorialize this uniquely Cuban experience that with great pictures. Havana Convertible Tour & Photo Session provides a 3-hour guided tour of Havana with professional photos at the city's most famous locations. It's the perfect way to learn some of the city's rich history, and create an awesome souvenir portfolio.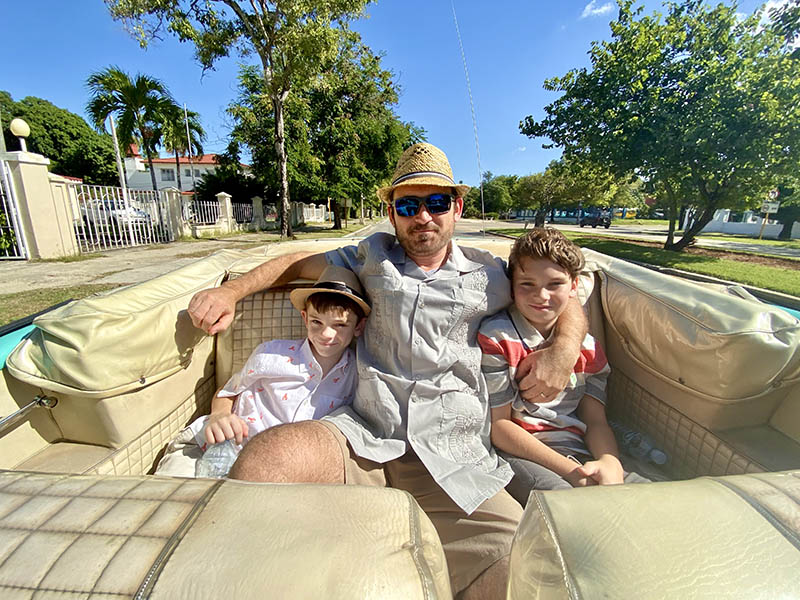 2. Fishing on the Malecón
The Malecón stretches five miles along the north side of Havana from Old Town to Vedado. This famous waterfront avenue attracts more locals and tourists that any other section of the city. At sunset families and fishermen alike make their way to this vibrant promenade. Fishing, Malecon and Sunset offers two hours of fishing with local guides. It includes instruction, equipment and refreshments. They do an excellent job of keeping bait on hooks and lines in the water. Our boys caught several small fish, and were beyond excited.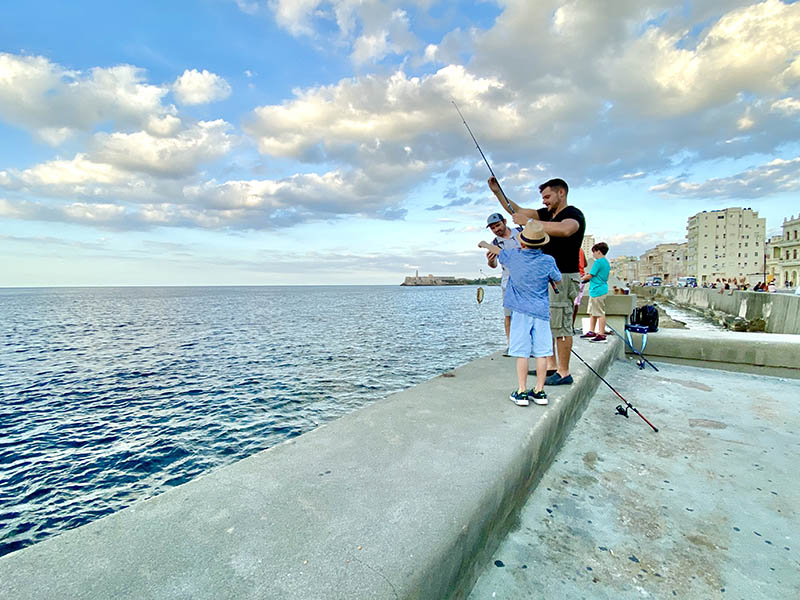 3. Bike Through an Enchanted Forest
Unbeknownst to most tourists the Almendares River winds right through the heart of Havana. And nestled along its green banks are the long forgotten La Tropical Gardens. The river was the life blood of production for some of Havana's largest industries, including La Tropical Cerveceria. The brewery relied on the river for its production process. The surrounding gardens were a popular strolling ground for Havana residents. Many would purchase beer and walk along the river.
Today the industries have moved outside of the city and the gardens are mostly abandoned. The expansive green space has defaulted into a defacto city park. Citykleta offers an Enchanted Forest Tour through this unique urban jungle. Along the way you learn of its romantic history and unexpected locations.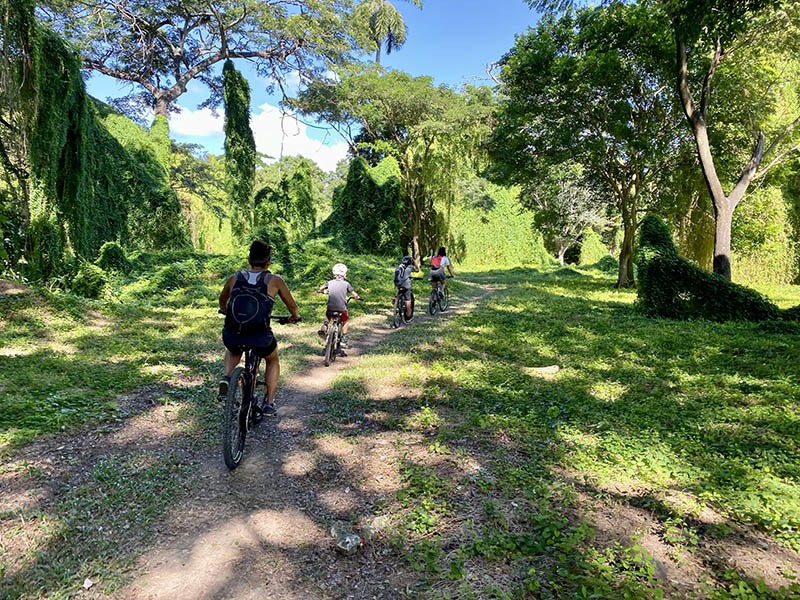 4. Take a Boxing Lesson
Rafael Trejo Gym is one of Cuba's oldest and most famous boxing gyms. It's about raw as boxing gets. Sandwiched between weathered apartment buildings in Old Havana, this modest gym is the worse for wear. Make no mistake. The training here is world class. The gym is renown among Cubans. And it now offers tourists the opportunity to train with their elite coaches. Taking a boxing lesson might seem unusual on a list things to do in Havana with kids. It shouldn't. Cubans have dominated the international amateur boxing circuit for decades. If you have hopes of becoming a boxer in Cuba, training starts young. These coaches are experienced with coaching kids and they make the lesson fun. You can find Rafael Trejo Gym on Facebook or you can email Cuban Boxing Coach to schedule. To read more check out: Boxing Lessons at Rafael Trejo Gimnasio in Havana.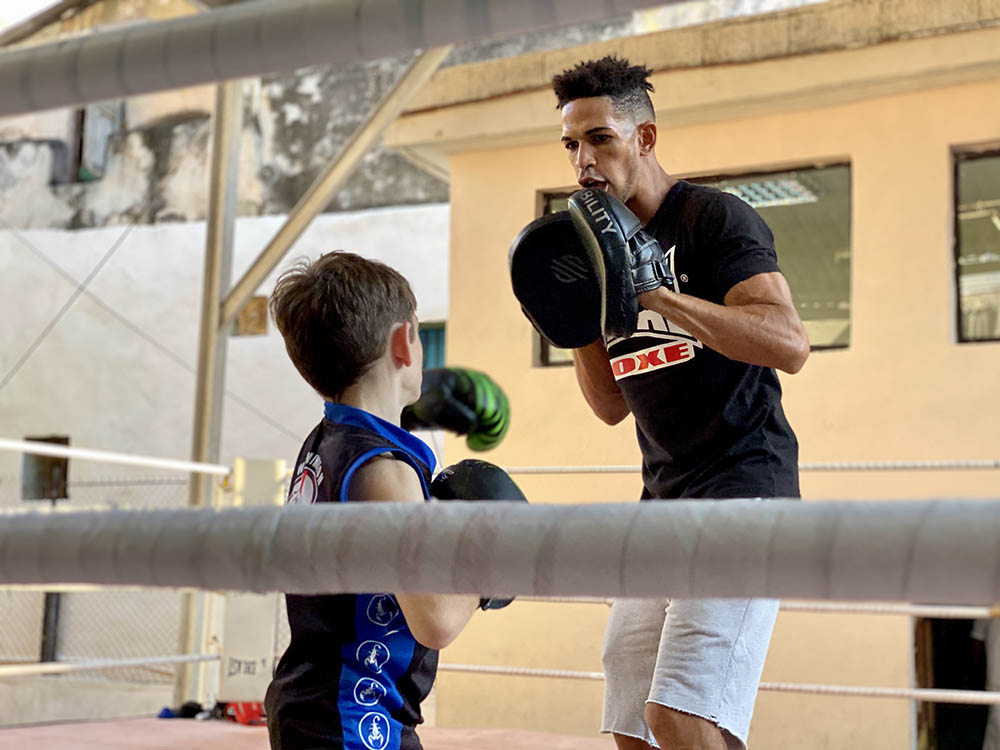 5. Eat 'Cuban' Churros
Walking through Old Havana you can smell the sweet aroma of them frying. Churros. Fried dough deliciousness! If you've never indulged yourself with a churro. Havana is the place to do it. Churros aren't unique to Cuba. These traditional Spanish pastries are relatively common in the United States. There's just something special about eating one while roaming the narrow streets of Old Havana.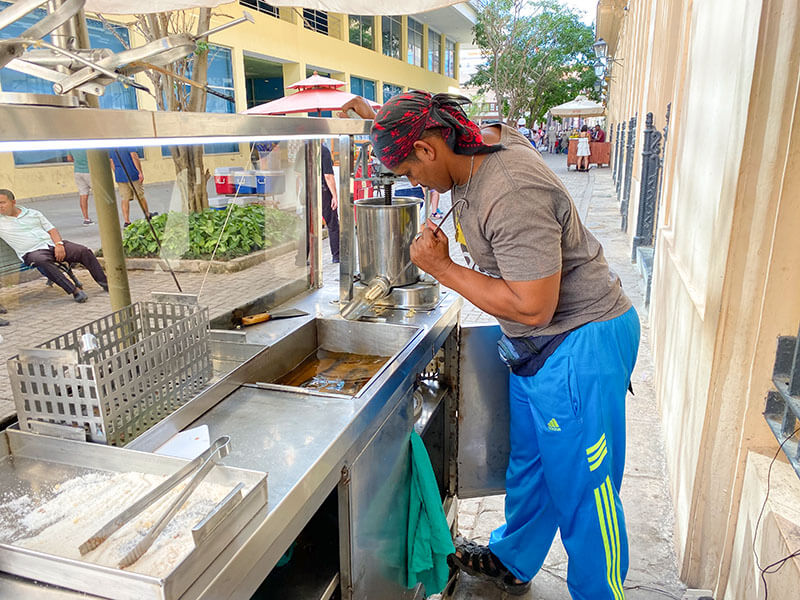 6. Spend a Day by the Pool
Many of Havana's larger hotels sell day passes to their amenities. Most visitors to Havana don't realize this. This means you don't have to stay at the hotel to spend a day by the pool. Our AirBnB apartment was directly across the street from Habana Libre Hotel. The hotel sells adult passes for 25 CUC. They include 20 CUC of food and drinks (even alcohol). Kids passes (under 12 years) are 12.50 CUC. And include 10 CUC of food and drinks. It's a great deal for a day by the pool, or few hours of down time.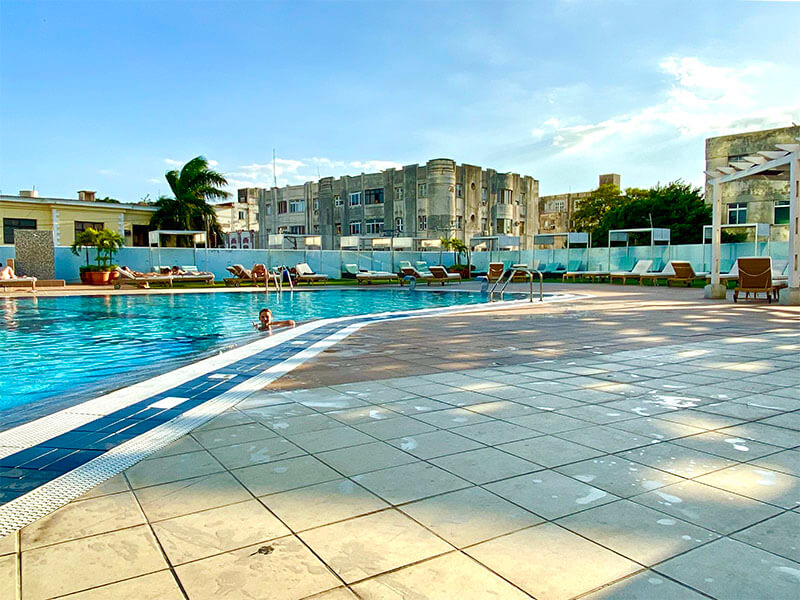 7. Go Horseback Riding on a Farm
Viñales is a fertile valley in the Pinar del Río province about 2.5 hours west of Havana. Its one of Cuba's largest agricultural regions. It's dramatic landscape is punctuated with tobacco farms and mountainous limestone formations called mogotes. Viñales Premium Horses, Farm, Cave & More offers a fantastic full-day excursion from Havana. It includes round-trip transportation in a classic car, a visit to Arado tobacco farm with a short horseback ride, "The Cueva del Indio" Indian Cave, lunch at family-owned farm-to-table restaurant, and a stop at the Mural De La Prehistoria. It's a fabulous day of exploring all the best Vinales has to offer. For more about this experience read Viñales Valley Day Trip: Cigars, Horses & History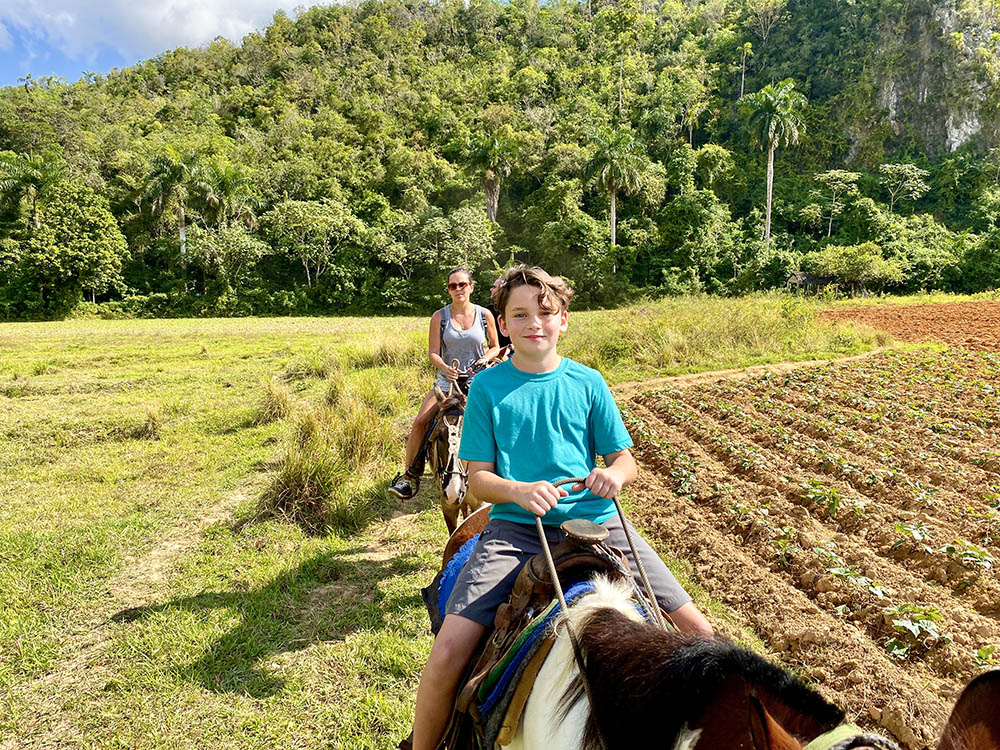 8. Checkout the Cámara Obscura
Rounding out our list of things to do in Havana with kids is a visit to the Cámara Obscura. Located in Plaza Vieja on the top floor of the Edificio Gómez Vila (the plaza's tallest building) the Cámara Oscura provides a 360-degree panoramic view of Old Havana in real time. The Cámara Obscura was invited by Leonardo da Vinci. Only 74 cameras remain in use worldwide. Havana has the only one in Latin America and the Caribbean. A peephole camera projects a 30X magnification onto a large screen in a small darkened room. An attendant points out various buildings and landmarks across the city and gives a short history of each. The presentation lasts about 15-minutes and provides an eye-in-the-sky perspective of the city and unassuming passersby.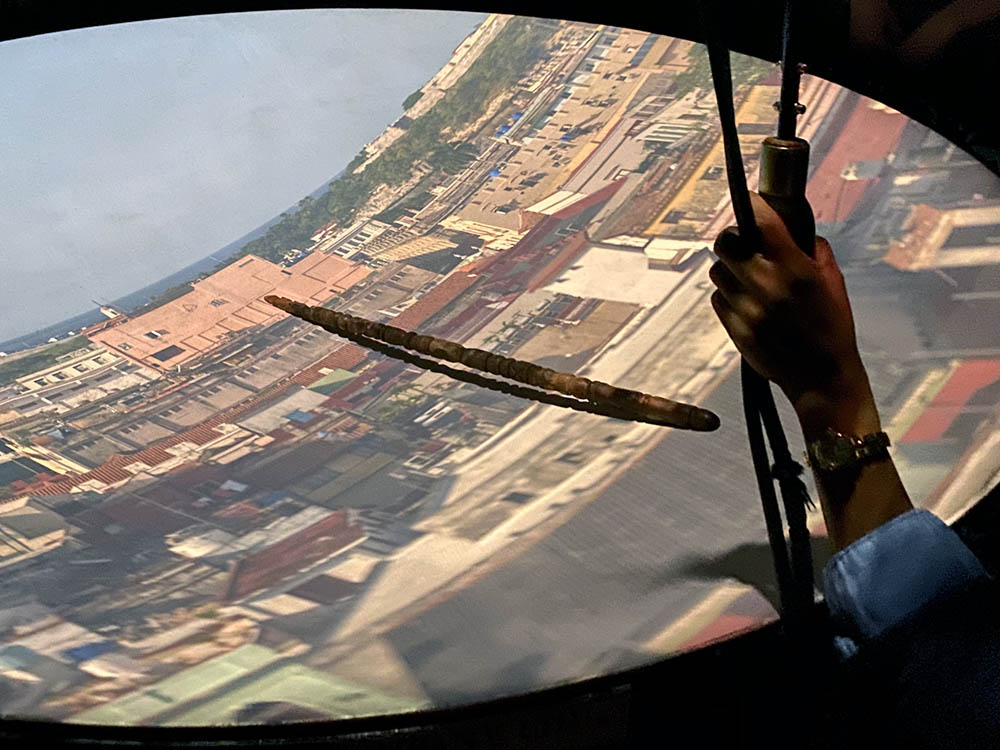 You might like these related posts:
Boxing Lessons at Rafael Trejo Gym in Havana, Cuba
Viñales Valley Day Trip: Cigars, Horses & History
Should You Travel to Cuba?
Things to Know Before Traveling to Cuba from the United States
AirBnB in Havana Cuba, Convenient to Everything