Rafael Trejo Gym
Rafael Trejo Gym is about as unassuming as a world-class boxing gym can get. Tucked away in the shadows of crumbling apartment buildings, on Calle De Cuba in Old Havana, this humble training facility is easy to miss if you aren't looking for it. Named after a Cuban law student who was killed while leading protests against the Machado presidency in the 1930s, Rafael Trejo Gym is a training ground for some of Cuba's elite athletes and champions-to-be. Men, woman and children alike train hard under the direction of head coach Nardo Mestre Flores; a five time Cuban National Champion and Olympic competitor.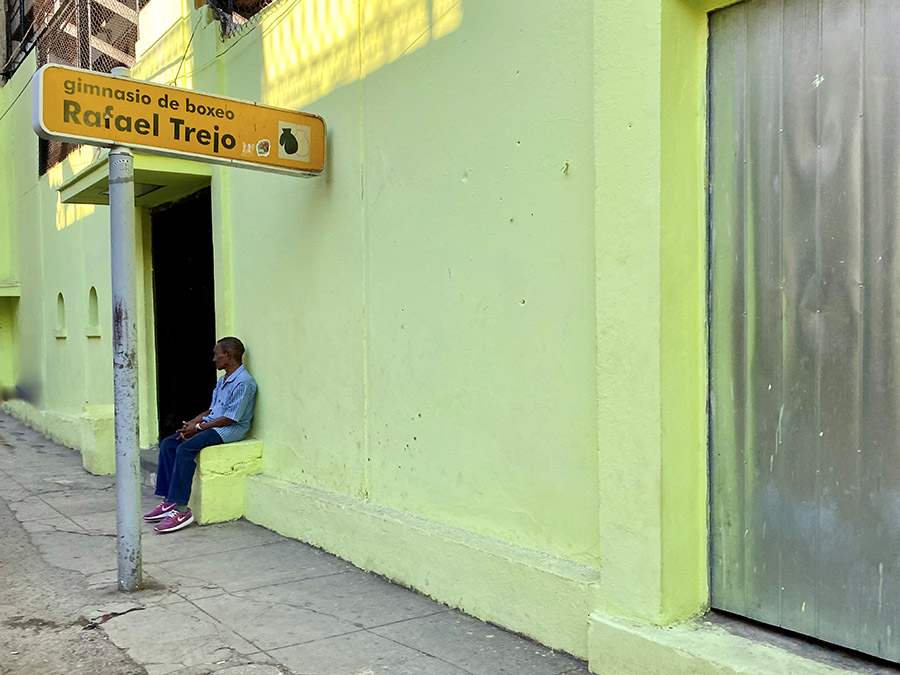 While researching things to do in Cuba one of the guidebooks mentioned taking boxing lessons at this renown, albeit modest, boxing facility in Old Havana. Because our sons train in Muay Thai Kickboxing the suggestion immediately piqued my interest.
A quick google search led me to a photography blog featuring photos of a training session taken inside the gym. I was hooked. The sheer rawness of the space and equipment convinced me this world be an eye-opening and unforgettable experience for our boys. By cross-referencing the gym on social media I was able to find contact information for "Boxing Training Havana, Cuba" and reached out for details.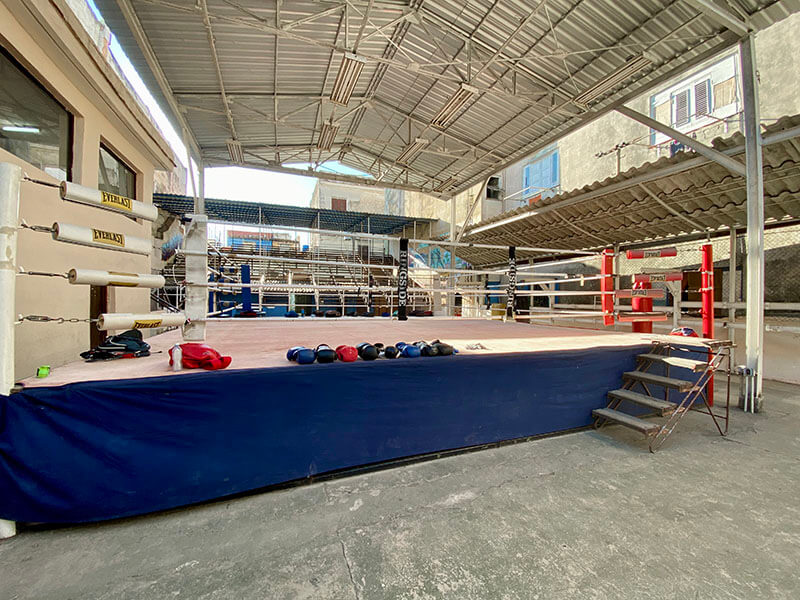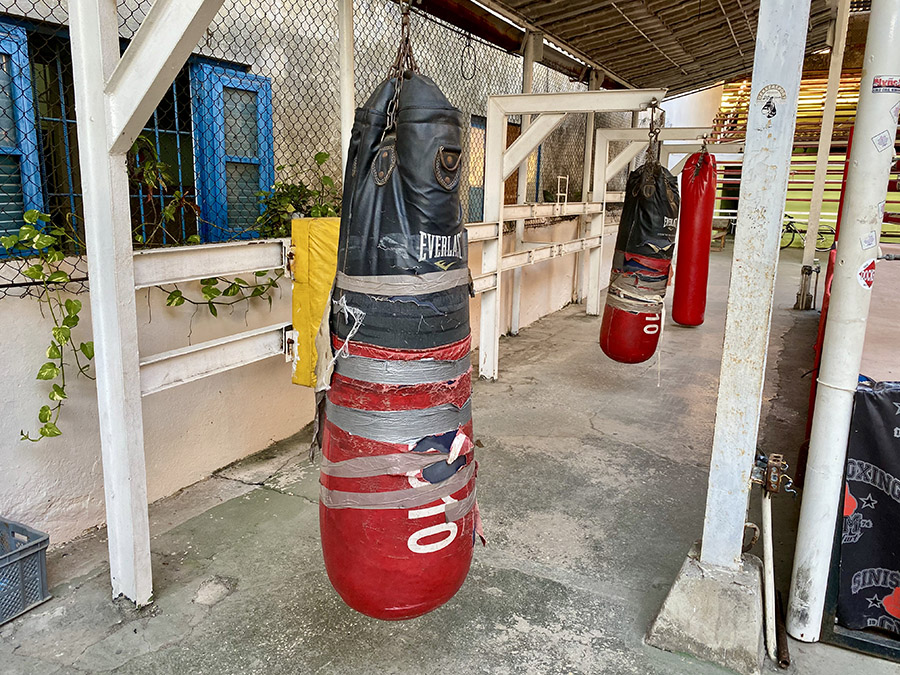 Boxing Training Havana, Cuba is part of the Rasel Hechavarria Company, which coordinates trainings at Rafael Trejo Gym. Communicating with them via email, I scheduled a private lesson for the boys inside the gym (This was a special request. Most trainings for non-nationals take place at the beach or a nearby park at the direction of the Cuban government.) I got the option to schedule a time coinciding with the regularly scheduled boys training, and that seemed like perfect timing! To be honest, I was just as excited to watch the regular boxing lessons at Rafael Trejo Gym as I was to watch my own boys.
Cubans have dominated the international amateur boxing circuit for decades. Between 1968-2000 Cuban boxers (many with links to Rafael Trejo Gym) won more Olympic medals than any other country in the world! I had no doubt the regular training would be impressive to watch.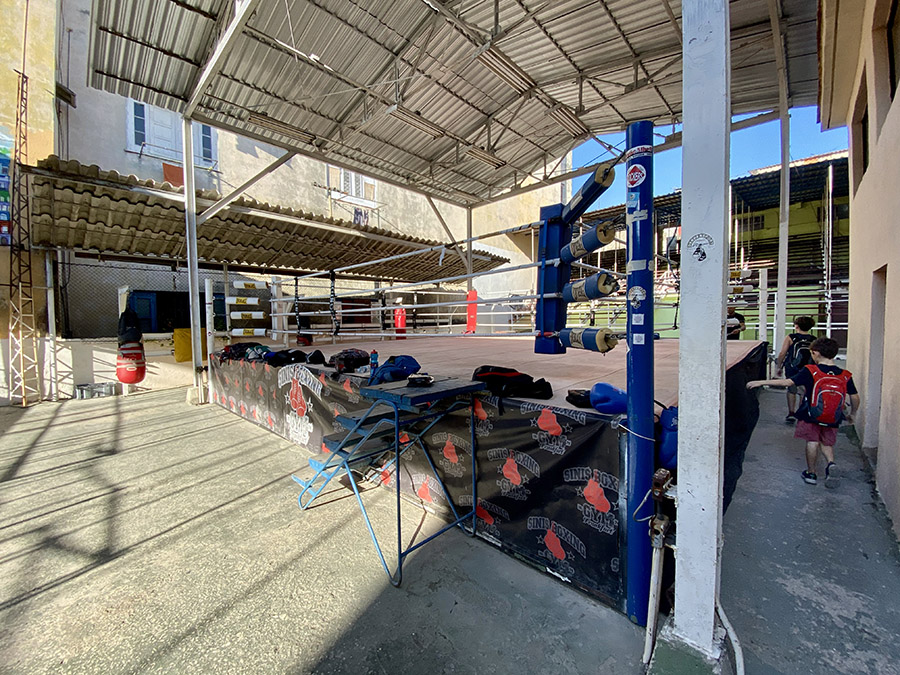 Boxer's Stance
We arrived at the gym at 4pm, Eduardo promptly greeted us and got right down to business. The boys went to change into their uniforms and I took a few minutes to show Eduardo some videos of the boys training back home. I wanted him understood they have some boxing experience. He watched with understanding. He knew could see his first objective was going to be repositioning their fighting stance from Muay Thai to traditional Boxing.
This proved to be difficult. Muscle memory is a real thing. Their Muay Thai coach would be proud. But, Eduardo was faced with the challenge of constantly re-adjusting their position.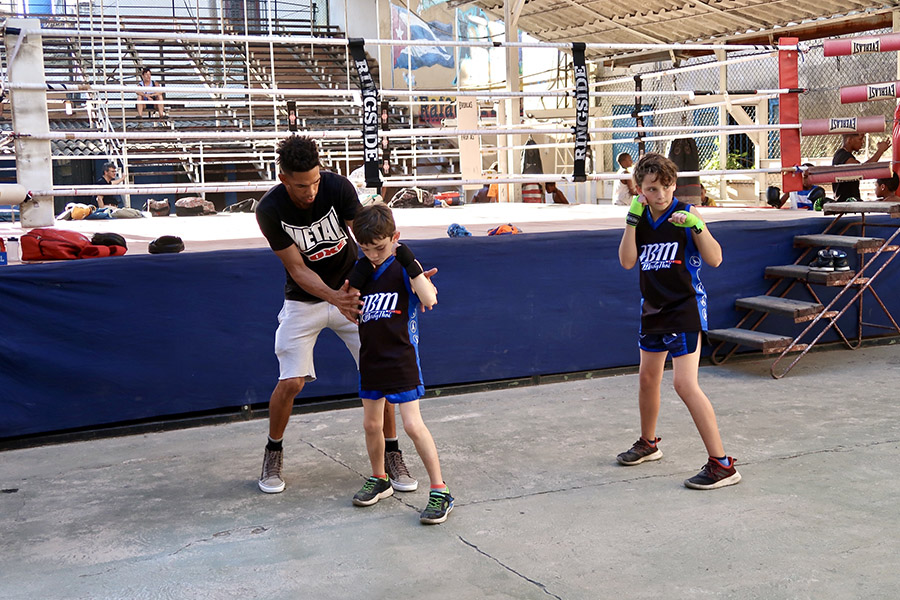 After drilling some fundamentals and footwork, Eduardo got the boys into boxing gloves for some pad work. Eduardo spoke fluent English, but his accent was pretty thick. I understood his instructions, but I could tell the boys were struggling. Fortunately pad work is nothing new to them. Just follow the pads. A skill they've drilled for hours with their own coaches. There's a reason they call them focus mitts. You don't need instructions, just keep your eyes on the mitts.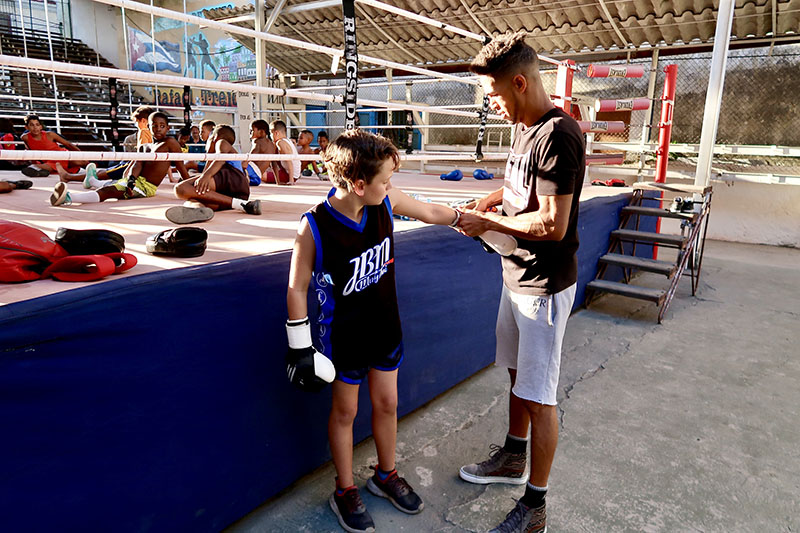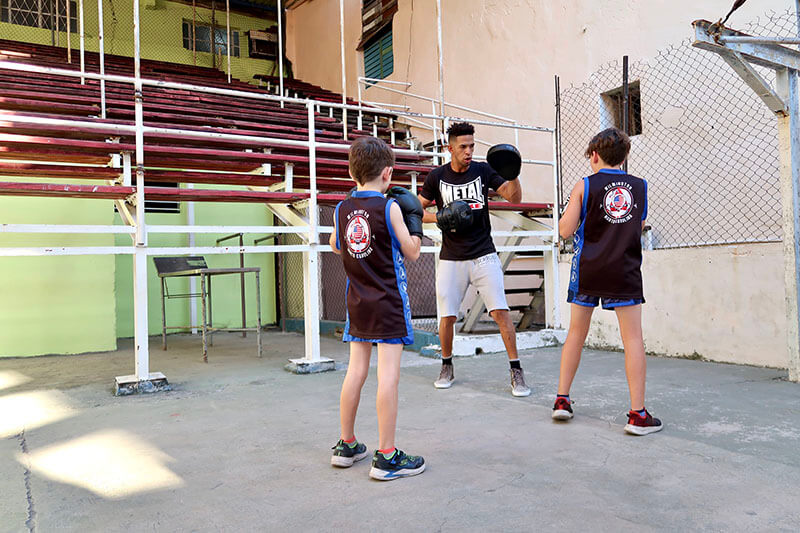 Cuba's Young Champions-to-Be
While the boys were working with Eduardo at the back of the gym, the regularly scheduled boys training was ramping up. The boxing ring was a flurry of sparring matches. I couldn't resist getting ring-side to watch. These boys had astonishing skill for their age. They came to fight. They were competitors to the core.
Their movement around the ring was intentional. Every footstep measured. Every attack calculated. They played thinly-veiled games of cat and mouse attempting to bait their opponent into a trap. Dropping their guards and dancing around a little too long in hope that the other one would make the mistake of stepping into their reach.
There was no backing down; no slacking off. They were at work. Their commitment was obvious, and their passion for the sport was contagious. Had their training continued past our time scheduled time with Eduardo, we would have definitely stuck around to watch.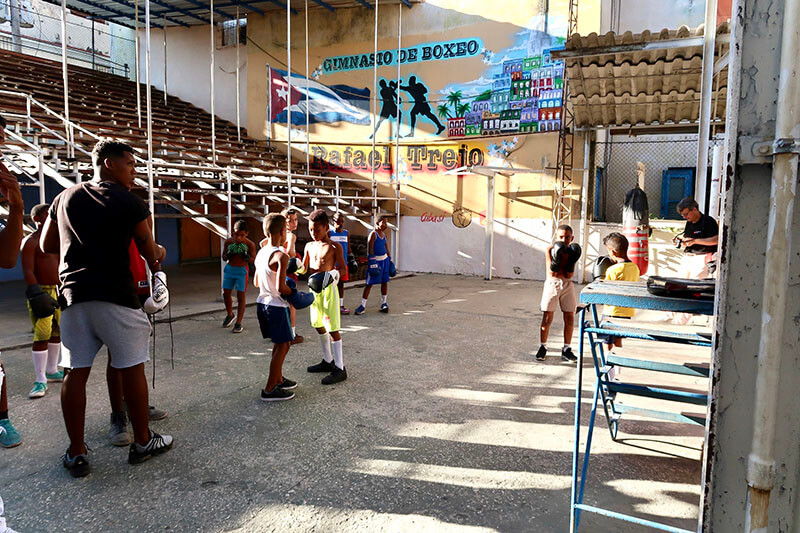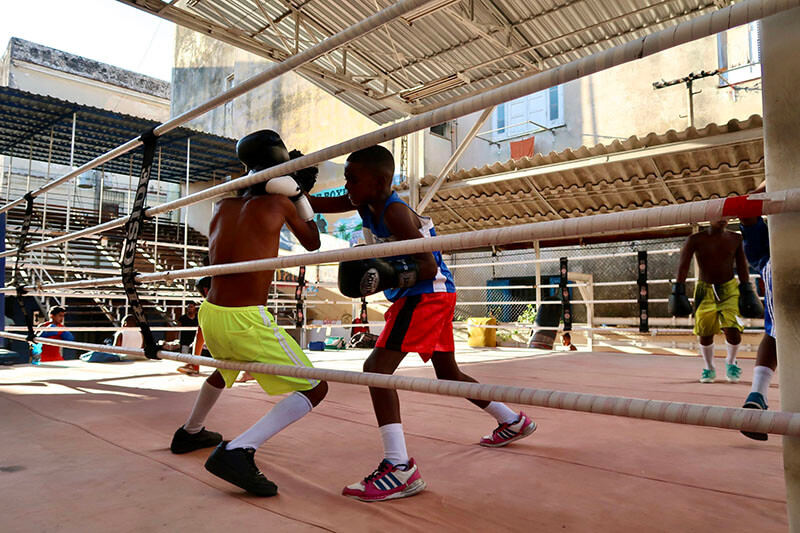 I'm grateful I brought my little Cannon G7X camera. These boys moved fast! My iPhone couldn't keep up. Feet and fists were all a blur. I needed more control over my shutter speed. I'm no photographer. But it worked.
You'll notice in some of the pictures there are other people taking pictures in the background. A photography tour came through while we were there. It could have been the same tour in the blog post that lead me to the gym in the first place. That would be ironic. Either way, a small swarm of cameras flitted around ring for nearly half an hour. I couldn't help thinking it must be confidence building for these young athletes to have travelers from around the world coming through their gym, taking their pictures and documenting their hard work
Center Ring at Rafael Trejo Gym
The regular training class ended, and Eduardo moved our boys into the ring. It was time to put everything together. He continued working with the focus mitts, increasing the speed and complexity of the combinations. This was the most exciting part of the session. We weren't alone in our excitement. They boys captured the attention of a few locals in the gym. Including some of the boys that had just finished training. I won't lie it was kinda cool. I follow Boxing Training Havana, Cuba on social media and haven't seen any other non-national/tourist kids training. Having our uniformed boys there must have sparked their curiosity.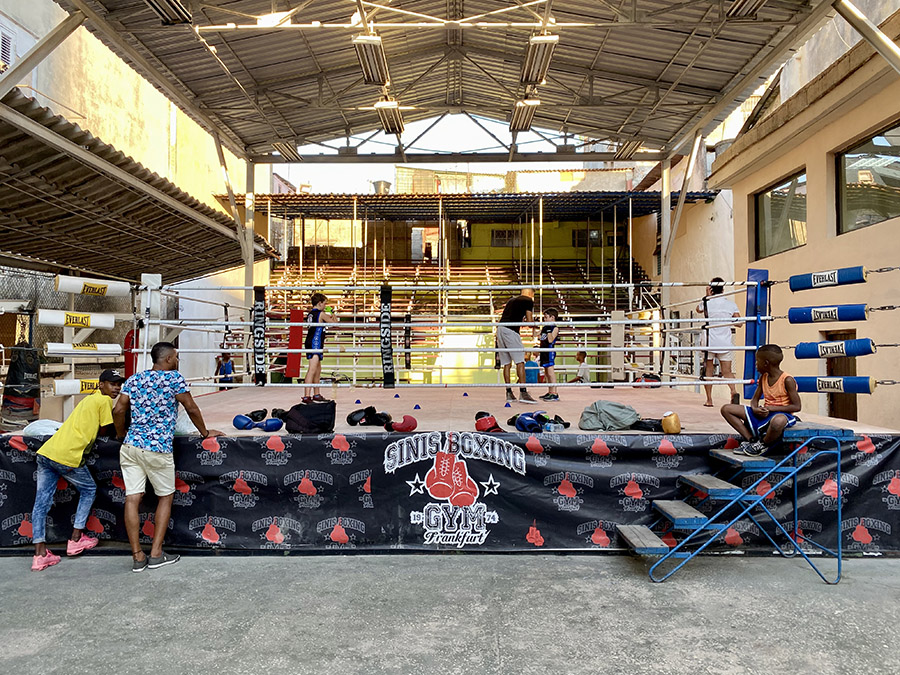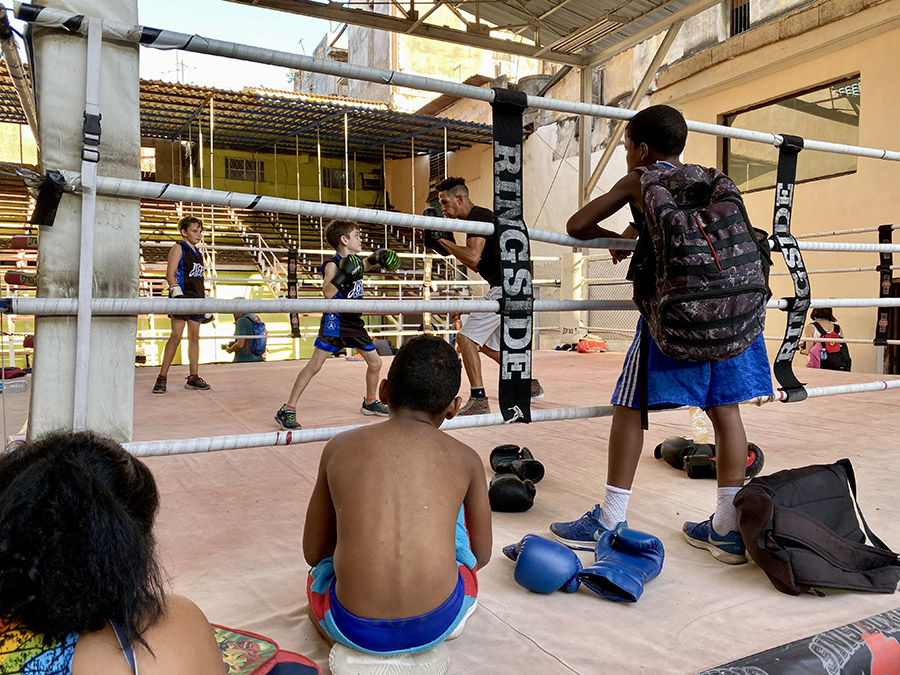 Boxing Lessons at Rafael Trejo Gym may not be an activity most people consider for a vacation in Havana. But, our experience at Rafael Trejo Gym is one we'll never forget. It's definitely one of the highlights of our trip to Havana. We encourage you to find Boxing Training Havana, Cuba on Facebook and follow their training. And if you're planning a trip to Havana, definitely look them up! You won't find a more authentic Cuban experience.
You might also like these related posts:
8 Awesome Things to do in Havana, Cuba with Kids
Things to Know Before Traveling to Cuba from the United States
AirBnB in Havana Cuba, Convenient to Everything
Should You Travel to Cuba?
Viñales Valley Day Trip: Cigars, Horses & History