Authentic Greece
The village of Oia usually gets all the travel hype. The tiny cliff-side town on the northwest tip of Santorini is world-renown for its sunset views. But depending on the type of experience you're looking for it's not necessarily the top destination on the island. If your goal is snapping a few of those iconic photos of cluttered cave houses backdropped by the caldera, then Oia is your spot (just be sure to consider your timing before deciding if its worth the trip). But, if visiting an authentic greek island village is what you're aiming for, then bypass Oia and head to Pyrgos. Located south of Oia in the center of the island, less than a 10-minute drive from Fira, Pyrgos is Santorini's hidden gem.
Pyrgos is a quintessential greek village. And unlike Oia it draws handfuls of tourists compared to hundreds. That's not to say it doesn't have all the same (if not more) Cycladic charm of Oia. Blue doors and domed churches, bell towers, cobblestone alleys and whitewashed houses; Pyrgos has it all – minus the crowds.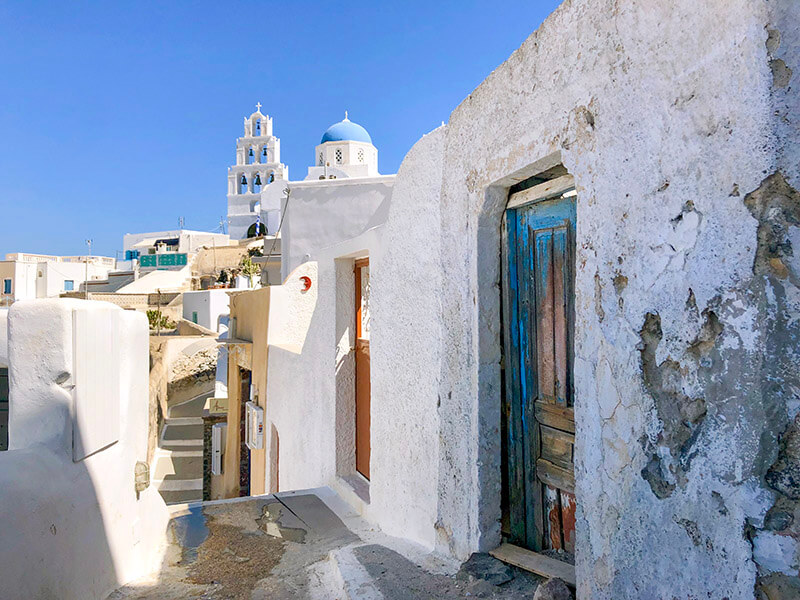 Fortress Settlement
Perched in the foothills of Mt Profitis Ilias, Pyrgos is the highest settlement on Santorini. Set back from the dramatic cliffs of the caldera the tiny village affords outstanding panoramic views of the island. Strategically built as a fortress settlement its location offers a unique arial perspective of the island and the surrounding expanse of the Aegean Sea. Some sources claim that Pyrgos was once the capital of Santorini, but the legitimacy of these claims seems up for debate.
What's not up for debate is the recognition of Pyrgos as Santorini's best-preserved village. Unlike Oia and Fira, which are annually swamped with sunset spotters and hordes of cruise-ship passengers, Pyrgos remains relatively unknown. Much to the delight of its 700 residents who work diligently to maintain the community's quaint and relaxed atmosphere.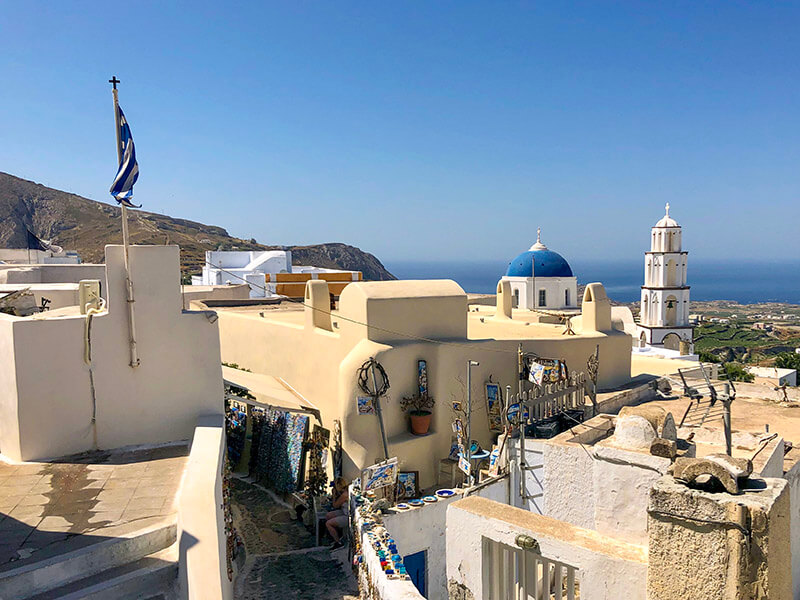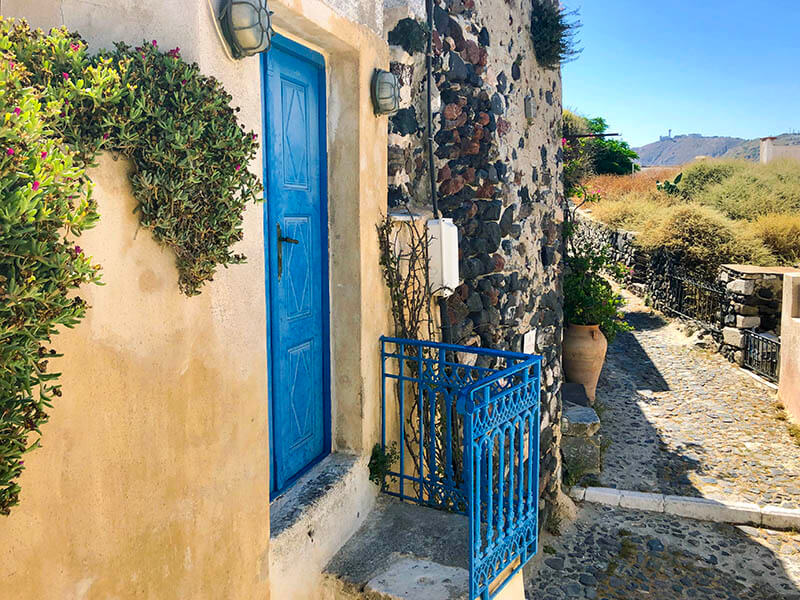 Walking any route uphill from the main square eventually leads to what remains of Kasteli castle. Built around 1580, it's one of five Venetian castles that once adored the island. Despite suffering severe damage in the 1956 earthquake, the castle walls remain intact. Though little differentiates the tightly built houses on the inside from those on the outside. The only clear distinction is the castle door. Originally built with only one way in or out of the fortress "the door" has a notorious history. The passage was initially designed with a hidden space above it from where inhabitants would pour boiling oil on would-be intruders.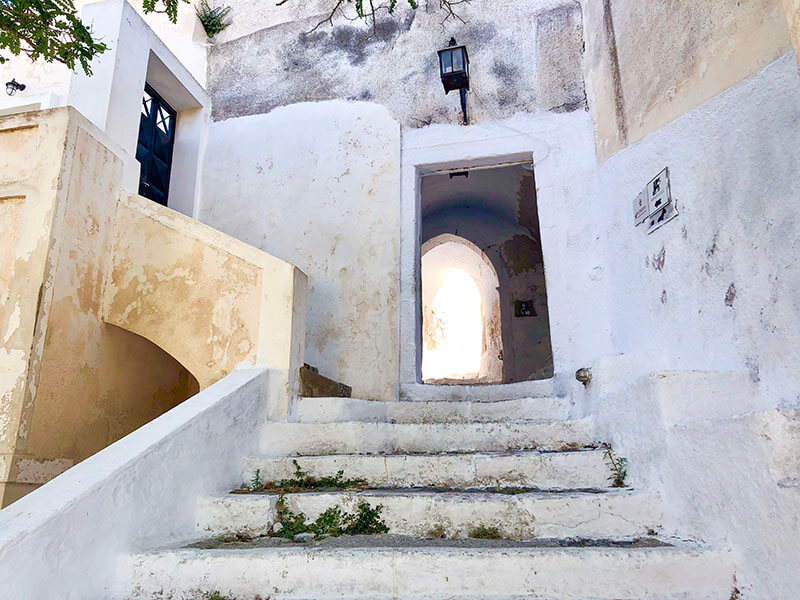 A Labyrinth of Alleys
Pyrgos is a labyrinth of narrow alleyways and traditional architecture. Small passages and walkways wind whimsically up the hillside at every imaginable angle of assent. Modest cave houses mix with colorful craft shops and art galleries providing an air of the unexpected. You never quite know what will be around the next bend in the wall. Sometimes an elaborate display of handmade jewelry and ceramics; sometimes a resident tending their flowers; and sometimes a friendly donkey waiting patiently for its next passenger. The walk through Pyrgos is full of delightful surprises.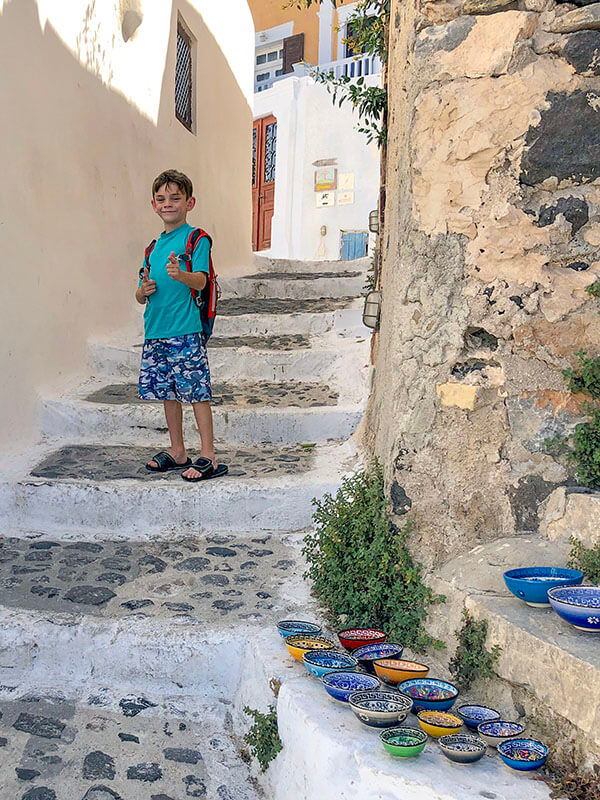 Uniquely Greek
Blue doors and cobalt cupolas are uniquely Greek architectural accents. Photos of them garnish the covers of tourist books and postcards alike as symbols of greek culture. If you're hoping to take a few of those photos for yourself, Pyrgos will not disappoint. The opportunity for capturing distinctively greek photography is everywhere. Blue doors of all shapes and hue embellish the village's seemingly endless maze of whitewashed walls. Pyrgos also boasts a small collection of the island's iconic, blue-domed churches. All unique in design and complimented with beautiful bell towers.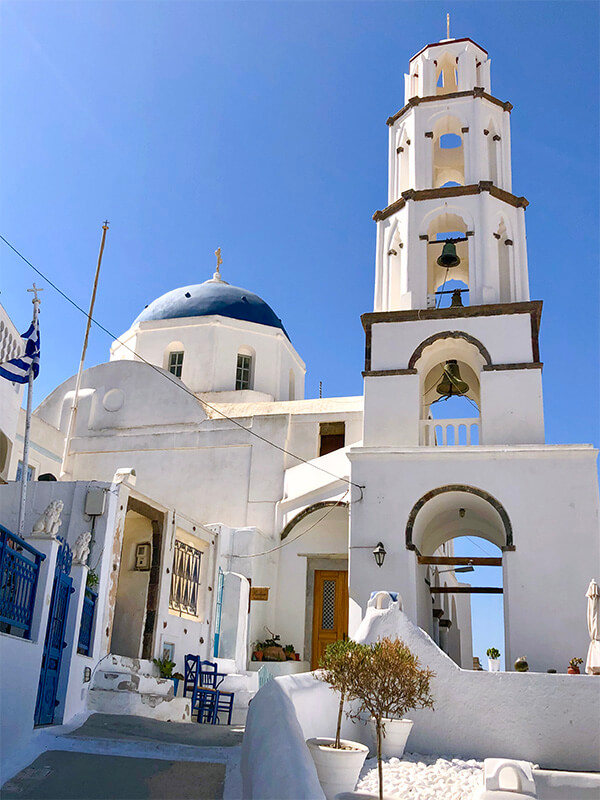 With all that Pyrgos has offers it's hard to imagine why so many tourists opt for visiting Oia instead. At the expense of revealing one of the island's better kept secrets, I suggest travelers make their way to Pyrgos. It offers an a much more authentic, greek island experience and remains Santorini's hidden gem.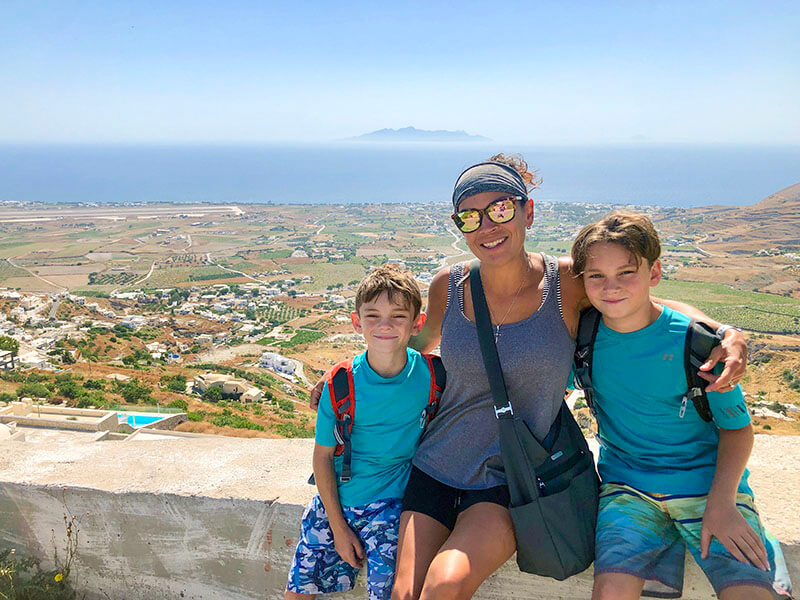 You might also like these related posts:
Oia, Santorini: Trip it or Skip it?
3 Days in Athens – A Detailed Itinerary
Brew Review: Santorini Brewing Company
Santo Winery: Best Sunset Destination in Santorini