A World-Renowned View
Santorini is the epitome of Greek islands. The village of Oia, perched on the cliffs of its northern point, is world-renowned for its view over the caldera. The tiny white-washed village of windmills and blue-domed churches, graces the cover of nearly every guidebook of Greece. Its become a mandatory stop on the Cyclades tourist route, drawing millions of visitors every year. But is Oia worth the trip? Should you trip it or skip it?
Is Oia Worth the Trip?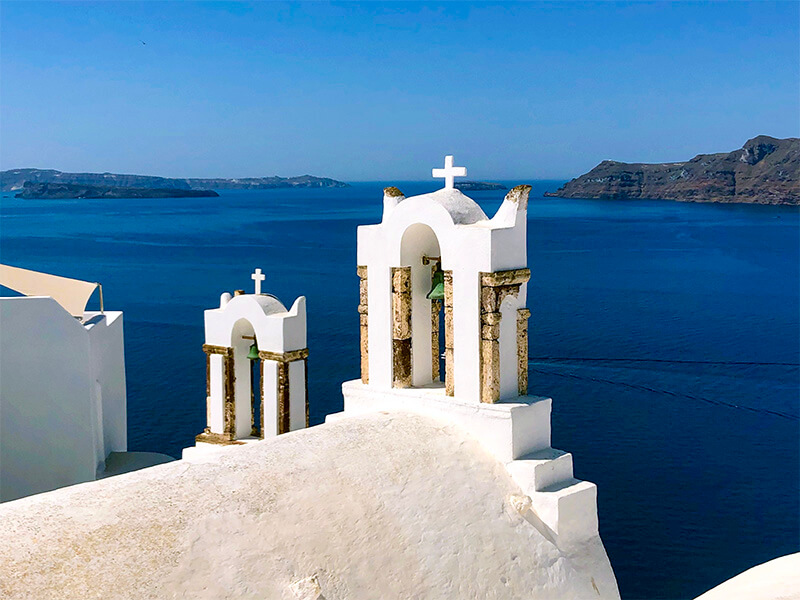 We're not Disney people. That may seem like an unusual descriptor, so let me explain. Disney is exactly what Disney is. It's predictable. If you haven't already been there, you've at least seen the pictures a hundred times. You know what to expect. That's Oia. It's like walking through a perfectly-painted illustration of what a greek island village is supposed to look like. It's a cookie cutter experience that pleases the masses with comfortable consistency, and people love it! That's not us. We're not interested in predictable, meticulously manicured tourist traps. We're interested in seeing places that are authentic to the country we're visiting. We also hate crowds, so wherever the masses are heading, you can usually count us out.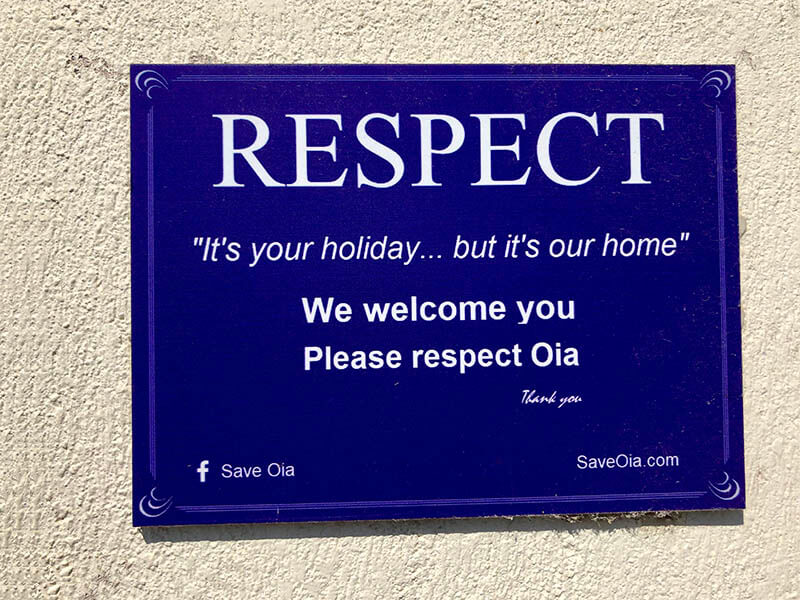 Avoid the Masses
But, what about Santorini? Can you really go to the Greek island without stopping in Oia? Is Oia really worth the trip? I wrestled with this question while reading and researching the itinerary for our 16-day trip across southern Greece. Some specific phrases stood out, like this one from Fodor's 'Essential Greece.'
"These days, unrestrained tourism has taken a heavy toll on Santorini. Fira, and now Oia, could almost be described as a street with 40 jewelry shops. Many of the locals are completely burned out by the end of peak season."

Excerpt from Fodor's Essential Greece
I read repeated advice that if you really want to get that perfect sunset photo you'd better be willing to stake out and defend your claim to some small sliver of real estate at least 3 hours in advance. And be ready for the crowds of other people trying to do the same.
Nothing about what I was reading lured me to Oia or Santorini. In fact, it had the opposite affect. I wanted no part of it. But, we travel as a family and Craig was convinced that, despite my warnings, Santorini was a must-do. (It was the pictures. You know the ones. He couldn't get past the pictures.)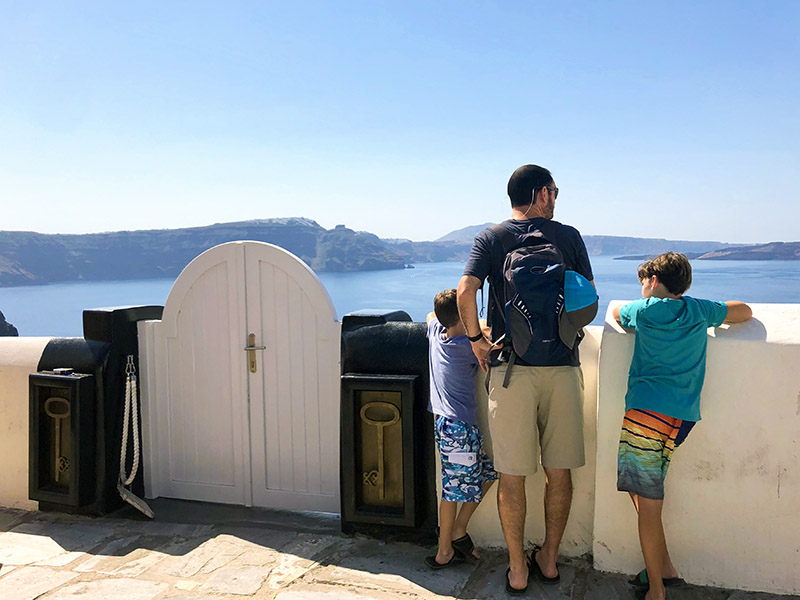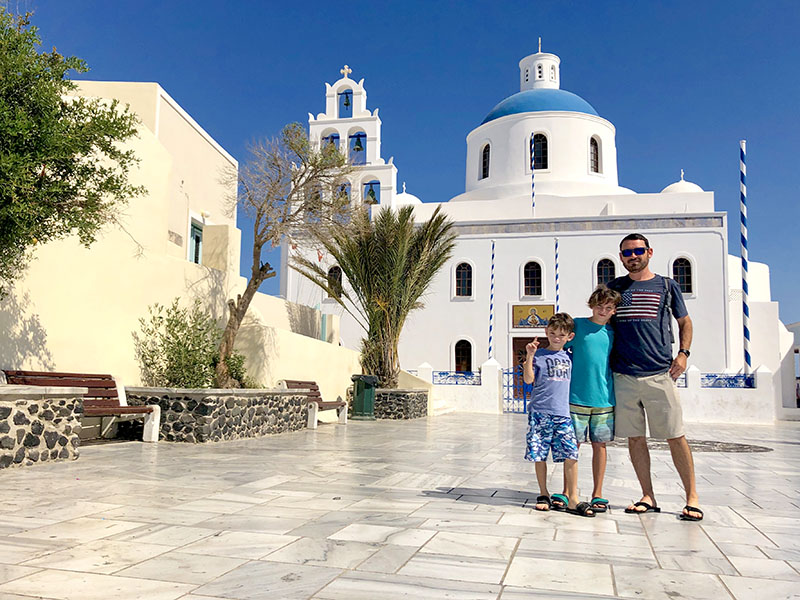 Big Picture Planning
We spent three nights, and two (full) days on Santorini and that was plenty. We flew into Santorini from Athens, and left the island via ferry to Naxos. If you're like us and prefer to avoid tourist crowds, but visiting Santorini is an obligatory box that you must check; we advise not staying in Oia. Stay further south on the island. There are plenty of options for hotels and AirBnBs and most are significantly cheaper than what you'll find in Oia. This will give you some breathing room and a reprieve from the crowds. Trust me, the sunsets are are still spectacular beyond the village of Oia (and we have an excellent suggestion).
To make getting around easy, rent a car. It allows you to move at your own pace and explore other villages and landmarks on the island, which is worth doing. We rented a small 5-person car for $56 per day.
Visit Oia Early
Wherever you decide to stay, arrive in Oia in the morning to walk the narrow cobbled-stone streets before throngs of people crowd them out. When you get to the heart of the village make your way directly to the vantage points that provide the views everyone comes for. There are numerous spots along the village edge, but most are relatively small spaces. You won't be alone, but jockeying for the best picture angles is more manageable with less people in your peripheral.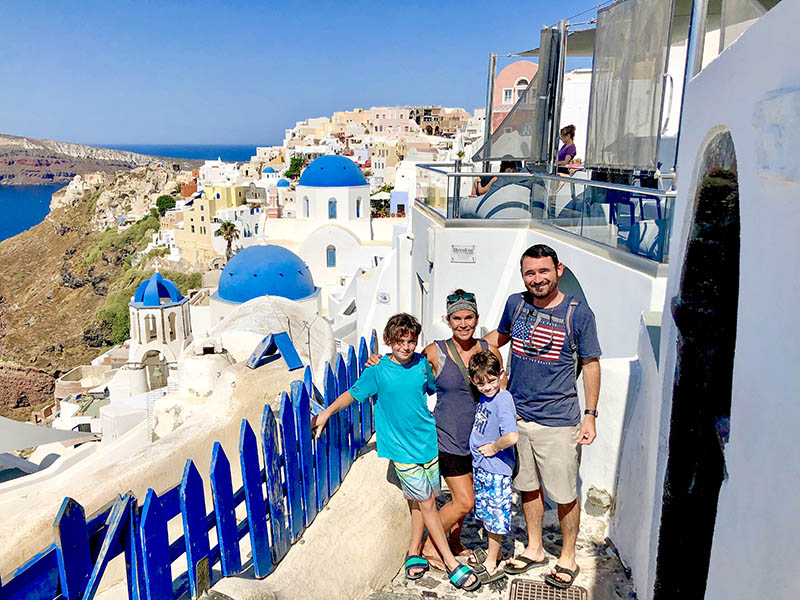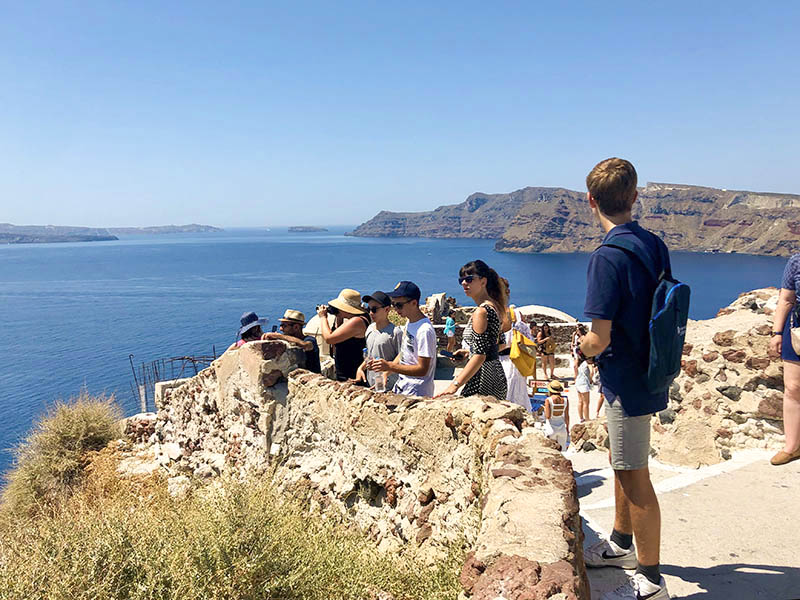 PRO TIP: Visit Oia before 10 am during the high season. The difference between 10:30 and 11:30 a.m. is literally a thousand people. If you're driving be aware that parking is limited and can be chaotic especially later in the morning when the majority of tourist are arriving by the busload.
Once you get your compulsory photos find your way into one the many cliff-side cafes that offer balcony seating over-looking the caldera. Order a drink and soak in the view. After all that's why you came. But you may want to make your way out of Oia before the crowds take over completely.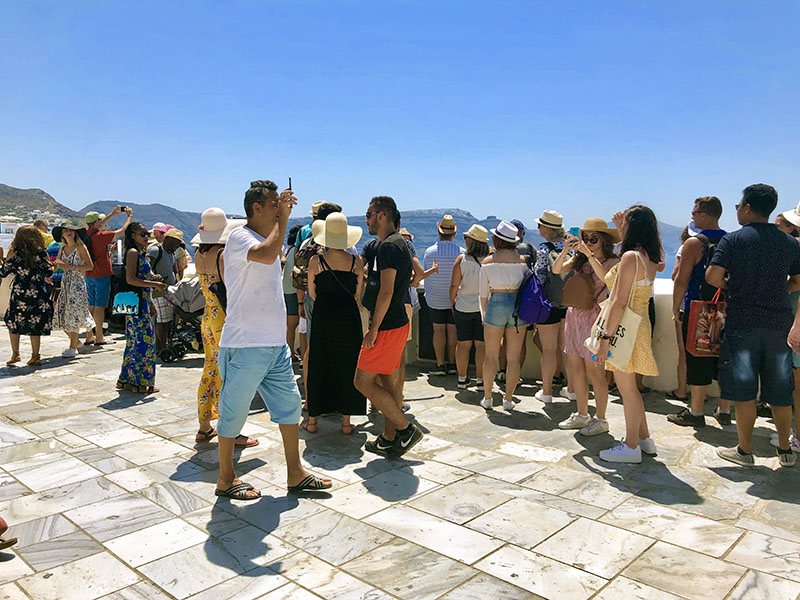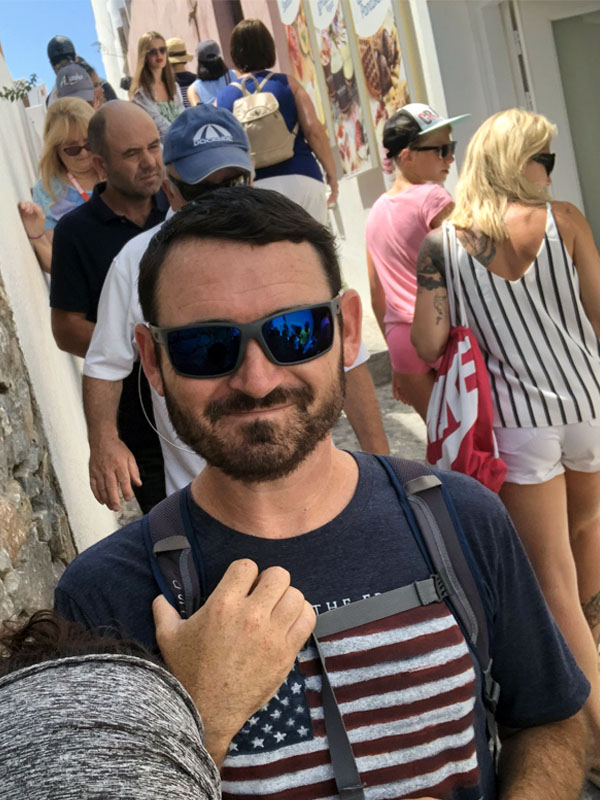 Trip it or Skip it?
Is Oia worth the trip? Or should you skip it? We have a split decision on this one. Personally, I would skip it and opt for visiting the much quieter and more authentic village of Pyrgos located about 30-minutes south of Oia. It has plenty of beautiful blue doors, churches, the same narrow alleys and whitewashed buildings but walking through Pyrgos you'll pass a handful of tourists compared to hundreds. My husband on the other hand, still contends that Oia was a must see destination, and wouldn't take it off our list. That being said; if you must go. Go early.
More importantly, don't feel obligated to watch sunset from Oia. Santorini sunsets are gorgeous from almost any location on the west side of the island. And Oia being the most popular sunset destination on the island, can be a madhouse at that hour. If you want an amazing sunset experience minus the madness, get a table Santo Winery. The view is perfect, the wine and food are delicious, and the experience is unforgettable.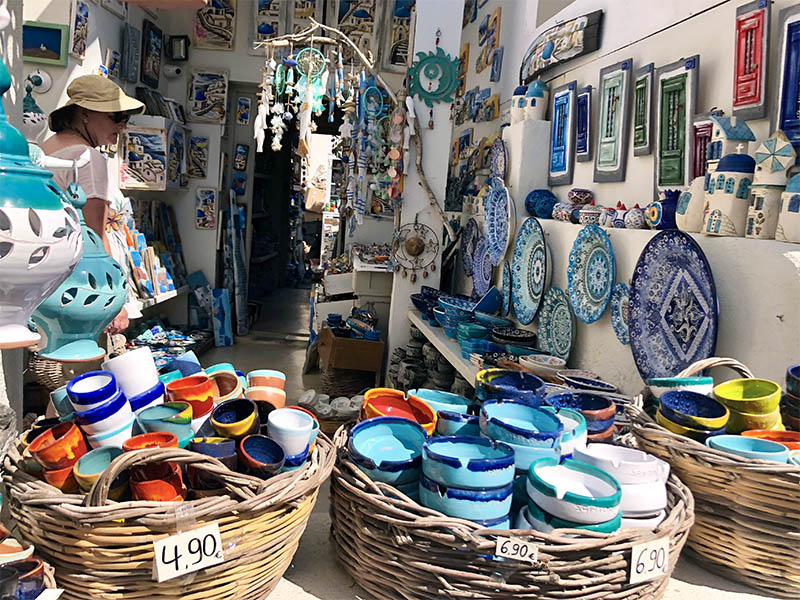 You might also like these related posts:
Santo Winery: Best Sunset Destination in Santorini
Pyrgos, Greece: Santorini's Hidden Gem
3 Days in Athens – A Detailed Itinerary
Brew Review: Santorini Brewing Company