We have a hard time staying in one location when we travel. We like to see as much as possible to gain a broader understanding of the landscape and culture. Cuba is one of the few country we've visited and not rented a car. We prefer to travel independently, and at our own pace, and being able to transport ourselves makes that easier. But, Cuba was a last minute trip and the process of renting a car in Cuba seemed more complicated that other destinations, so we decided to make do without one. We still wanted see Cuba outside of the city of Havana, so we decided to book a day trip to Vinales Valley through AirBnB, and it was one of the best days in Cuba!
We chose Viñales Premium Supporting Cubans tour because it included all the major attractions in Viñales in a single trip; tobacco farm, horseback ride, "The Cueva del Indio" Indian Cave, and Mural De La Prehistoria. The tour also included transportation (with pick-up/drop-off from our apartment), lunch, tickets into the attractions, and a Piña Colada! The cost at the time of our reservation was $95/person
The Drive to Viñales Valley
Our guide Fernando picked us up from our apartment at 7:30 a.m. in a classic 1950's Chevrolet Miller-Meteor (I think that's the correct model) and we headed west. Viñales is a fertile valley in the Pinar del Río province about 2.5 hours from Havana. Its one of Cuba's largest agricultural regions and its scattered with tobacco farms and unusual limestone formations called mogotes. The drive to Viñales Valley passes through miles of beautiful farmland. We saw numerous farmer preparing fields with water buffalos and plows. It seems farming techniques haven't evolved much in Cuba over the past century.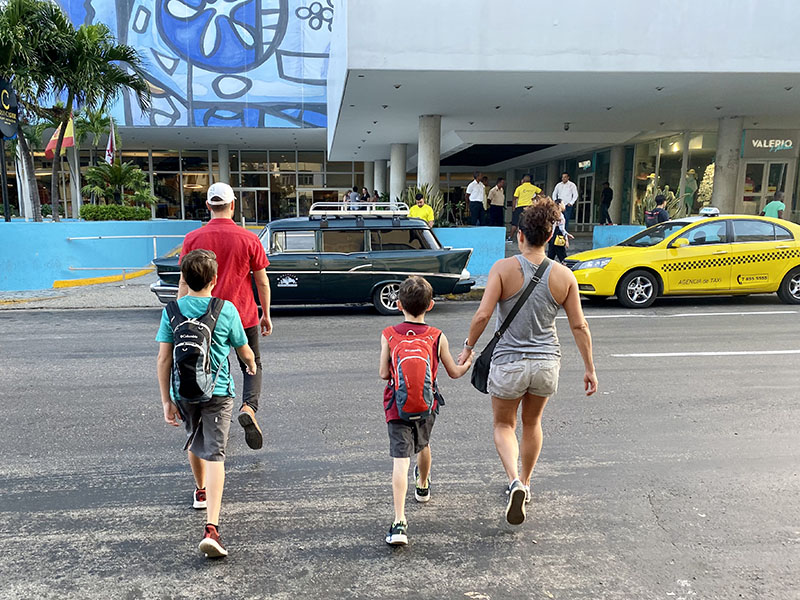 Our time in route passed quickly while Fernando shared interesting facts and history about Cuba, its people, and what its like to live there. He was friendly, funny, and spoke exceptional English. It was easy to consider him a friend by the end of the day. If you decide to book this tour we highly recommend you request him as your guide.
Arado Farm Visit
Our first destination in Viñales was Arado Farm, a family-owned farm which primarily grows tobacco, but also produces small-batch coffee and honey. Our host greeted us upon arrival and welcomed us to the farm. We exchanged acquaintances, and our tour began. He guided us to a small area of the farm dedicated to the growth and production of coffee. He showed us how to tell if the beans were ripe and explained how they harvest them, and dry before being milling.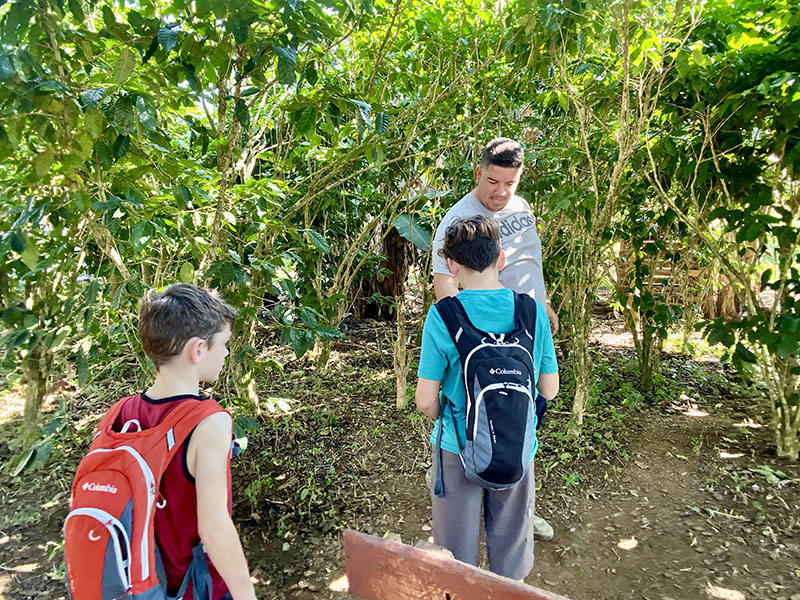 Cigar Rolling
After the short lesson on coffee production we walked to a small out-building with long wooden picnic-style tables, and a small bar, to learn about the process of preparing and hand-rolling tobacco leaves into world famous Cuban cigars. Our host offered us cigars to smoke while we were watching his demonstration. We accepted, of course, because when is Cuba! We also sampled a unique variety of honey produced by bees that live in the ground. Not surprisingly he called it ground honey. It's sweet, and mild, but it doesn't take like regular honey at all. For those of us who don't smoke he recommended that we place a small dab of it on the tip of our cigars to sweeten the smoke (it definitely helped.)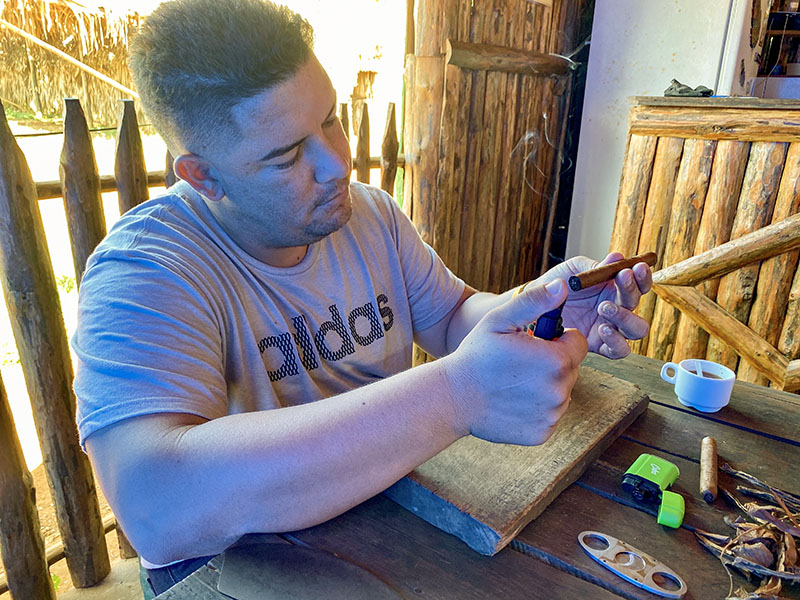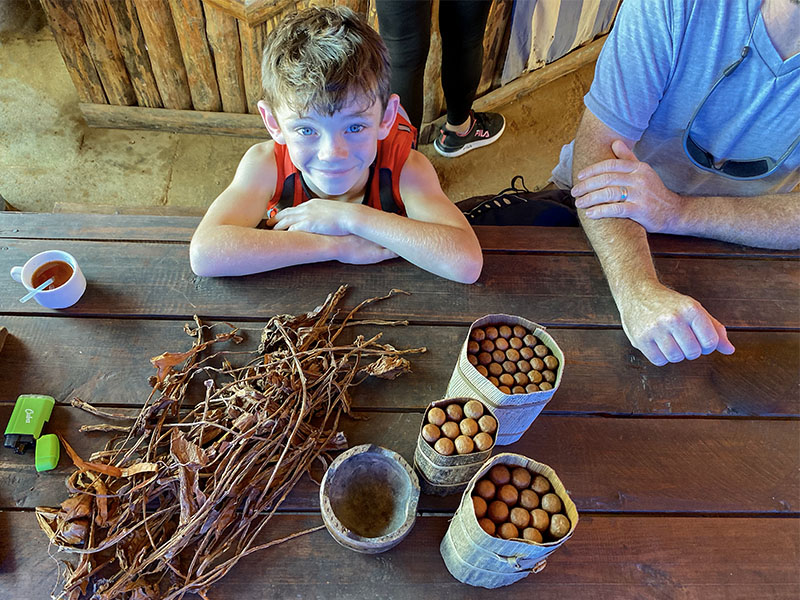 Tobacco Drying Houses
From the cigar rolling demonstration we make our way across the farm to the frond covered tobacco houses to see where the freshly harvested tobacco leaves are hung to age for 1-2 months before they're ready for cigars. The aging process is essential to the overall quality of a cigar, similar to wine or liquor, extra time provides for a smoother, more complex taste. Air-cured tobacco leaves tend to be lower in sugar and higher in nicotine and thereby give the cigar a light, sweet flavor.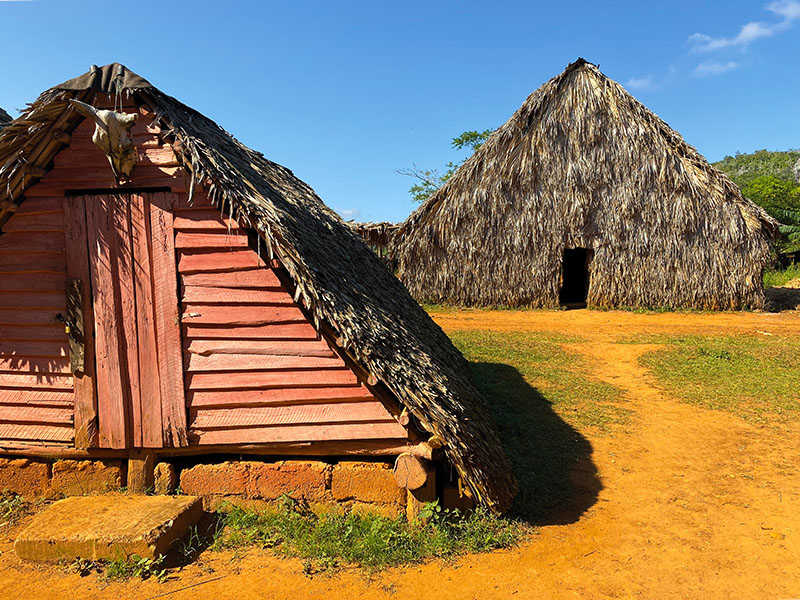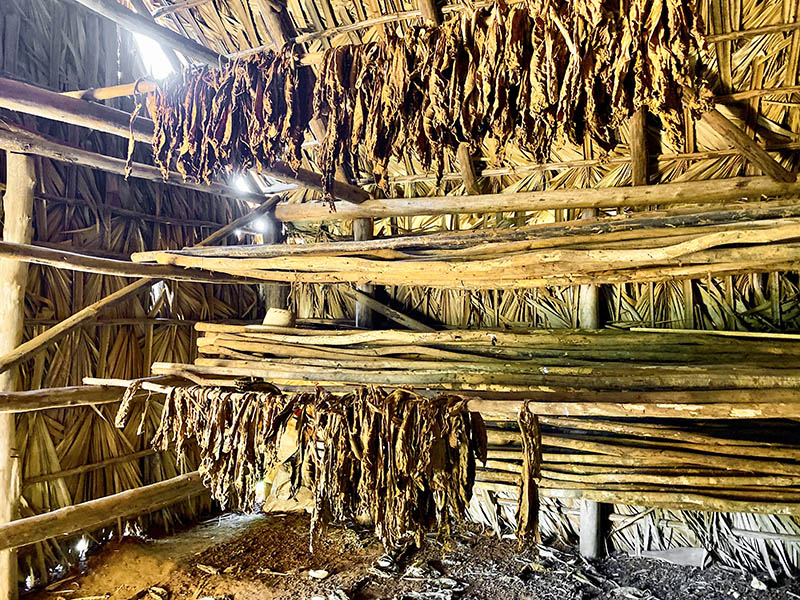 Horseback Riding in Viñales Valley
Learning about cigar production was interesting, but the highlight of the trip to Arado Farm, was the horseback ride around the property. The kids had been looking forward to this for day for weeks! The horses were healthy and well mannered but at the last minute our son panicked about riding alone, and insisted on riding with his Dad. While it was certainly the safer option, it most certainly was not the most comfortable option. About ten minutes in the ride, the horn of the saddle got a little uncomfortable for his little boy parts. He was able to make it through the ride just fine, but in hindsight he should probably have ridden with Mom for a little more space in the saddle. We'll call that a learning curve, and file it away for the next trip.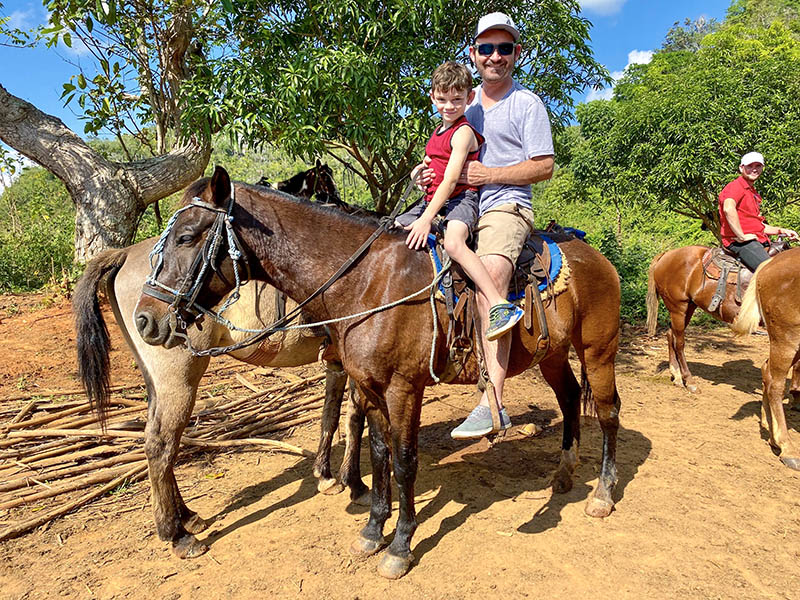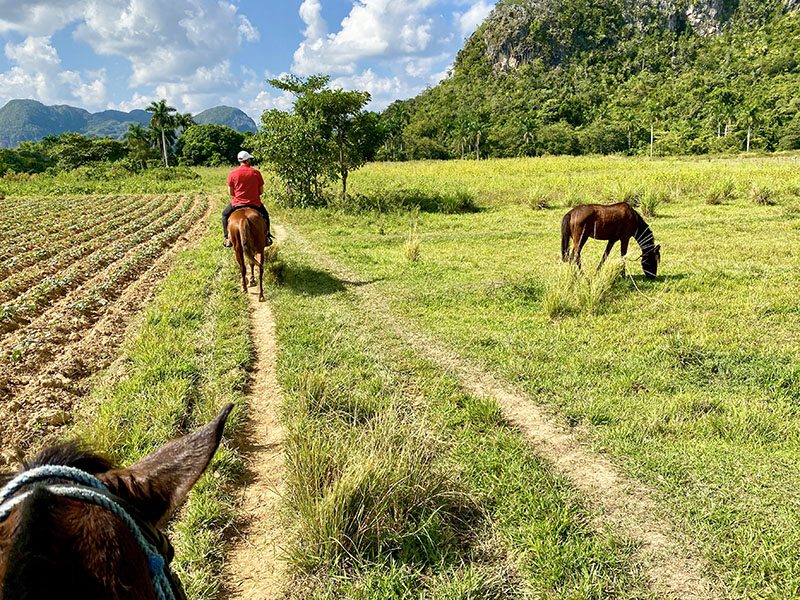 The horseback ride around Arado Farm was an easy out and back route that lasted approximately 30-minutes. Fernando lead the way for the entirety of the ride but the horses seemed to know the routine by heart, so riding experience was not a factor. This allowed us to focus on our attention on our surroundings rather than the horses, which was nice. Minus the saddle soreness, a horseback ride was a fun way to take in, and admire the unusual landscapes of Viñales Valley.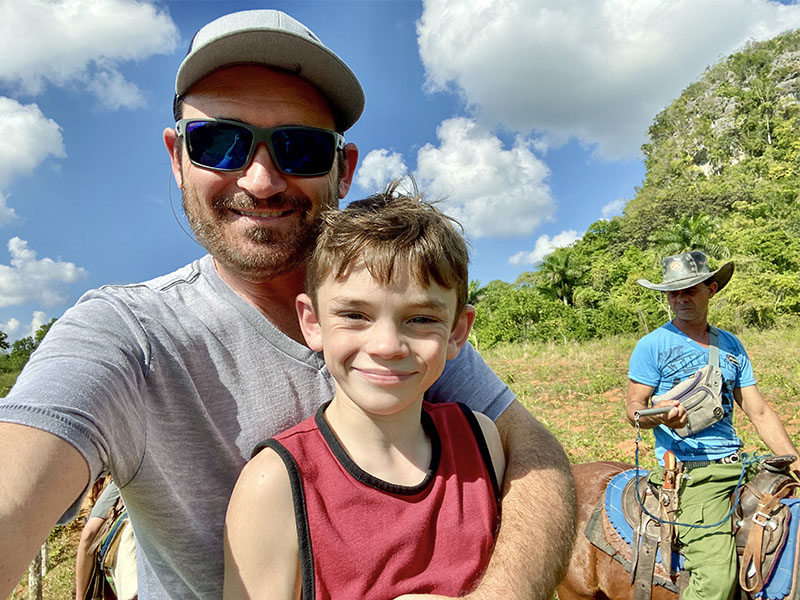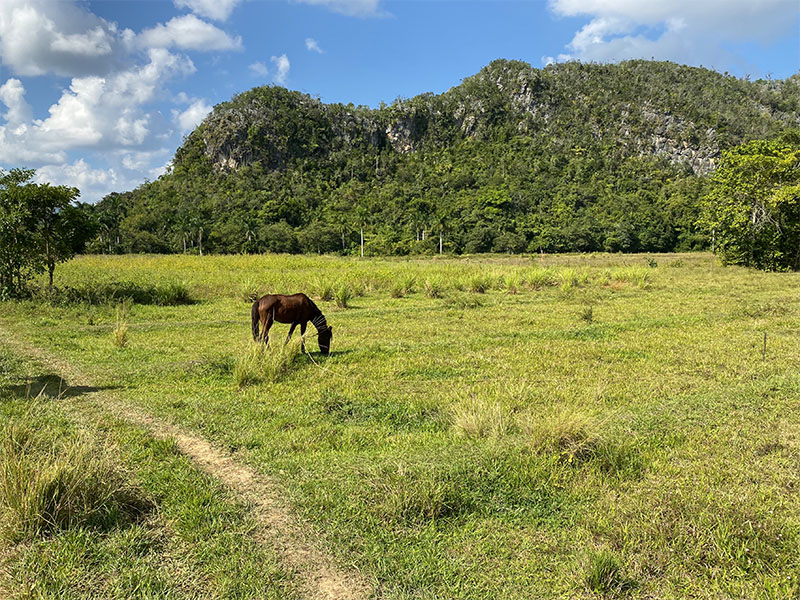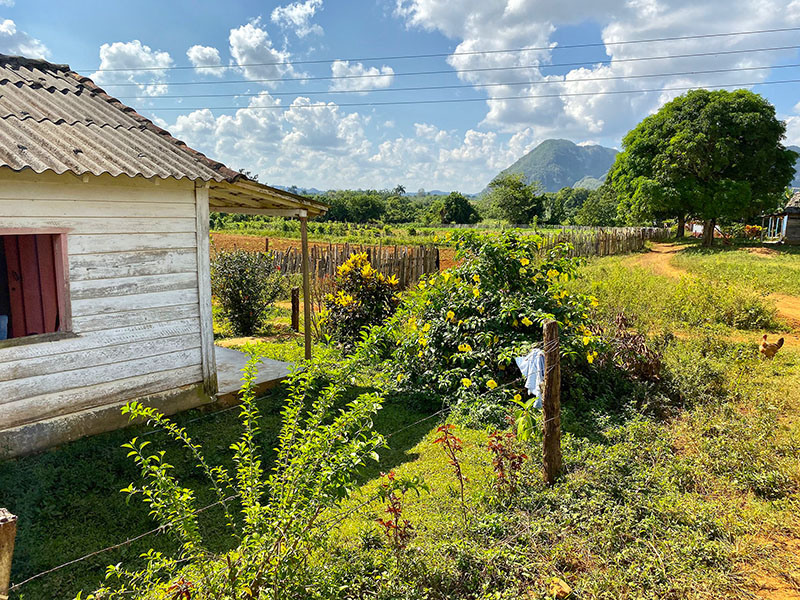 Back on the Farm
Once we arrived back to the tobacco houses we thanked our hosts and guides, gathered out belongings, and made our way to the car. As we were departing there were other tour groups arriving. During our entire visit to the farm we'd been the only guests. This was by coincidence, but it is something to consider. If you decide to take this sort of tour we suggest trying to arrive early so you can enjoy the experience unimpeded by other visitors. We hadn't considered it during the horseback ride, but it was nice that the trail guide could focus only on our group since we had two kids, and little riding experience.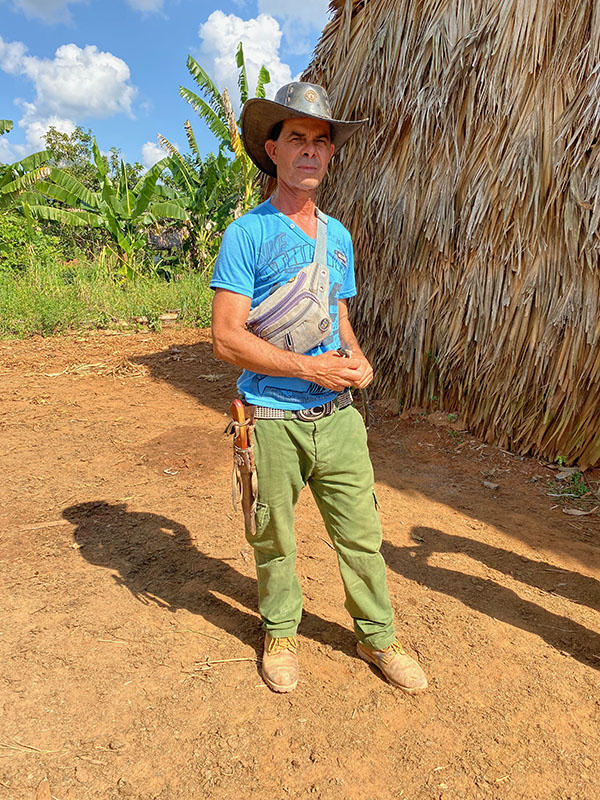 "The Cueva del Indio" Indian Cave
Our next destination was the "The Cueva del Indio" Indian Cave about a 15-minute drive from Arado Farm. It was once inhabited by the Guanajatabey Indians who hollowed out large rooms in the limestone to create a primitive home. Scientist have found Relics of these nomadic people inside the cave along with fossils from the Pleistocene period. The fee to enter the cave is $5CUC, but our tour covered the cost. Cueva del Indio in a popular tourist stop in Viñales, so like the farm, it's better if you can arrive early. When we first arrived there were very few people ahead of us at the entrance to the cave, but we needed to make a quick stop to use the restroom and grab a drink, and that small detour put us behind a crowd of people inside the cave. Our mistake.
To reach the entrance of the cave you'll climb up a wide stone staircase through a jungle-like setting of lush vegetation, and then immediately descend a slightly steeper staircase to get inside. The staircases and paths throughout the cave are in good condition and easy to navigate. The cave contains purposeful lighting to accentuate the unusual rock and mineral formations. There is a narrow, low point inside the cave that required a bit of crouching but its nothing that triggers a feeling of claustrophobia.
Underground River Ride
Walking through the cave only takes few minutes (if you can avoid the crowds) before reaching the loading area where a small boat takes you for a quick ride through the largest room of cave. While in the boat, the driver uses a laser pointer to direct your attention to several interesting elements of the cave that can only be seen from the perspective of the boat. The ride lasts about 5-minutes before you exit the cave into a small lagoon, with a landing platform. The experience was bit more touristy than we usually go for, but if you already visiting Viñales Valley its worth a short stop.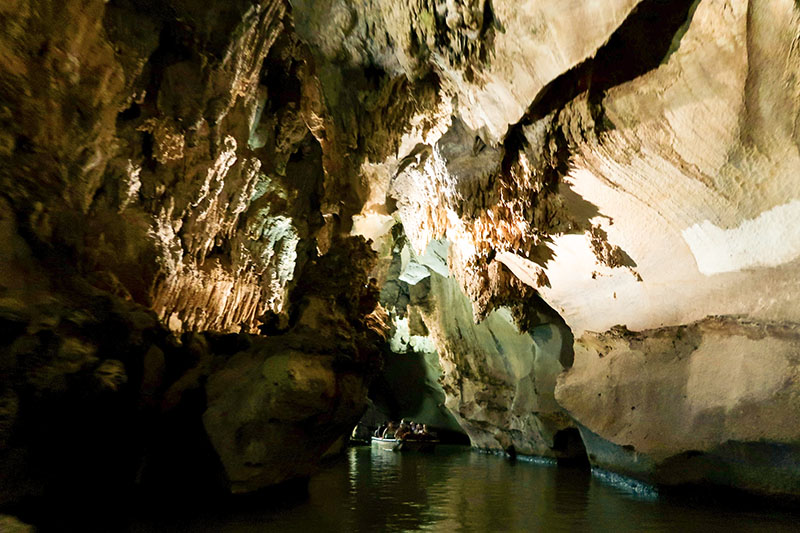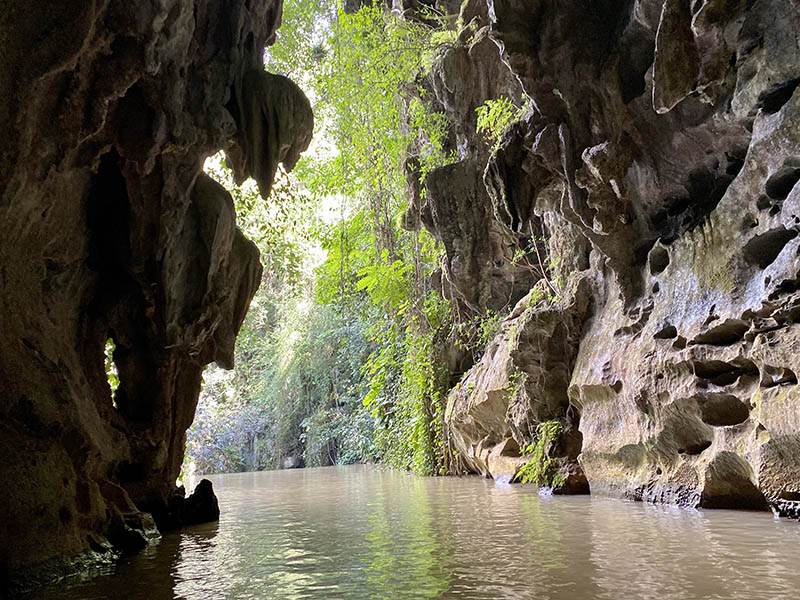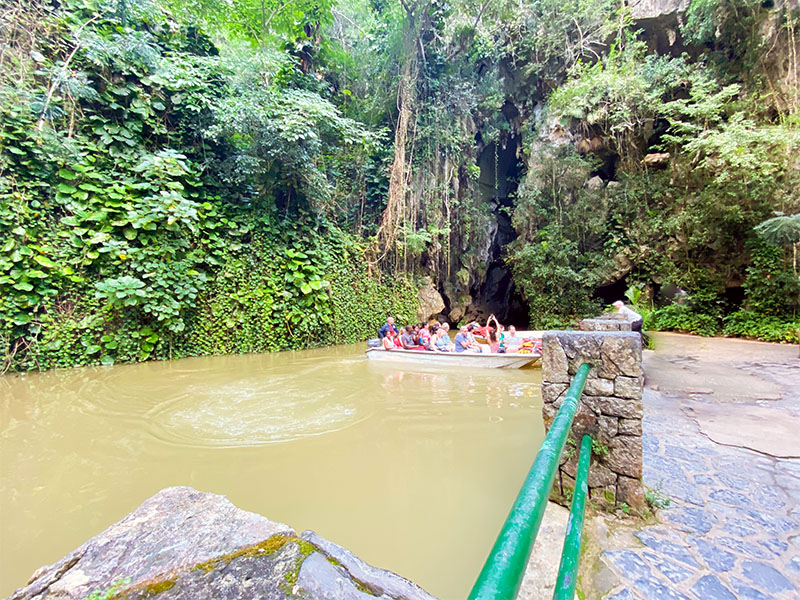 Just up the hill above the exit platform of the Cueva del Indio there are multiple vendors selling a wide array of hand-made crafts, memorabilia, and other souvenirs. We don't usually buy trinkets when we travel, but there was some cool stuff in the assortment and we ended up making several purchases, for really great prices.
Lunch at Kirenia's Paladar
Leaving "The Cueva del Indio" Indian Cave we drove about 10-minutes to Kirenia's Paladar, a farm-to-table restaurant to enjoy a family-style buffet lunch of traditional Cuban dishes. The restaurant must be a favorite in the area because the tables were full of other tour groups. The food came out quickly and consisted of fresh, cucumbers, avocados, cassava, green tomatoes, taro chips, yucca, rice, beans, and every variety of stewed meat you could imagine. It was way more food than we could have hoped to finish. The food was very good and it was great to have so much variety all in one meal.
Our only complaint was the flies; they were relentless and there were hundreds of them. The restaurant had multiple oscillating fans blowing across the dining room but they did very little to deter them from our food.
---
---
---
Mural de la Prehistoria
After lunch we made our way to the Mural de la Prehistoria. A nearly 400 foot-long mural on the limestone side of a large mogote. It symbolizes the theory of evolution with a strange deception of snails, sea monsters, dinosaurs and primitive men. Whether it's a work of art, or a psychedelic nightmare is a matter of perspective. Regardless, it took eighteen artists 4-years to complete so if nothing else it's a feat of perseverance, and an interesting use of paint.
I'm not sure we can recommend Mural De La Prehistoria as a destination, but like Cueva del Indio, if you're in Vinales its a nice stop. Our boys were happy just running around in the wide open spaces, so if your traveling with kids it might be worth the stop just to let them burn off some energy before the long trek back to Havana.
Another perk to stopping at Mural de la Prehistoria is the bustling little tiki bar that specializes in Piña Coladas. The price of our tour included one for each of us and they were fabulous! You can order them with or without rum. Of course, we opted for rum because what better was to end a day-long excursion, and because we weren't driving!
Scenic Outlook Museum
Our final destination was more of a pitstop, than a destination. Heading back to Havana we stopped at a roadside museum about the geological evolution of Viñales and the surrounding area. We were too tired to read about geology at this point. But, we did enjoy the scenic overlook from the balcony of the building. It was the perfect vantage point to truly appreciate the richness and rarity of this beautiful emerald valley. A stark contrast to the mosaic of crumbling concrete that is a so much of Havana.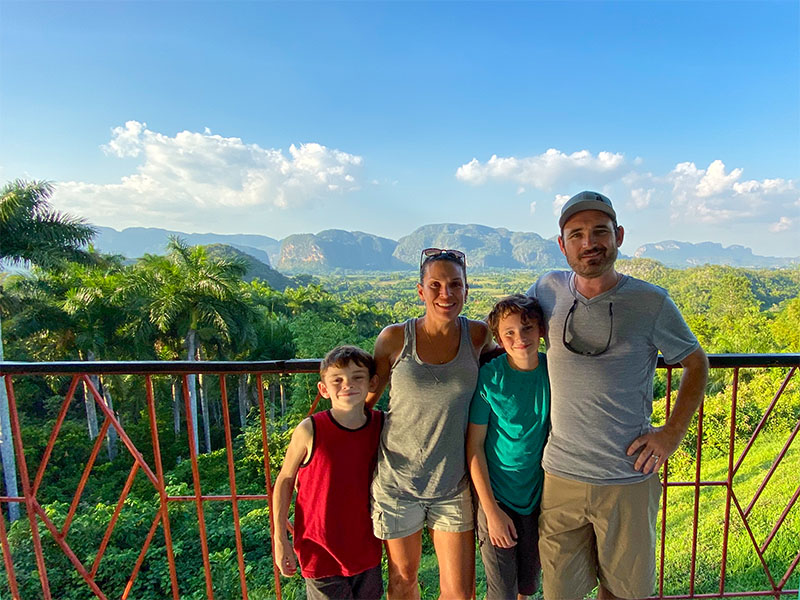 If you're visiting Havana and you want to see a greener Cuba, we recommend making the day trip to Viñales Valley. The trip is easy, entertaining the views are spectacular, and the tour is basically all-inclusive. No planning, no reservations, no driving. Just sit back and enjoy the day. It was easily one of the best days of our trip!
You might also like these related posts:
Should You Travel to Cuba?
Things to Know Before Traveling to Cuba from the United States
8 Awesome Things to do in Havana, Cuba with Kids
Boxing Lesson at Cuba's Famous Rafael Trejo Gimnasio in Havana
AirBnB in Havana Cuba, Convenient to Everything