A Craft Beer Oasis
One of the many highlights of traveling the world is the opportunity to try new and unusual beers. But, during our 8-days of travel between Athens and Santorini we experienced a serious craft beer drought. Until we made it to Santorini Brewing Company – A craft beer oasis in the middle of the Aegean Sea! We had Santorini Brewing Co. on our itinerary, we just didn't realize how much we would be looking forward the stop.
False Hope
We launched our 16-day trip across southern Greece from Athens. Being a large modern city, we were able to find several great places to buy international beers including numerous greek microbrews. If you're planning to visit Athens, and you love craft beer, be sure to check out Beertime! and Beer Str.
Unfortunately our great beer finds in Athens, set an unrealistic precedence for the other destinations on our trip. Outside of the capital city we were hard pressed to find much beyond standard issue lagers from the major Greek beer brands Mythos, Zeos, and Alpha.
Craft Beer in Greece
There's a growing demand for craft beer in Greece but, like most warm weather countries we've visited, mass-produced lager beers are still king. Which coincidentally, is something we can't figure out. Why lagers? Lager yeast prefers colder fermentation and conditioning temperatures. So why are lagers regularly brewed in tropical climates? Why not brew more temperature tolerant ales instead? It's a mystery.
Santorini Brewing Company
Santorini Brewing Company is located in the middle island about 15-minutes southeast of Thira. Established in 2011 as a multicultural company "hoping to add something new and different to the boring Greek beer scene of colorless and odorless lagers." The brewery successfully breaks from the mold and serves up a variety of delicious craft ales.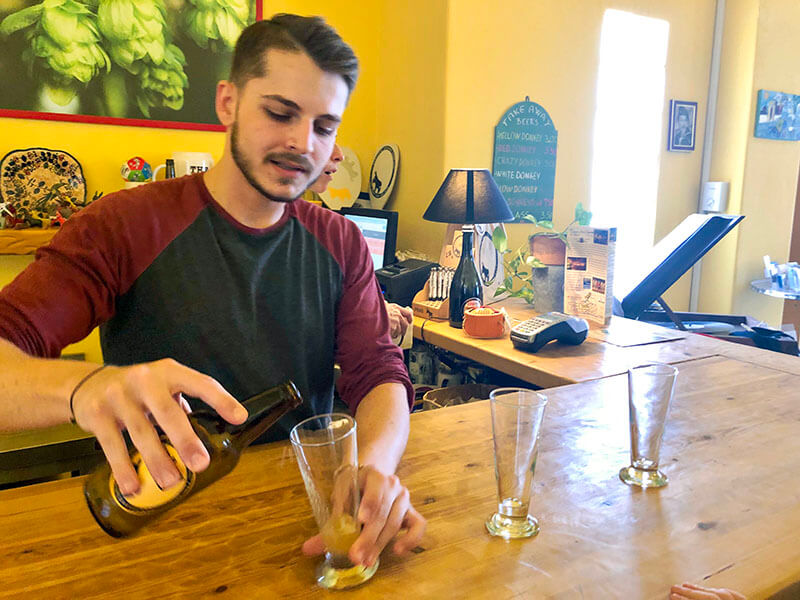 The brewery is quaint, with a simple open floorpan that allows visitors to see the full brewhouse and bottling line. There's a small bar providing samples of their flagship beers, and bottled beers are available for purchase. However, you must consume them outside of the brewery. The bartenders are friendly and informative, and there's plenty of Santorini Brewing Co. swag for sale.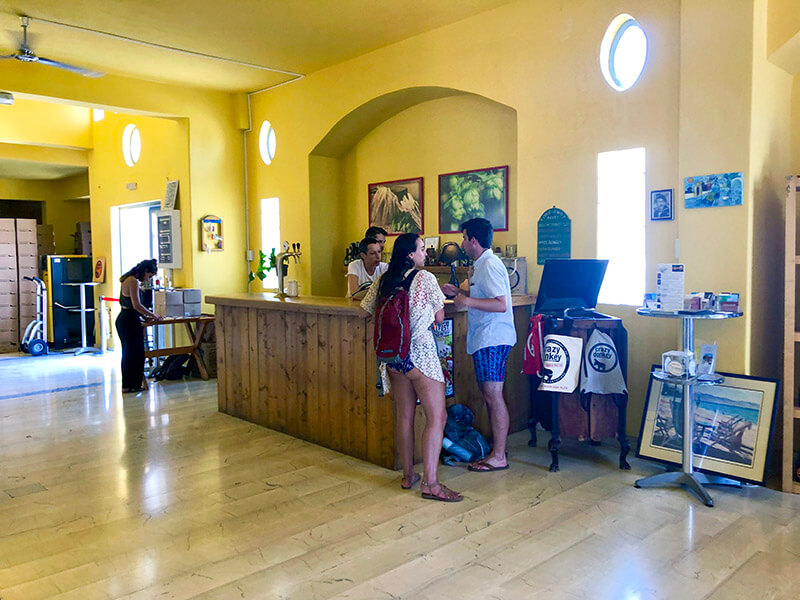 One Yellow, One Red
We arrived at the brewery having just escaped the crowds in Oia, and were really looking forward to a cold beer. Craig opted for a bottle of Yellow Donkey, a refreshing wheat ale with a slightly citrus flavor. I went with a Red Donkey, a very drinkable red ale with malty notes. Both were solid craft beer contenders.
The stop at Santorini Brewing was the perfect break in the day, and a very welcomed end to our craft beer drought. If your visiting the island, and you love craft beer, it's definitely worth a visit. It's central location makes it an easy stop while your out exploring the island, and their beers are definitely the best on Santorini.
The Flagship Beers at Santorini Brewing Company include: Yellow Donkey an American Pale Wheat Ale with ABV of 5.0%; Red Donkey an Irish Red Ale with ABV of 5.5%; and Crazy Donkey an American IPA with ABV of 6.0%. A complete listing of their beers is on their website.
You might also like these related posts:
Santo Winery: Best Sunset Destination in Santorini
Pyrgos, Greece: Santorini's Hidden Gem
3 Days in Athens – A Detailed Itinerary
Oia, Santorini: Trip it or Skip it?