A Quick Trip
If you're planning a visit to Greece, the quick trip from Athens to Santorini is worth making. And, because the island is relatively small, you really don't need much time. We spent two full days on Santorini and it was plenty. These are our top 7 reasons heading from Athens to Santorini is worth the trip.
Considered the "Gem of the Aegean Sea," Santorini is one of Greece's most popular destinations. Some two million visitors travel to the island every year (and that doesn't include cruise ship passengers.) Peak travel season is June – September, but its become a year-round destination.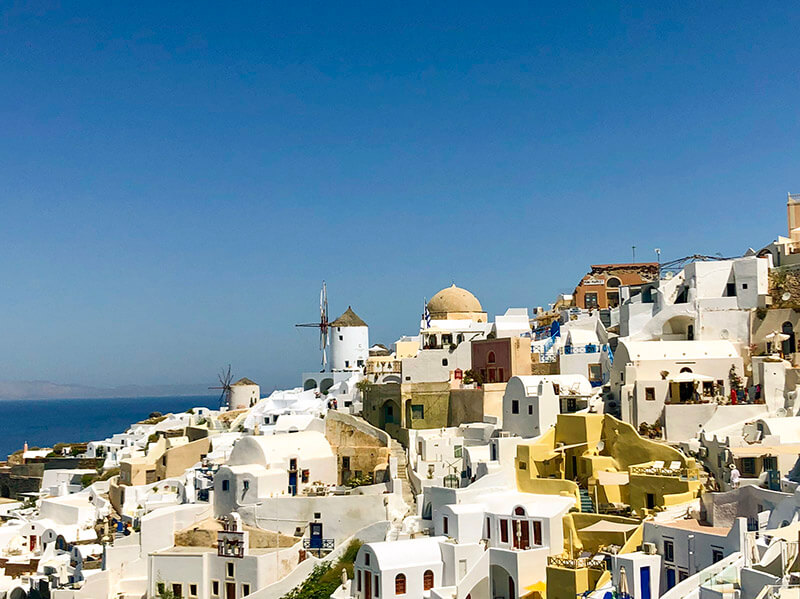 World Renowned Sunsets
Santorini's popularity is easy to understand once you've witnessed its beauty first-hand. The island is world-renowned for its sunset views of the caldera, and for good reason. The colors that paint the sky as the sun sinks into the sea are a magnificent display of natural art. The whitewashed cave houses and blue-domed churches that cling to the rocky cliffs above the caldera are an iconic depiction of Greece. Some would say that Santorini is the epitome of the Greek Isles.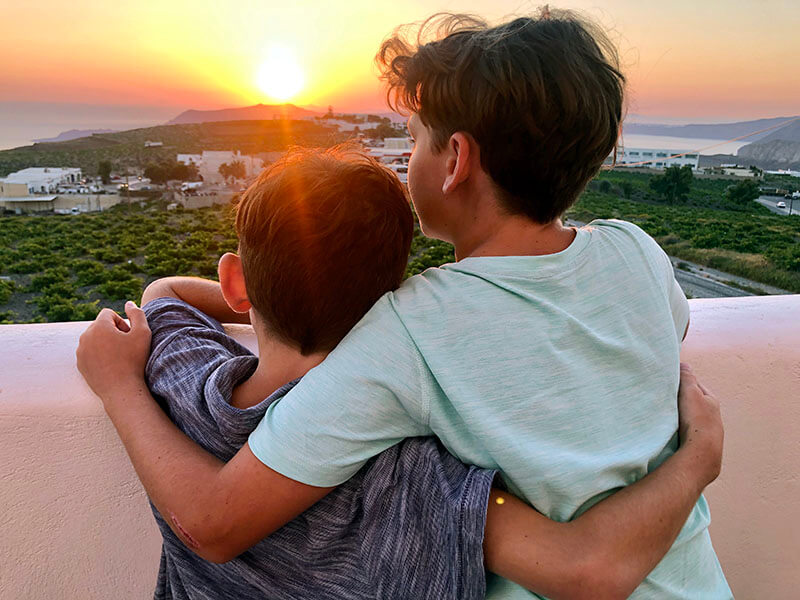 Getting There
Flights from Athens to Santorini cost around $65 – $85 and the commute is only 45 minutes. It's advisable to purchase tickets severals weeks in advance to ensure the best prices. We also advise renting a car to make getting around the island easy and efficient. We rented a small 5-person car for $56 per day and it was worth every penny.
1. Oia
Oia (pronounced ee`yah like the sound a donkey makes) gets all the Santorini travel hype. But this little village on the northwest tip of the island is also the most popular destination among tourists, so be prepared for crowds. Thousands deep during the peak season. While there's a debate to be had about whether it lives up to the hype (see Oia, Santorini: Trip it or Skip it?) most visitors concede that its a must-see.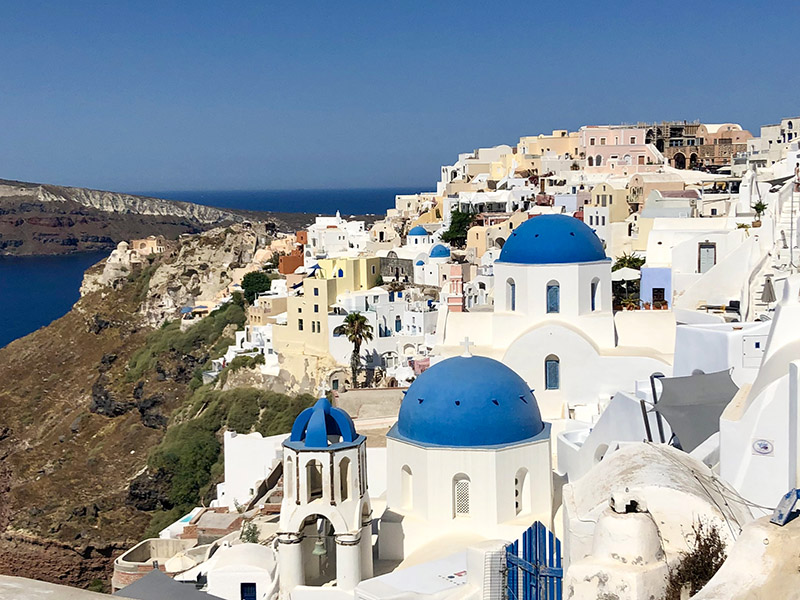 Regardless of the time of year you visit Oia, its best to visit earlier in the day to avoid the largest crowds. Especially if there's a cruise ship scheduled for arrival. Our advice is before 10 am in order to get the best pictures with the least amount of people in your peripheral. And if your driving into the village be aware that parking is limited and the area is especially hectic when the tour buses begin unloading ship passengers just before noon.
PRO TIP: To avoid the largest crowds in Oia check the port's ship schedule and plan accordingly.
A bustling maze of cobblestone alleys and whitewashed walls, Oia is a jumble of boutique hotels, restaurants and storefronts. Walkways are cluttered with colorful displays of ceramics and crafts that spill out from souvenir shops around nearly every corner. The village has become crowded with tourists in recent years, and has since lost most of its Greek authenticity. Oia is still a quaint place, but its mostly contrived.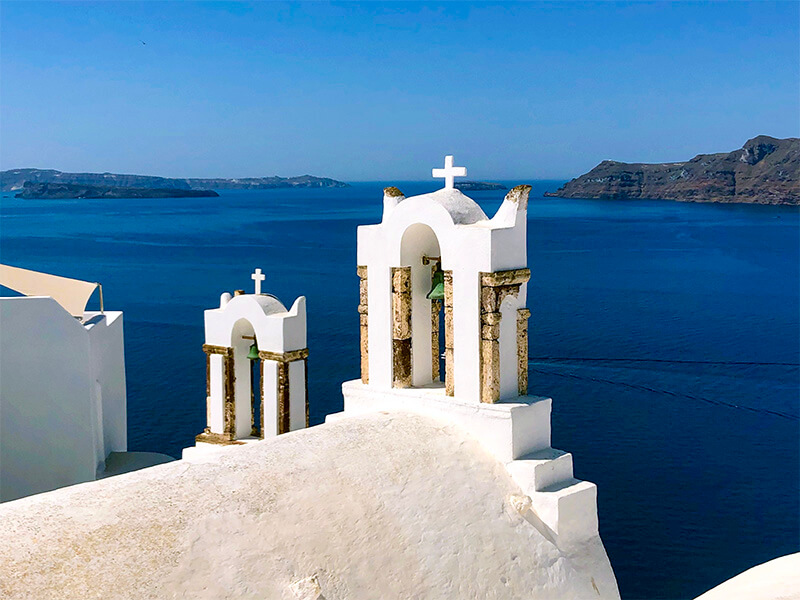 Breathtaking Views
What mades makes Oia the island's premier destination isn't its charm, its the breathtaking views along its western edge. Set high in the volcanic cliffs of Santorini, Oia offers sweeping views of the caldera and the Aegean Sea below. There are numerous lookouts along the western-facing side of the town, but most are limited in size. Picture taking can get cumbersome if there's too many people jockeying for position, so be sure to get there early. If your timing is constrained and you must visit Oia mid-day; many of the restaurants in the area offer patio seating with spectacular views. Grab a table and take in the scenery with a reprieve from the crowds.
2. Santorini Brewing Company
If you're anything like us, the opportunity to try new and unusual beers in one of the many highlights of traveling the world. Santorini Brewing Company is located in the middle of the island about a 15-minute drive from Fira (30-minutes from Oia.) The small island brewery was started in 2011 with the "hope of adding something new and different to the boring Greek beer scene of colorless and odorless lagers." They don't disappoint.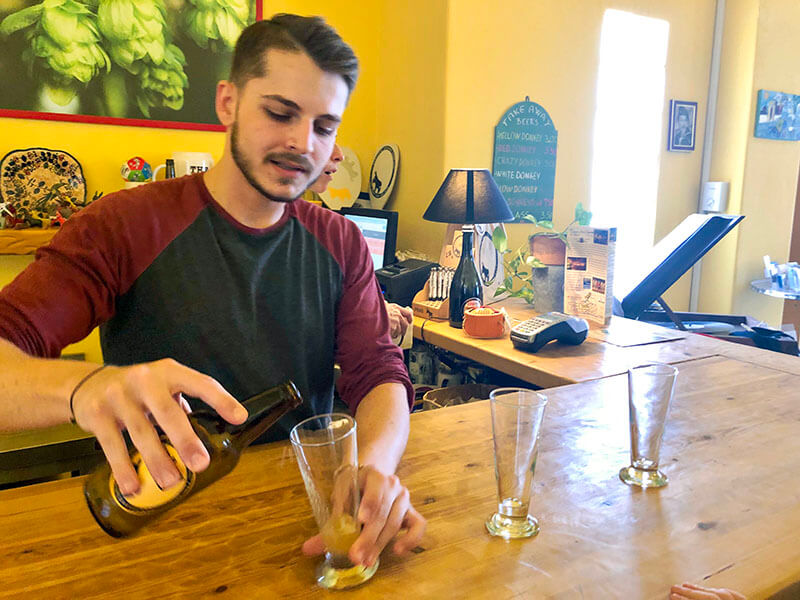 Santorini Brewing Company successfully breaks from the mold and serves up a variety of delicious craft ales. The brewery has a small taproom offering tastings of their flagship Donkey Beers. There's no bar on the premises but bottles can be purchased and enjoyed outside the brewery. If your visiting the island, and you love craft beer, it's definitely worth a visit. It's central location makes it an easy stop while your out exploring the island, and their beers are definitely the best on Santorini.
Check out our full Brew Review: Santorini Brewing Company
3. Pyrgos
Located less than a 10-minute drive south of Fira, Pyrgos is Santorini's hidden gem. It's a quintessential greek village. And unlike Oia it draws handfuls of tourists compared to hundreds. That's not to say it doesn't have all the same (if not more) Cycladic charm of Oia. Blue doors and domed churches, bell towers, cobblestone alleys and whitewashed houses; Pyrgos has it all – minus the crowds.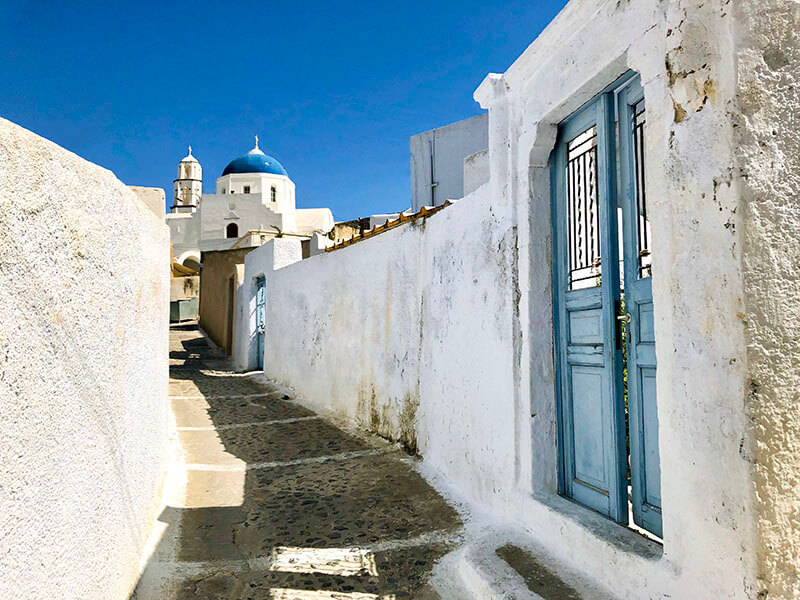 Set back from the dramatic cliffs of the caldera the tiny village affords outstanding panoramic views of the island. Some sources claim Pyrgos was once the capital of Santorini, but the legitimacy of the claims seem up for debate. What's not up for debate is the recognition of Pyrgos as Santorini's best-preserved village.
4. Akrotiri Lighthouse
Located on the southwest peninsula of Santorini in the small village of Akrotiri, the lighthouse is among the first to be constructed in Greece. Built by a French company in 1892, its considered one of the most beautiful lighthouses in Cyclades.
Entrance into the lighthouse is not permitted but the view from the surrounding cliffs is well worth the trip. The drive to reach the lighthouse is also quite scenic and there's some restaurants along the way with stop-worthy patio views of the sea.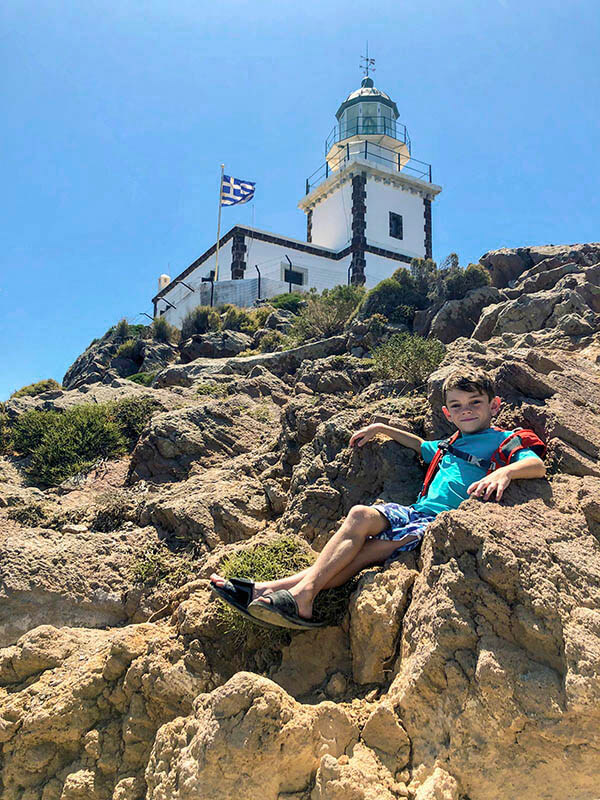 5. Santo Winery
Most travel books and bloggers tout Oia as the premier destination to watch sunset on the island of Santorini. But, it's certainly not the only vantage point that offers a spectacular view of sunset. Located directly above the Santorini harbor, Santo Winery is the Best Sunset Destination on Santorini. The view is perfect, the wine and food are delicious, and the experience is unforgettable.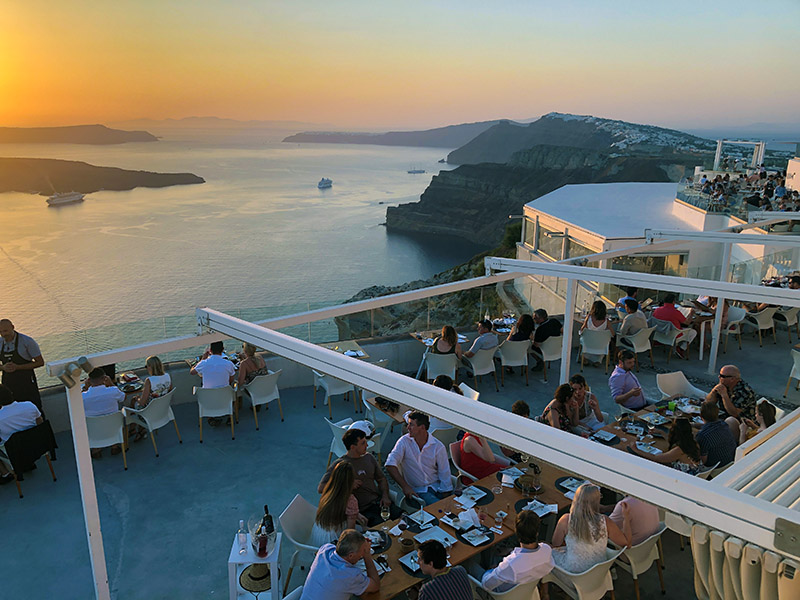 6. Ammoudi
Ammoudi is a tiny picturesque harbor just below the village of Oia on the northern point of Santorini. Its surrounded by jagged red cliffs that contrast beautifully with the brilliant blue water. There's a small promenade that wraps around the bright crystalline waters of Ammoudi Bay. Along the waterfront there's a variety of fishing taverns offering local recipes of fresh seafood.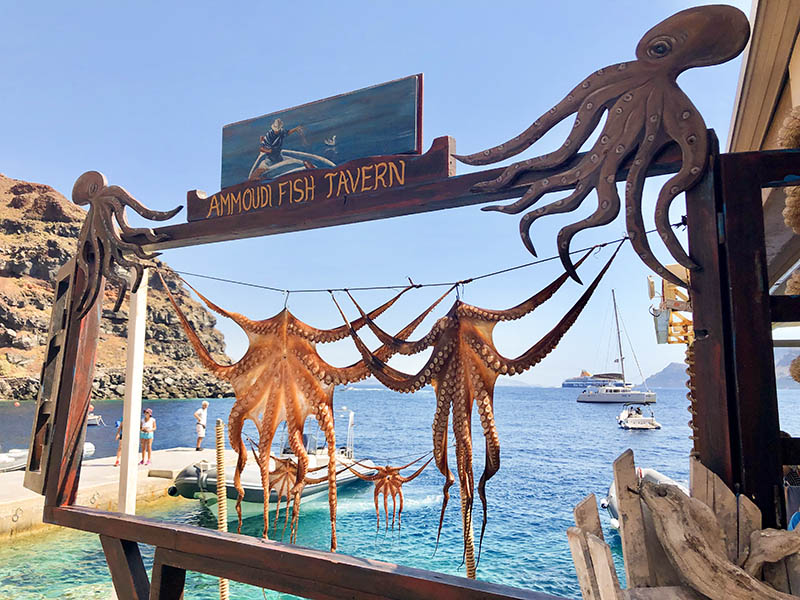 Ammoudi Bay is a popular swimming destination, although there's no beach or public facilities. We didn't get in the water while visiting the harbor but it appears to be a popular spot for jumping/diving from the cliffs. The harbor is also a popular destination for charter boat tours. We chartered a sunset fishing tour for our entire family from Ammoudi Bay and it was the highlight of our stay on Santorini. To reach Ammoudi you can follow the downhill road that leads there or you can descend the narrow 200+ staircase from Oia.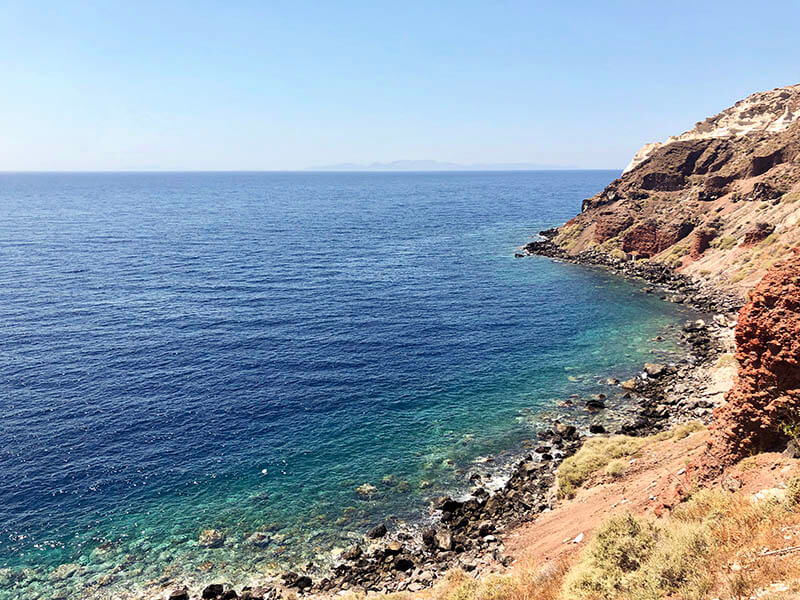 PRO TIP: If you're heading to Ammoudi in the evening you may encounter a group of men attempting to prevent you from driving more than half way down to park. They refused to give us a reason for their interference so we just drove around them. We found parking easily and there were other spaces available.
7. Sunset Fishing Charter
We booked a 5-hour sunset fishing tour through Santorini Sea Tours and it was the family favorite for Santorini. It included fishing, swimming, snorkeling, a full meal of fresh-caught grilled fish and homemade traditional greek favorites. All backdropped by an unbelievably beautiful Santorini sunset. Local wine, beer, water and sodas were also provided. Our Captain Makis and his First Mate are incredible hosts and loads of fun. This tour was the best part of our stay on Santorini, and watching sunset on the water is truly breathtaking.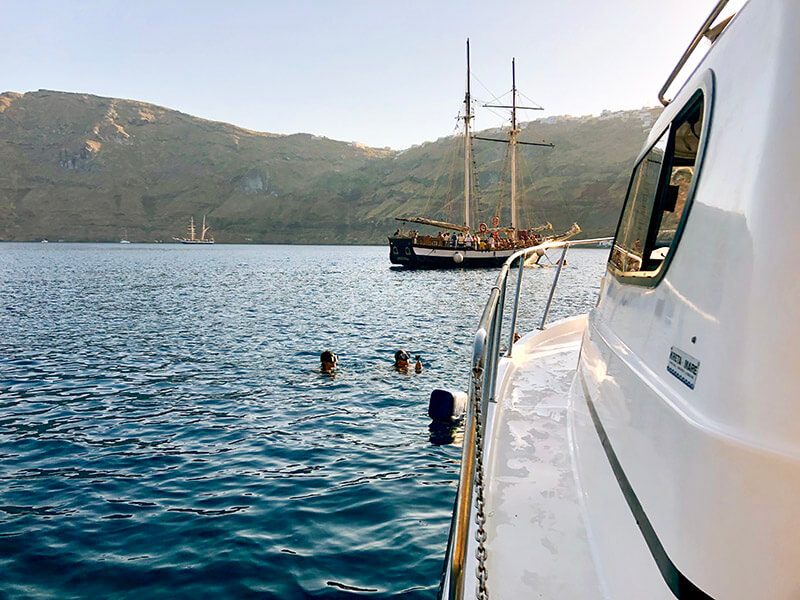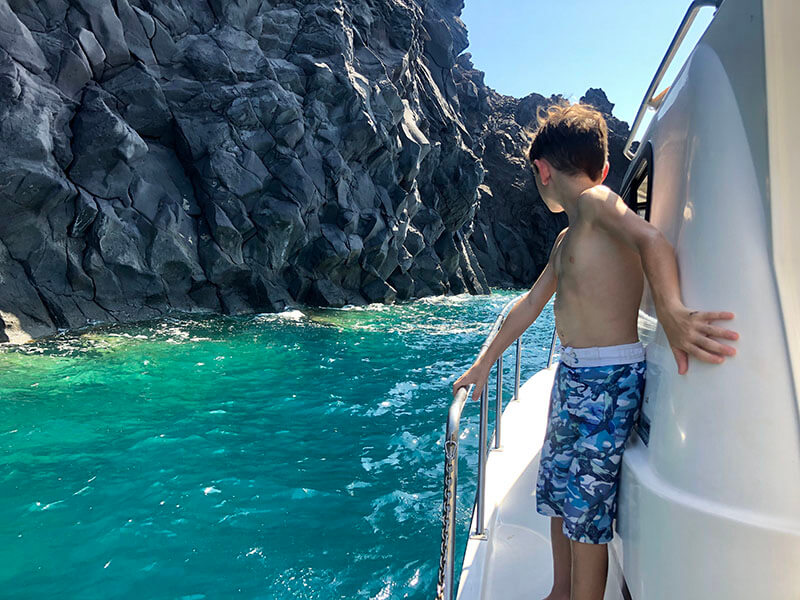 Getting Out Via Ferry
We departed Santorini via Ferry to Naxo. I couldn't find much information about taking the ferry when planning our trip, so I feel like it's important to include. The process is an absolute nightmare. Because we had to drop our rental car off at the airport, we had to take a taxi to the port. There's only one road in and out of the port so traffic backs up quickly. Make sure you give yourself plenty of time if you plan to take a ferry.
Once you're at the terminal you must pick up paper ferry tickets regardless of having online reservations. This is confusing because there's multiple vendor locations and signage isn't clear on where you need to go. This is only the beginning of how bad it gets.
A Hot Mess
IT'S SO CROWDED! People are literally elbow to elbow waiting to board the ferries. IT'S SO HOT! There's literally no breeze at the base of the island and the sun in Greece is brutal. There's only one small covered area with concrete seating and it was completely full. IT STINKS! At times there's so much exhaust from all the vehicles dropping off passengers and the ferries repeatedly coming in and out of the terminal that it's hard to breath. IT'S CHAOTIC! Cars, buses, taxis, shuttles are all trying to drop off, pick-up and turn around in a small parking area FULL of people. On top of all that it's really difficult to figure out which line you should be in to board which ferry at what time and the people working there are NOT overtly helpful or friendly. It was a wholly miserable experience.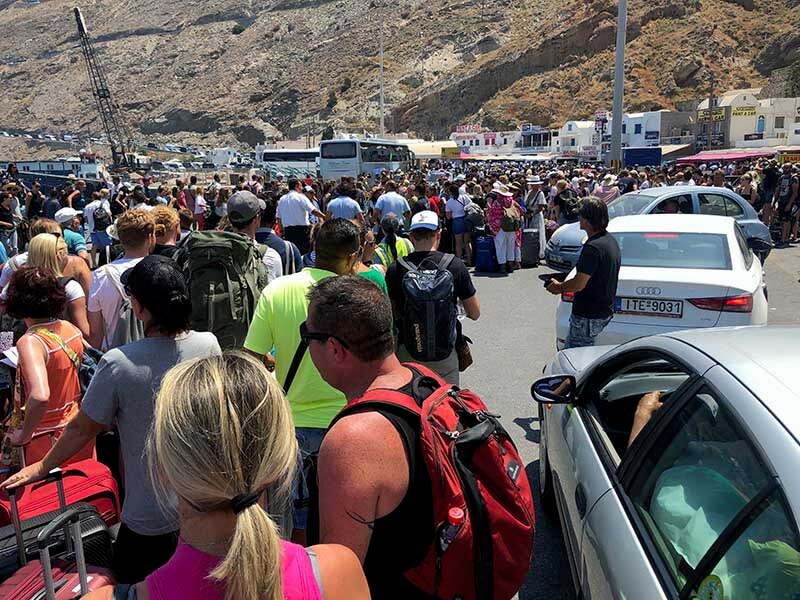 Surprisingly, once you board the ferry the accommodations are amazing. Much more luxurious than we expected. The seats are like first class airline recliners, there's plenty of space to move around, clean restrooms and even a cafe with delicious looking food. Completely unexpected. Especially after experiencing the port. The ferry is worth it, but be prepared for what it takes to actually get on one, and consider scheduling a morning trip. We used SeaJets and the cost was 114€ for four of us.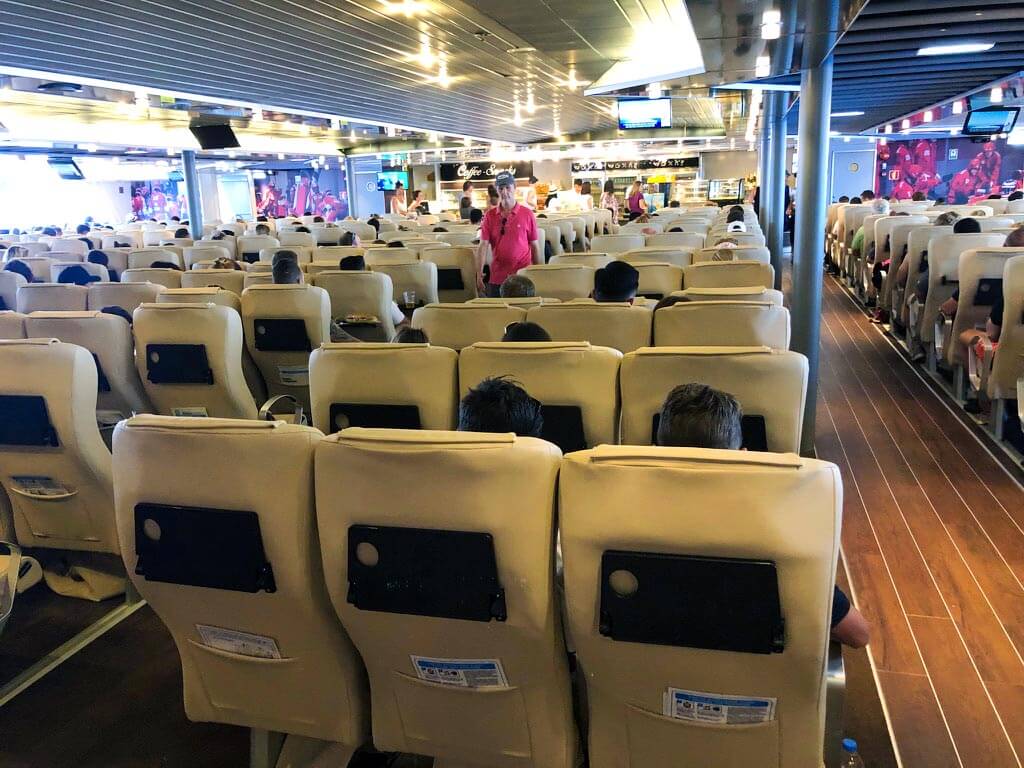 You might also like these related posts:
3 Days in Athens – A Detailed Itinerary
Oia, Santorini: Trip it or Skip it?
Pyrgos, Greece: Santorini's Hidden Gem
Brew Review: Santorini Brewing Company
Santo Winery: Best Sunset Destination in Santorini