We usually make our AirBnB reservations months in advance of traveling. However our trip to Cuba was a last minute decision and we only had a few weeks to plan. Fortunately, we were able to find this spacious AirBnB in Havana Cuba, at the last minute. Vista Habana 412 is a single story apartment located on the third floor of a small building directly across the street from the Habana Libre Hotel in Central Havana. The hotel serves as transportation hub for public buses, taxis and tours. This is makes its location very convenient, albeit a bit noisy at times.
FUN FACT: Cubans love to honk their car horns, like seriously love it. So much so that it got to be a running joke among our family. One afternoon, while sitting in the living room, we estimates how many honks we heard on an average day. We counted an average of 8 honks per minute. That means we could hear 11,520 honks over the course of 24 hours. That's no joke. Plan your accommodations accordingly.
Fortunate for us we rarely spend much time in the apartment during our travels, so it wasn't a deal breaker. Besides, the upside of having a transportation hub just outside the front door is that it makes getting around very convenient! It's also easy to negotiate for the best taxi fares because there's so much competition.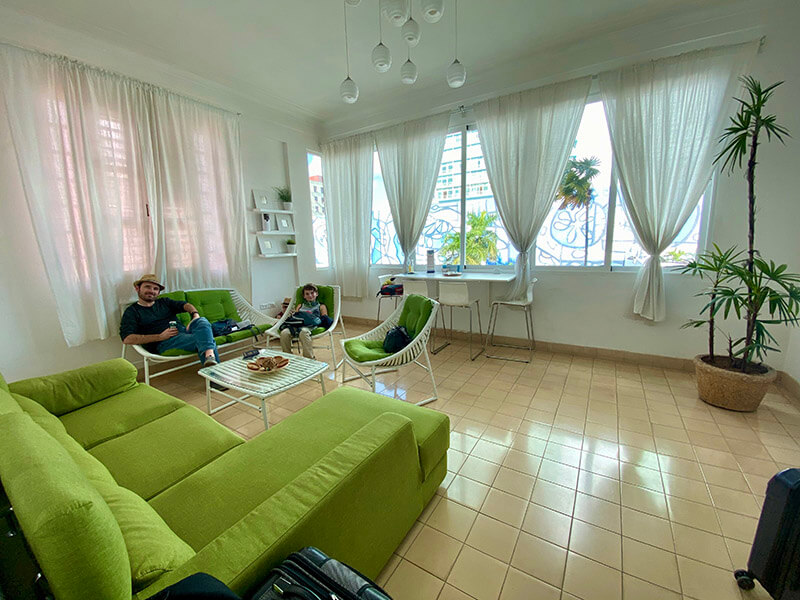 Living Room
One of the best things about Vista Habana 412 was the abundance of natural light. It flooded in the windows throughout the apartment. The living room was especially bright and airy; and the panoramic window overlooking Hotel Habana Libre was great for people watching. The window also slid open which was nice in the mornings, while we were drinking coffee.
Bedrooms
The entire apartment was air-conditioned with mini-split units in the living room and both bedrooms. The A/C worked great, almost too great. It was quite cold in the mornings. The apartment had two bedrooms, and one and half bathrooms. Both bedrooms had a flat screen TV and a safe in the closet. Bedroom #1 had a true king bed. Bedroom #2 had two twins placed together, which gave the option of having separate beds if necessary.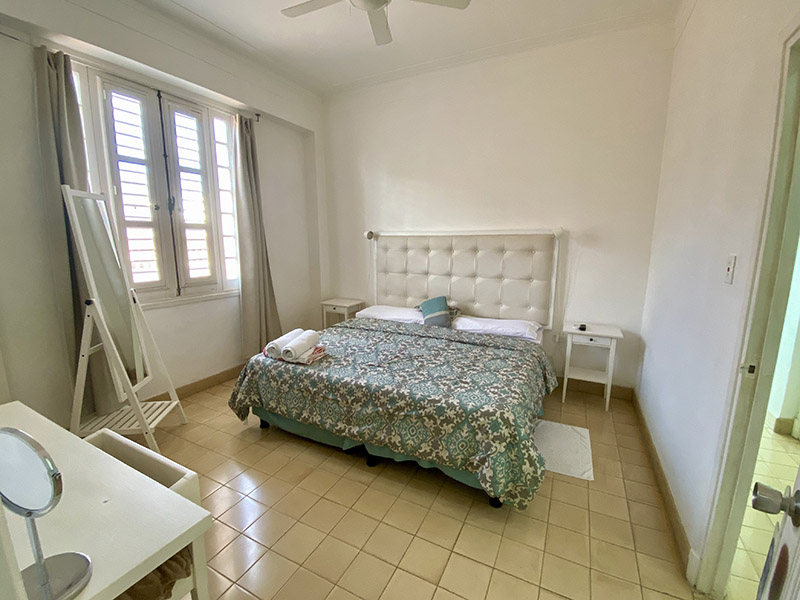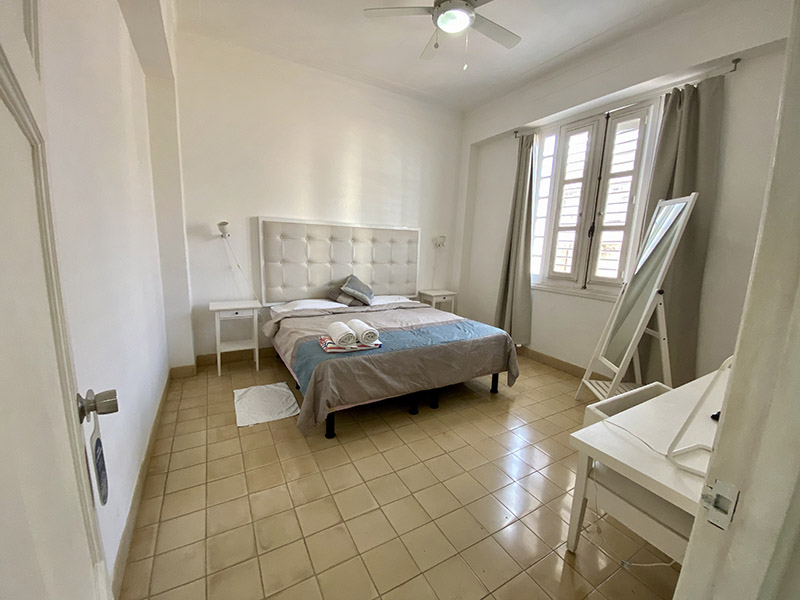 Bathrooms
The main bathroom, located off the hallway that ran through the apartment, had a large double-sink countertop. It included a hair dryer and makeup mirror. The shower was open, and large and featured a rainfall style shower head. Unfortunately, the water pressure in this apartment was terrible. So terrible that showering was a chore and washing the shampoo out of your hair was difficult. I'm not sure if it was an issue with this apartment or the entire building. The owner sent someone to look at it but they were unable to improve it. Definitely a check on the list of cons for staying at this AirBnB.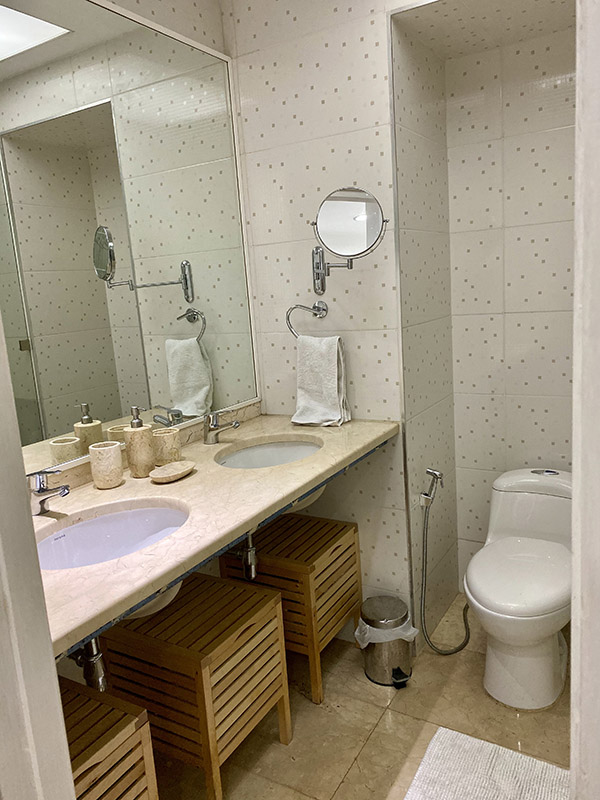 The half bath, located on the opposite side of the hallway was more of a closet than a room. It was barely large enough to fit the small toilet and minimalist-style sink but it was functional. And when you're a family of four having a second toilet if far better than not.
Kitchenette
The apartment had a small kitchenette with the basic necessities for cooking simple meals at home. It included a small gas cooktop, a large, stainless steel sink and a microwave. Utensils and dish ware were minimal but sufficient. Honestly we found it more difficult to find food to cook, than we did making the kitchen functional.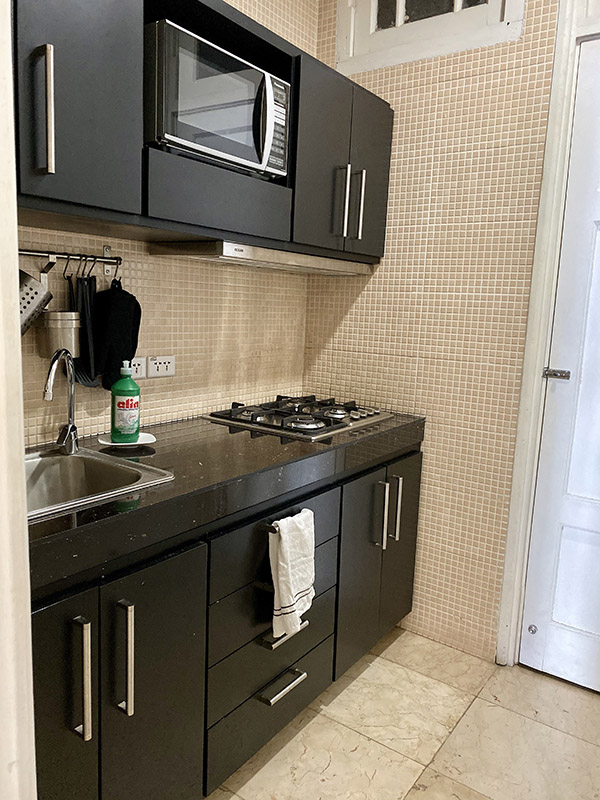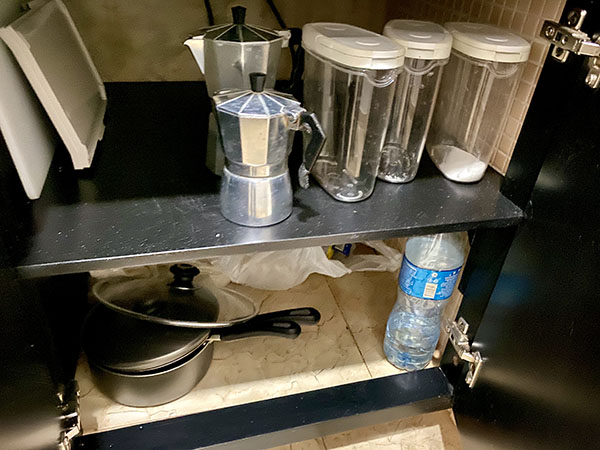 PRO TIP: When visiting Cuba, bring backup food. Groceries are scarce in Havana. The shelves of the government-run supermarkets were basically bare for our entire 7-day stay. There are produce markets. Some with butchered pork products, but freshness and sanitation were questionable. Even restaurants experience shortages and tend to keep food supplies longer than they should. Our dining experiences were 50/50 at best. Some good, some really bad.
The kitchen had the same water pressure issue as the bathroom. It took awhile to fill this pot with water. Now imagine washing your hair…
AirBnB in Havana Cuba with a Pool!
Although this AirBnB in Havana Cuba had a few negatives, it did have a really big positive. One of the deciding factors for picking this apartment was its proximity to the Habana Libre Hotel. Directly across the street. Many visitors to Havana don't realize that you don't have to say at the major hotels in order to enjoy their pools and amenities. Many of the larger hotels sell day passes for reasonable prices. Habana Libre sells adult passes for 25 CUC, including 20 CUC of food and drinks (even alcohol.) Kids passes (under 12 years) are 12.50 CUC, including 10 CUC of food and drinks. It's a great deal if you want to spend a day relaxing or if you just need few hours of rest and refreshment after a long day of touring the city.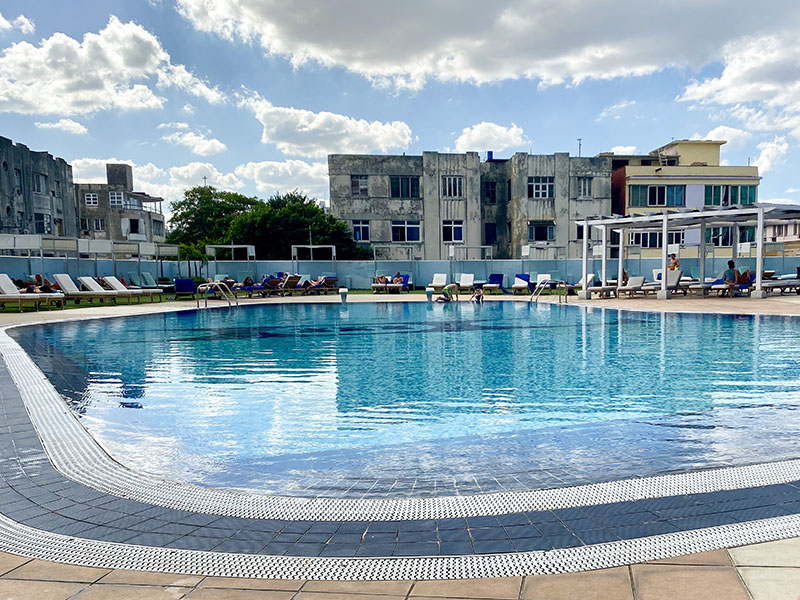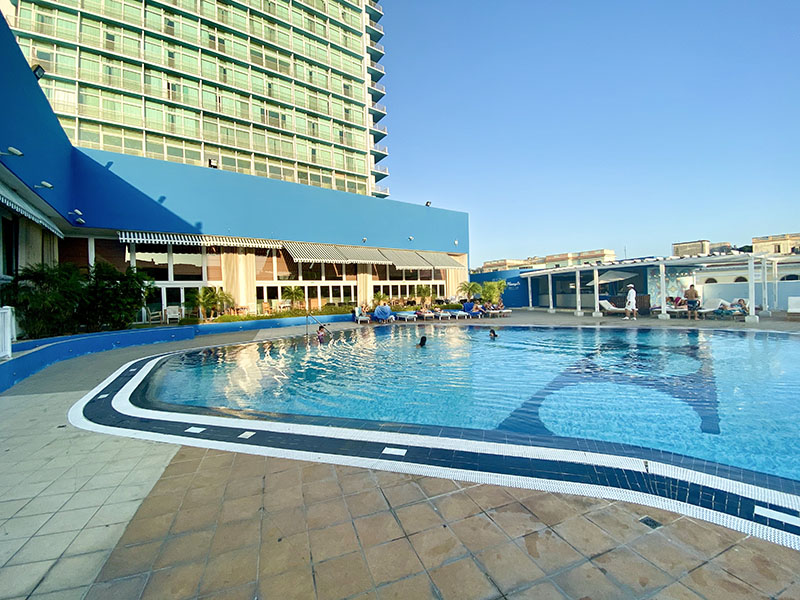 We purchased passes to the pool twice during our stay. It was a great way to let the boys take break from all the go, go, going and just play.
Overall we enjoyed our stay at Vista Habana 412. But the apartment did have a few quarks. Street noise is worth considering when selecting an AirBnB in Havana Cuba. But so in the ease of getting around the city. Vista Habana 412 came with both.
Cost of our stay for this AirBnB in Havana Cuba: We paid $120.00 x 7 nights with 20% weekly price discount Service fee, for a total cost $758.69 USD
You might also like these related posts:
Boxing Lesson at Cuba's Famous Rafael Trejo Gimnasio in Havana
8 Awesome Things to do in Havana, Cuba with Kids
Things to Know Before Traveling to Cuba from the United States
Viñales Valley Day Trip: Cigars, Horses & History
Should You Travel to Cuba?