Two Different Worlds
Belize is one of those countries that seems to inhabit two different worlds. Located on the east coast of Central America, it boasts beautiful white sand beaches and world-class diving along its massive barrier reef. But just two hours inland, the country's Cayo region is a place of abundant jungles, adventure tours and ancient ruins. When deciding what to do in Belize, we suggest planning for the best of both worlds.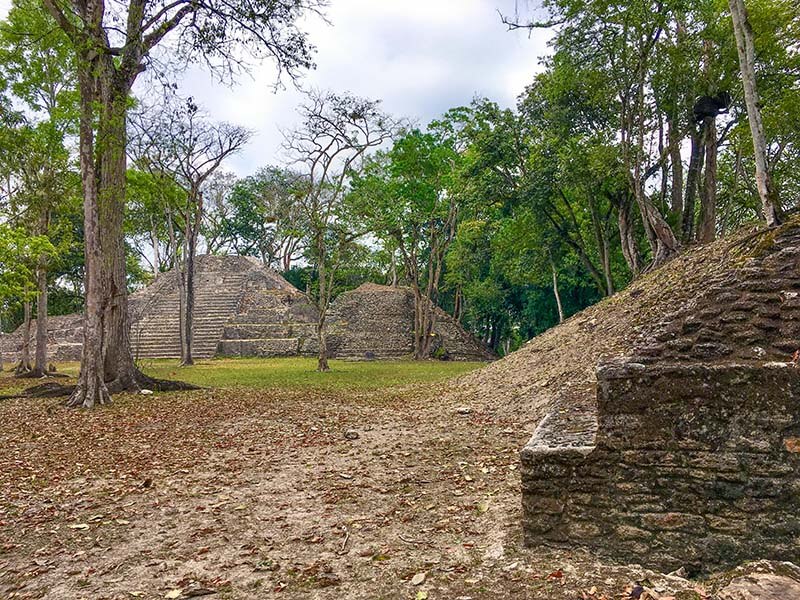 We spent seven full days in Belize (plus two days commuting) and decided to divide our time equally between the mountains and the coast. We rented a car from Budget Rent-a-Car at the airport in Belize City for $323 (for 5 days) and it was worth every penny. The car was definitely a little worse for wear, but considering the road conditions it's not surprising. Driving in Belize is pretty straight forward, but most of the roads are still a mix of dirt and gravel. They're wide, and in relatively good shape, but there's not a lot of signage so having GPS or MAPS.ME is a good idea.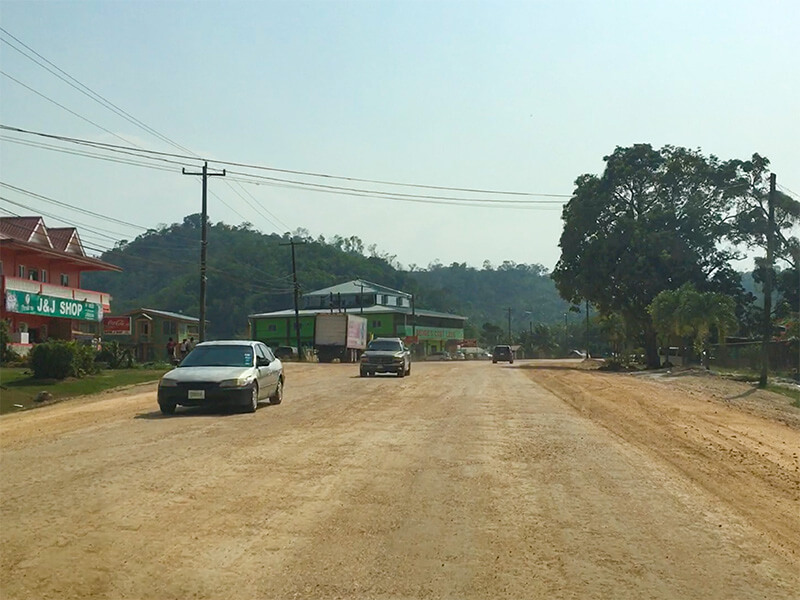 Exploring the Area
We chose the remote town of San Ignacio as our base for exploring the western part of the country, and the small island city of San Pedro as our base for exploring Ambergris Caye. (jump to info about Ambergris Caye) Both locations are perfect for navigating the surrounding area.
We planned to spend our time on the mainland at the start of our trip since the activities we booked in San Ignacio were somewhat adventurous and potentially exhausting. We figured it would be nice to adjust to the island vibe at the end of the trip and relax a bit before heading home. When you're traveling with kids, its always a good idea to schedule in some down time. You don't want to come home from vacation, needing a vacation.
Exploring the Mainland
Belize City to San Ignacio
Less than a two-hour drive from the airport in Belize City, San Ignacio is a small bustling town near the Guatemalan border. There are plenty of restaurants, shops, and tour options to keep you busy for several days. There are also Maya ruins, national parks and a number of ecological farms and conservation projects nearby. Multiple options for groceries and a large outdoor market offer a wide variety of local produce, crafts and souvenirs.
The drive from Belize City to San Ignacio is a straight shot on the Western Highway. Also known as George Price Highway, the Western Highway is a paved two-lane road that runs 78 miles between Belize City and the Guatemala border.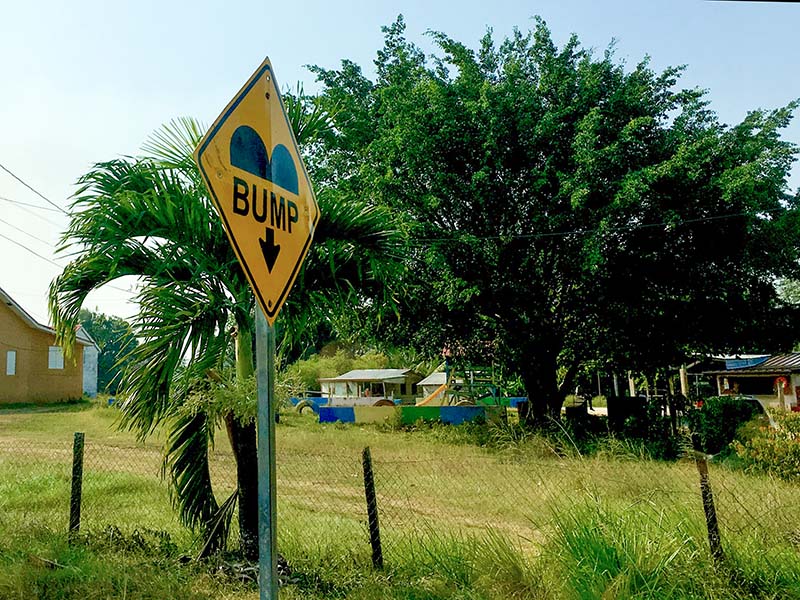 PRO TIP: Be on the lookout for the "Sleeping Police!" There are some brutal speed bumps on this road, usually near villages. They're marked with yellow caution signs, but if you zone-out while driving and hit one without braking you're very likely going to cause damage to your car. No joke. Mind the Bumps!
If you're like us and need a pitstop along the way, there's a restaurant called Amigos on the left-hand side about 45 minutes into the trip. It has a pirate themed exterior, but the food is Tex-Mex and American. It's a laid back atmosphere with lots of outdoor seating. The food is good and the beer is cold. It's a great place to take a break if you need one.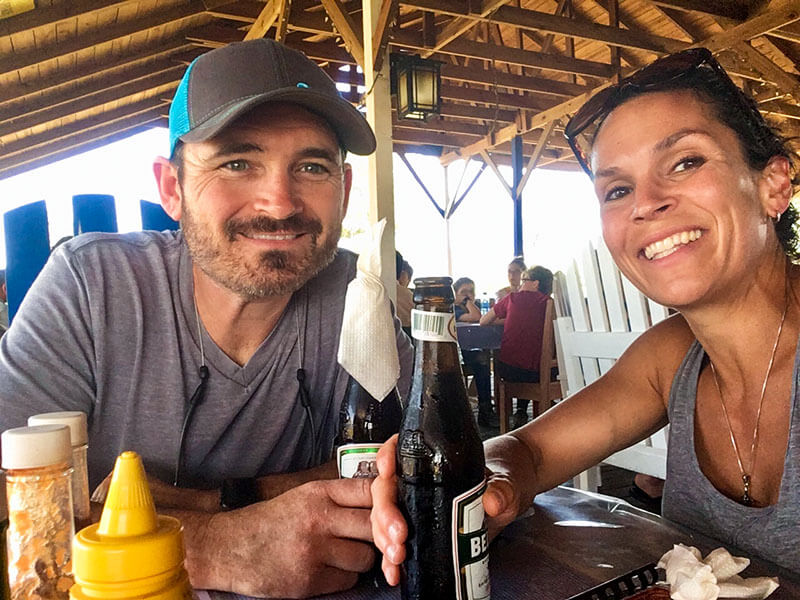 Arriving in San Ignacio
Before reaching San Ignacio, you will drive through the neighboring city of Santa Elena. When you come to the Hawksworth Suspension Bridge, you'll know you've arrived.
Where to Stay – San Ignacio
While there are numerous hotels and eco-lodges to choose from in and around San Ignacio, we found the absolute best AirBnB just 15-minutes outside of town. This Private Riverside Farm Home is easily one of our top AirBnB finds. The dirt road used to reach the house is a little bumpy but other than that we couldn't name a single drawback to our stay.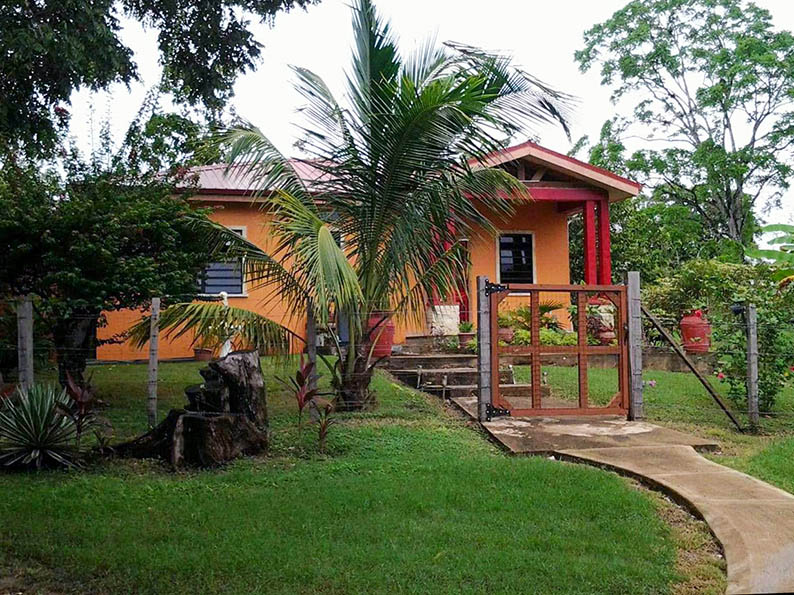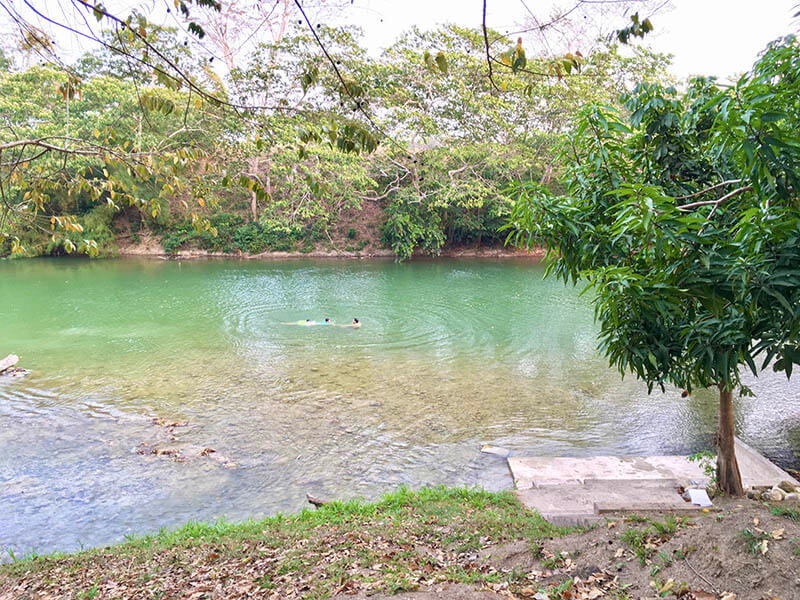 The house is located steps from the Mopan River and affords calm, crystal-clear waters for swimming. Our boys absolutely loved ending every day with a dip in the river. It was perfect! The house has 2 air-conditioned bedrooms and 2 full baths and is located on a secluded private farm with fruit trees, flowers, and a friendly farm cat named Tuxedo. If you're looking for an amazing AirBnB we highly recommend this one. Price breakdown for 4 people: $119.00 x 4 nights plus cleaning fee and service fee for a total $588.21 (USD).
You can save $55 on your reservation using this link.
What to Do in Belize – San Ignacio
Eco-Friendly Adventures
Maya history and outdoor adventures is what San Ignacio is all about. The town is a hub for tour companies offering every variety of outdoor excursion. The most prominent one being Actun Tunichil Muknal (ATM). The ATM cave system is the resting place of the famed Crystal Maiden who was scarified there between 700 and 900 AD. The skeleton has been underwater for so long it's completely calcified and appears to sparkle; inspiring the name "Crystal Maiden." While some tour companies will allow children on this tour, we decided to forgo it due to the potentially hazardous hiking conditions.
Instead we booked an all-day tour through Mayawalk Tours that offered a combination of zip-lining, hiking and cave-tubing. It lasted about 7 hours and included all the necessary equipment, as well as snacks and a picnic lunch. This was easily our favorite days on the mainland of Belize – A very Indiana Jones experience. For a more detailed description of this excursion read Cave Tubing Belize.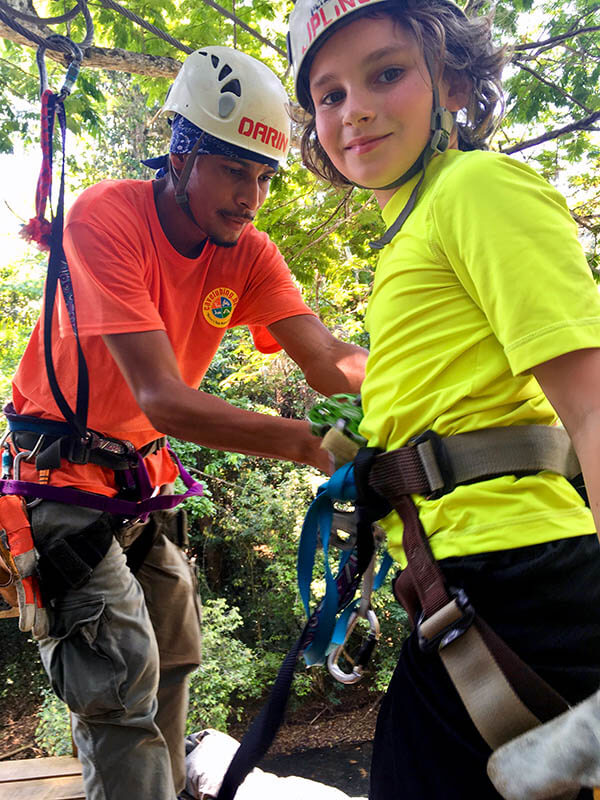 The Green Iguana Project
Located on the property of the San Ignacio Resort Hotel, the Iguana Project has been leading conservation efforts for the Green Iguana since 1996. Tours are available daily from 8 a.m. to 4 p.m. and leave every hour on the hour from the hotel lobby. Tickets are $11.25 per person at the front desk.
The Project is a rescue center and hatchery for the threatened green iguana. Tours provide an informative and up-close experience with these fascinating and friendly reptiles. The hotel grounds include lush gardens of native fauna and medicinal plants. The tour guide stops to identify various species and their uses as you walk to the iguana enclosure at the rear of the property. Inside the enclosure, among a crowd laid-back lizards, the guide explains the incubation, hatching, rearing, and releasing process.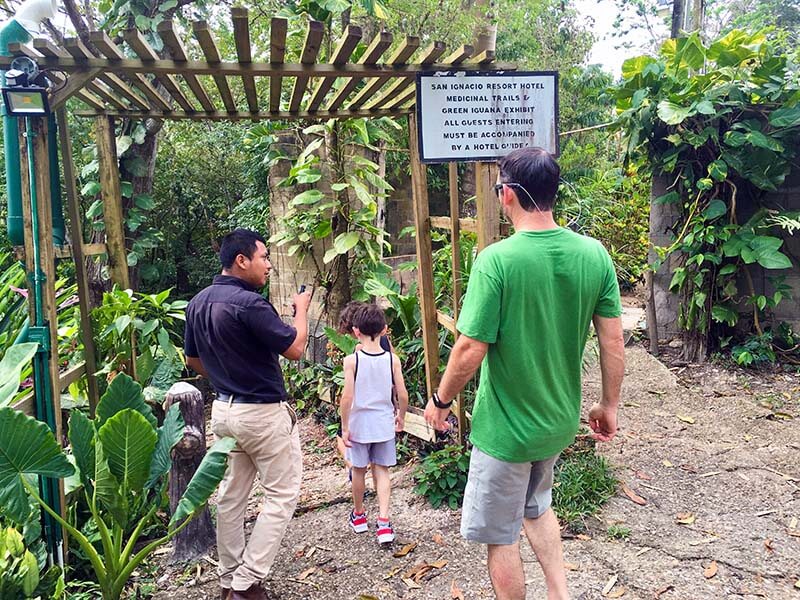 There are literally lizards of every size and imaginable shade of green, and interacting with them is encouraged. Honestly they actually seem to enjoy the attention. We spent about 30-minutes holding, petting and posing with them and our boys were giddy with excitement.
Cahal Pech Archeological Park
Located just outside of San Ignacio (about 20 minutes by car) Cahal Pech is one of the oldest Maya ruins in Belize; dating back to 1200 B.C. It's believed to be a palace settlement for Maya nobility. The grounds consists of 34 structures spread across approximately 2-acres, including temple pyramids, residence buildings, courtyards, a ceremonial altar and two ball courts. The most impressive building is a temple measuring 77-feet high.
Cahal Pech is strategically located on a hill to provide unimpeded views of the Macal and Mopan Rivers. It's calculated position and elaborate architecture indicate that its original inhabitants were quite sophisticated. Archeologists believe Cahal Pech once supported as many as 10,000 people during the Late Classic Period (550 A.D. – 830 A.D.) However, while other surrounding Maya settlements show evidence of activity for centuries longer, it's believed Cahal Pech was abandoned around 900 A.D.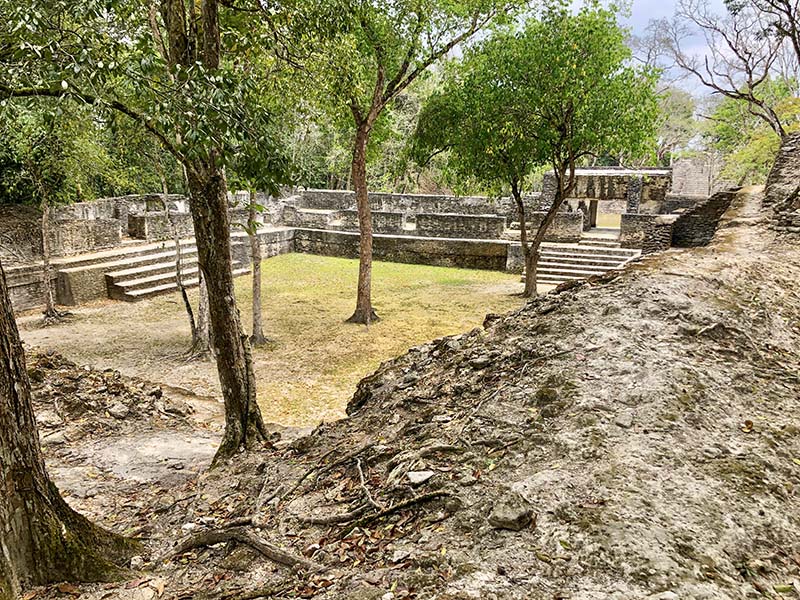 Cahal Pech Tour Option
Simply walking around the Cahal Pech Ruins is impressive, but we recommend paying for a guided tour. We were approached by a staff member while walking the grounds. He offered us a tour in English for which we agreed to pay $20 USD. We're glad we did. There's not a lot of informational signage on any of the structures at Cahal Pech so you can't fully appreciate what you're seeing. The tour provided some interesting facts. Like the purpose for the deliberate shape of the doorways, which we assumed were decorative, but were actually designed to accommodate the elaborate headdress worn by the king.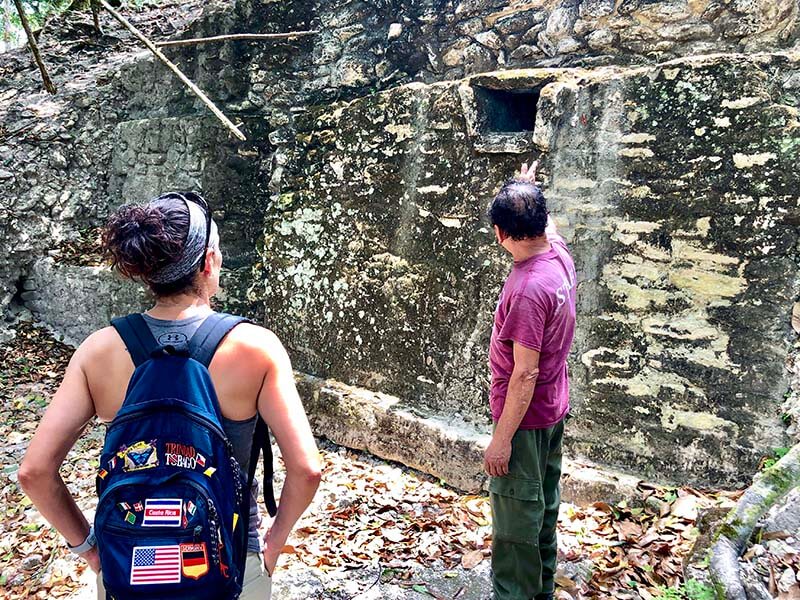 There's a small museum at the entrance of the park which exhibits a reconstructed model of the entire site, a collection of artifacts and artwork, as well as other historical information. The cost to enter Cahal Pech Ruins is 10 Belize.
Cahal Pech is a great stop if you're staying in San Ignacio because of its convenient location and manageable size. But I will mention that after taking the trip to Tikal the following day, it's not nearly as impressive. So if money is tight and you're planning to see one of the larger Maya sights in the area you may want to skip it.
Eat Belizean Food
We stumbled across this little restaurant during our second day of exploring San Ignacio. When we travel we typically look for places to eat traditional-style foods. A quick peak inside of Cenaida's Belizean Food and we knew we'd found exactly what we were looking for. The menu is full of fresh local favorites. Everything we ordered was delicious and the service was incredible. Our waiter was very attentive and friendly. We both ordered the citrus grilled chicken with coconut rice, stewed beans, fried plantains and salad! So good! If you're looking for authentic Belizean Food for a reasonable price, we recommenced stopping in to Cenaida's.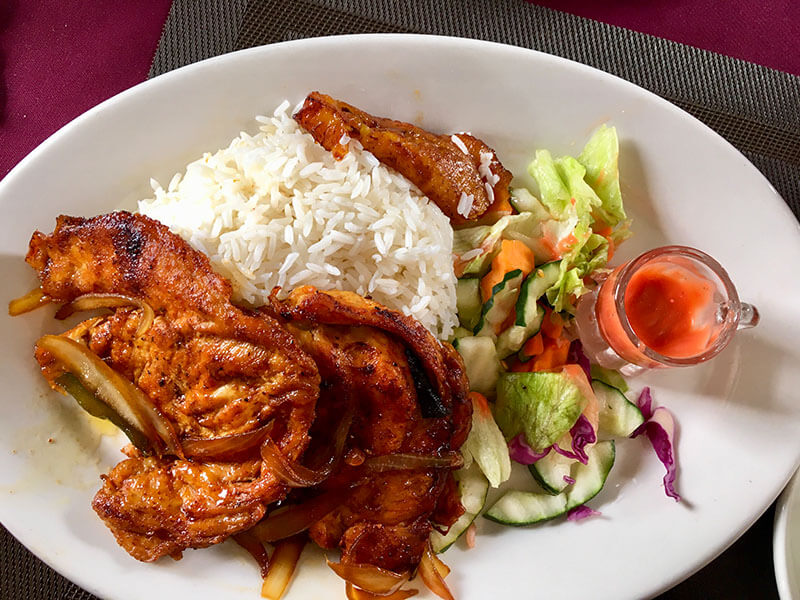 San Ignacio Market
Located on the west side of the city, across from the football stadium, San Ignacio Market is a colorful collection of local flare and flavors. Farmers, vendors and artisans from all walks of life market their goods daily between 5 a.m. and 6 p.m.
You'll find everything from fresh fruit to traditional medicinals in the various stalls that make up the small open-air market. The busiest (and best) day to visit is Saturday when the market attracts the most sellers. We stopped by on a Monday and it was pretty quiet. Not many sellers and only a few patrons. We did enjoy perusing the available goods and ended up purchasing several souvenirs to bring home. It's definitely an enjoyable way to pass an hour or so, and a good way to immerse yourself in some local color.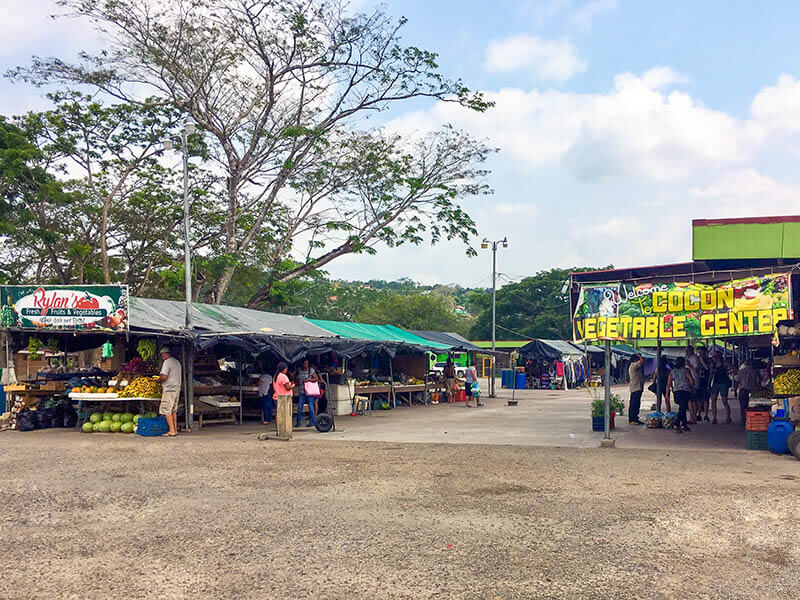 Take a Day Trip to Tikal
Technically, Tikal isn't a "Thing to do in Belize" since it's located across the border in Peten, Guatemala. But with the help of a one of the many tour companies in San Ignacio it's an easy day trip to make. And frankly, if Tikal isn't on your list of things to do in Belize, it should be!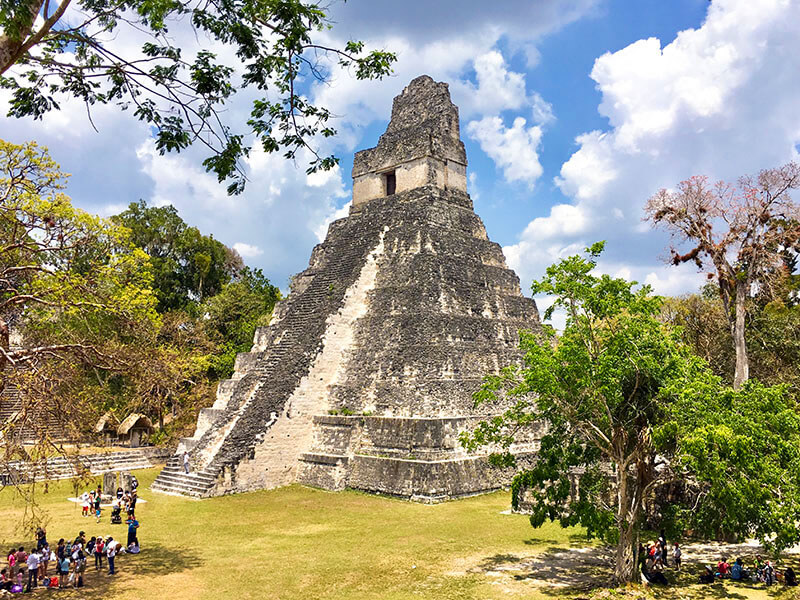 Tikal National Park is one of only a few World Heritage sites that meets the designation criteria for both natural and cultural importance. The park comprises more than 142,000 acres of wetlands, savannah, tropical broadleaf and palm forests with thousands of architectural and artistic remains of the Maya civilization dating from 600 B.C. to its eventual collapse around 900 AD.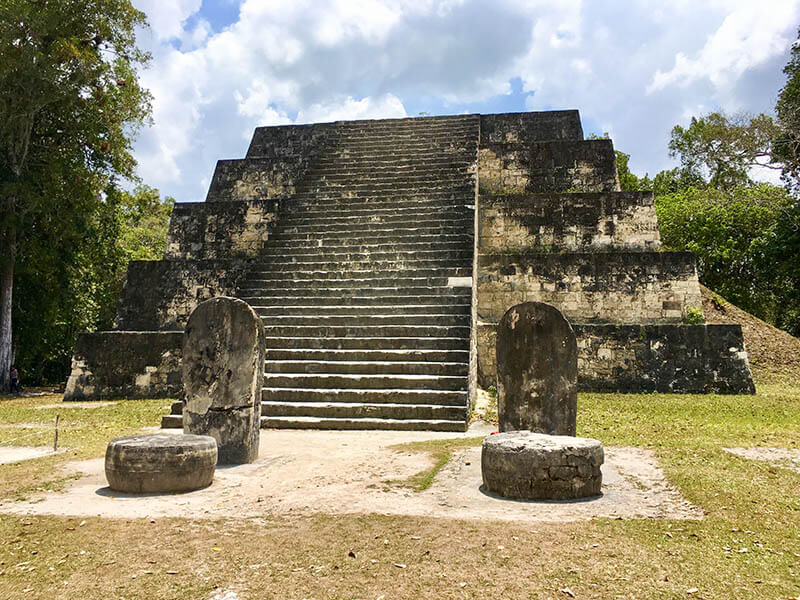 During the 8th Century Tikal was the most prominent city in the Maya world, serving as an important ceremonial and commercial center. Archeologists believe the settlement supported as many as 100,000 residents during its height between 700 – 750 A.D. Tikal is unmatched in scale and level of restoration. After more than 150 years of excavation, researchers have identified some 3,000 significant buildings. This unique and impressive archaeological site is arguably the most impressive Maya site in Latin America, and rivals Manchu Picchu in Peru and Angkor Wat in Cambodia in its ancient splendor. Tikal is a must-see. The cost of the tour was $140/per adult, $135/per child. We recommend booking in advance. For a more detailed description of this excursion read Tikal Guatemala Maya Ruins (coming soon)
Exploring the Island
Belize City to San Pedro, Ambergris Caye
Hourly flights into San Pedro are available from the airport in Belize City. San Pedro airport, is located walking distance to town. Tickets prices start at $41 one-way. You can also take a ferry from Belize City to San Pedro which is what we chose to do.
Ocean Ferry Belize operates 3 ferry routes between Belize City, Ambergris Caye, and Caye Caulker. The ferries run 5 times daily. Tickets are available on Ocean Ferry Belize website here and can be purchased at the terminal. Round trip tickets are $35 USD adult, $24 child USD.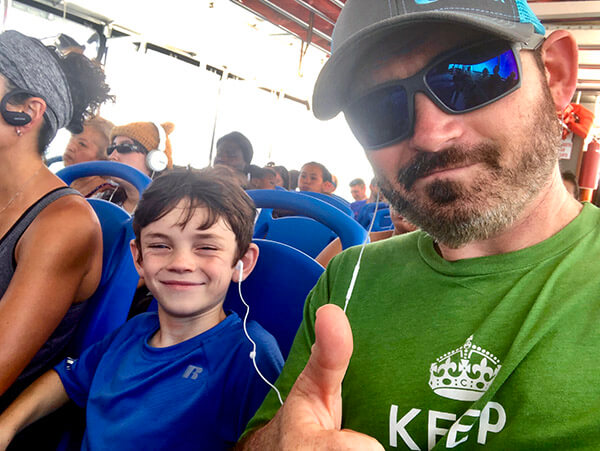 The Belize City terminal is located beside the "Belize Swing Bridge" at #10 North Front Street. Be warned that it gets hot and hectic inside the terminal as people begin lining up to board the next ferry. The boat ride is only about 1 hour and 15 minutes to San Pedro making it a popular day trip for locals. Because seating on the ferry is first come first serve, its advisable to get in line early enough to afford a choice in seats. The boat is covered, and has sufficient air flow throughout the cabin, but getting a seat along the outer edge, near a window provides a much nicer experience on the water.
Inside the terminal you can purchase food, drinks, beer, basic beach wear, sand toys and souvenirs. There's an ATM machine on site for cash withdrawals. There's also WIFI available inside the terminal and on the Ferry.
Arriving in San Pedro
Arriving in San Pedro, you depart the ferry at the Caribena Pier in the heart of San Pedro. If you're planning to rent a golf cart, which is the primary means of transportation on the island, there are several options available at the Pier. Prices for carts vary in direct correlation with your ability to negotiate. On average you should expect to pay around $50 per day, depending on the time of year. Availability of carts also varies based on whether you're visiting during the high season or not. In order to avoid the stress of dealing with both variables we worked with our AirBnB host to reserve a cart in advance. He met us at the pier on arrival and supervised the rental transaction and lead us to our apartment. Our cost for renting the golf cart for 5-days was $250 USD.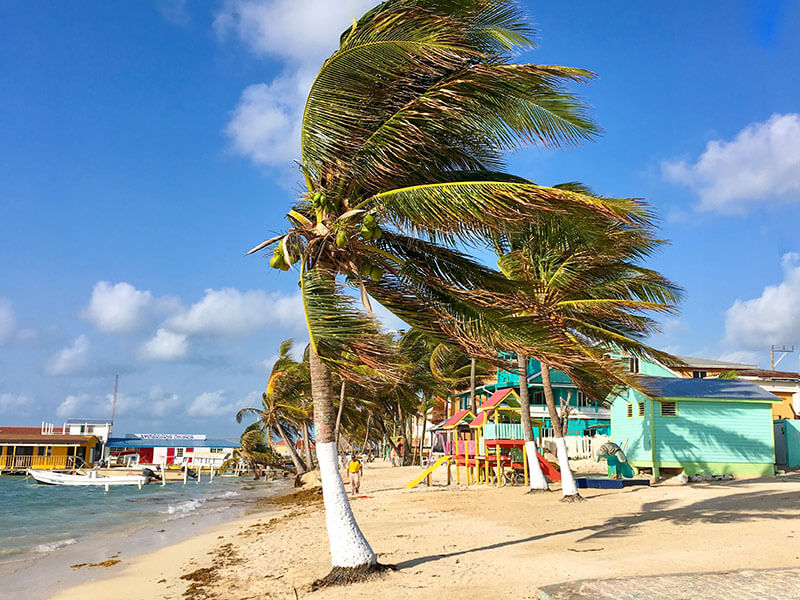 Where to Stay – Ambergris Caye
There are plenty of resorts and hotels on Ambergris Caye, but like San Ignacio we chose to rent an AirBnB. We rented a one-bedroom (with fold-out couch for the kids,) one-bath condominium in the Mara Laguna community. It wasn't our favorite AirBnB experience, but the community is quiet and its only a few minutes golf cart ride across the bridge from downtown San Pedro. We chose it mostly for its location which is convenient to restaurants and grocery stores. We also liked that it has access to a community pool. Our boys love to end each day with a swim.
PRO TIP: There's a $5 Belize toll for crossing the bridge back into San Pedro from the northern part of the island so be prepared. It can add up quickly if you not strategic in planning your trips in town.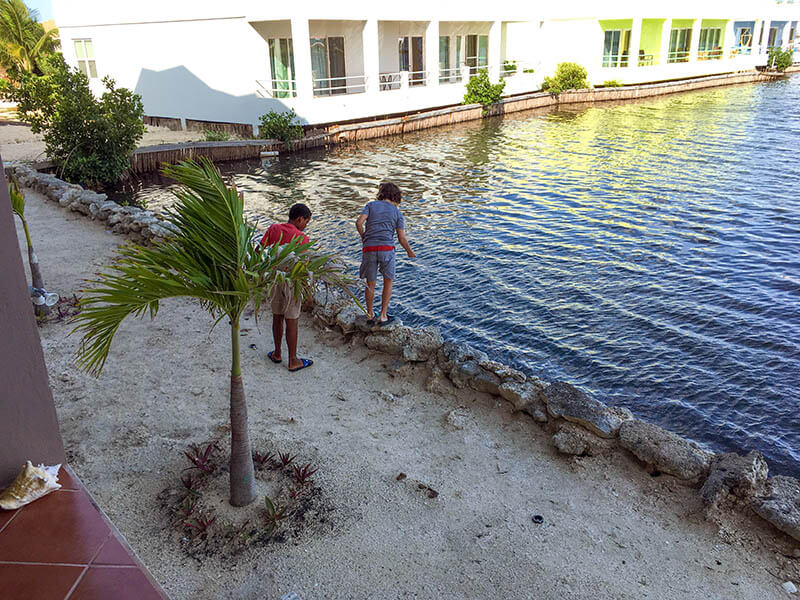 The apartment itself is a little more worn that the photos convey but it does have a lovely lagoon view from the porch. The boys enjoyed fishing along the water's edge and playing with other kids in the community during our stay. Our 4-night stay at Mara Laguna Waterfront Lagoon Condo cost $632.24.
You can save $55 on your reservation using this link.
What to Do in Belize – Ambergris Caye
Golf-Cart Cruising
It may not seem like a "thing to do in Belize" but if you ask our kids what their favorite part of visiting Ambergris Caye was they'll tell you it was riding in the golf cart. Transport by golf cart isn't a novel idea but it is one of the charming characteristic of island life in Belize. There are cars and other vehicles on the island but golf carts, bicycles and walking are the principal modes of transportation.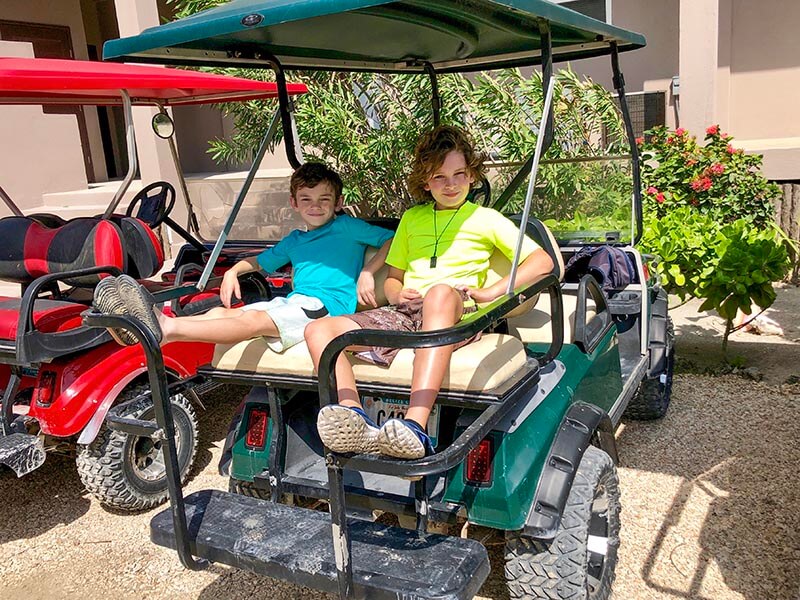 San Pedro is the largest settlement on Ambergris Caye and is home to approximately 10,000 year-round residents. Once a local fishing village, San Pedro has become one of Belize's most popular tourist destinations. This bustling little Belizean beach town is a colorful collection of brightly painted buildings and houses with plenty of island vibe.
There are two main north-south streets in San Pedro. One is Front Street (aka Barrier Reef Drive) which is one-way heading north for most of its distance to Caribena Street. The other is Middle Street (aka Pescador Drive) which is one-way heading south from the intersection of Caribena Street.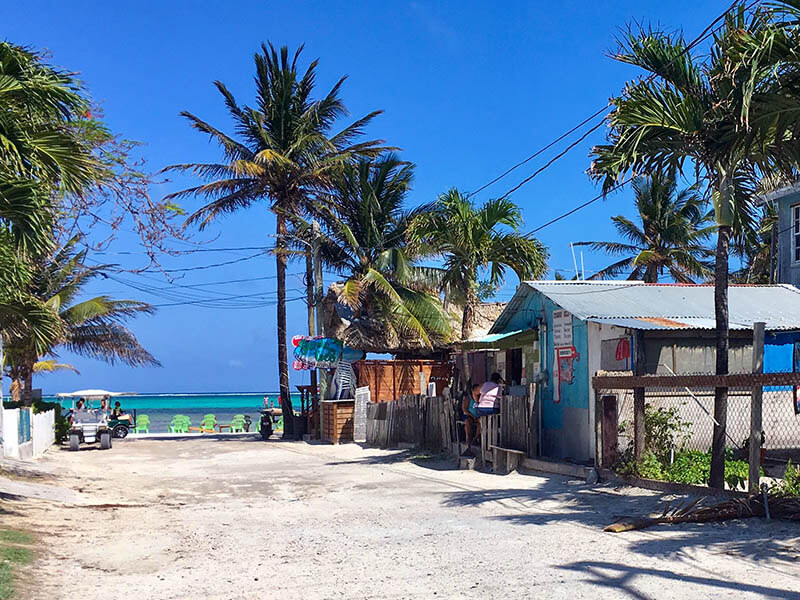 As you cruise the narrow streets of San Pedro you catch glimpses of surf breaking just beyond the line of buildings on the east side of town. Many of the alleyways provide access to the beautiful white sand beach and crystalline blue sea just a few hundred feet away. The alleys are dotted with palm trees swaying above awnings and tin roofs marking the edge of town.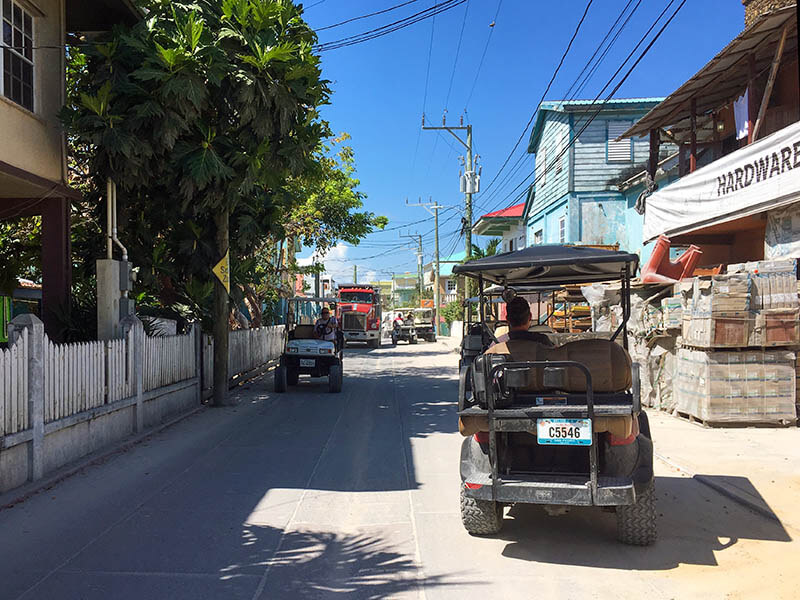 The farther north you go on Middle Street (aka Pescador Drive), San Pedro becomes more residential and local. You'll find supermarkets, utility companies, a high school, a playground, and then the San Pedro River. Across the bridge the road continues north on the back side of the island past resorts, restaurants and resident homes.
Walk the Waterfront
Between the buildings and the sea on the east side of San Pedro there's a narrow pedestrian walk-way that provides the perfect place to take a stroll any time of day. Cruising the beach by foot, or by cart, was one of our favorite things to do in San Pedro. It gets a bit windy at times but the view is unmatched and the beach is scattered with lively restaurants and bars.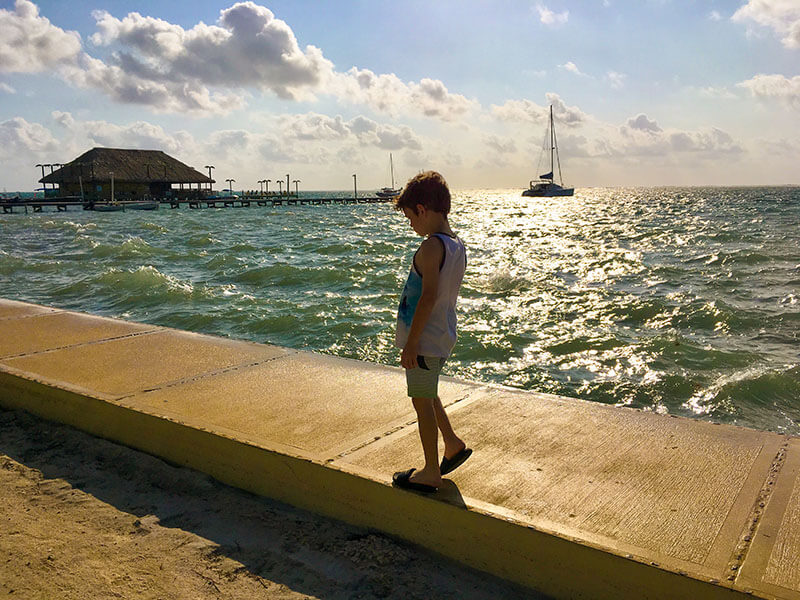 Our favorite stop while walking the waterfront was Central Park at the center of town. The park has a small playground, a wide sandy beach, a large plaza with benches and public bathrooms. It's a great place to take a break and let the kids play while you relax and enjoy the view.
During the day, vendors and food carts set up along the walkway beside the park and at night the surrounding bars become the hub of tourist nightlife.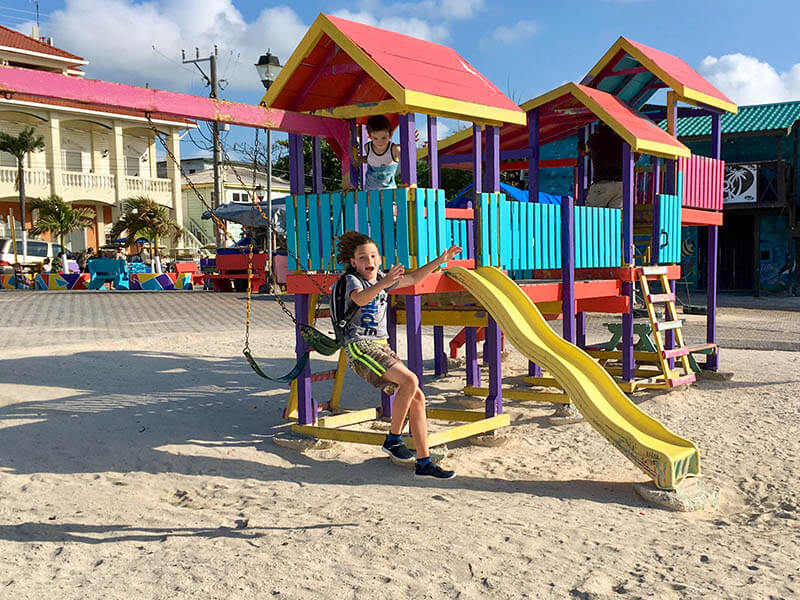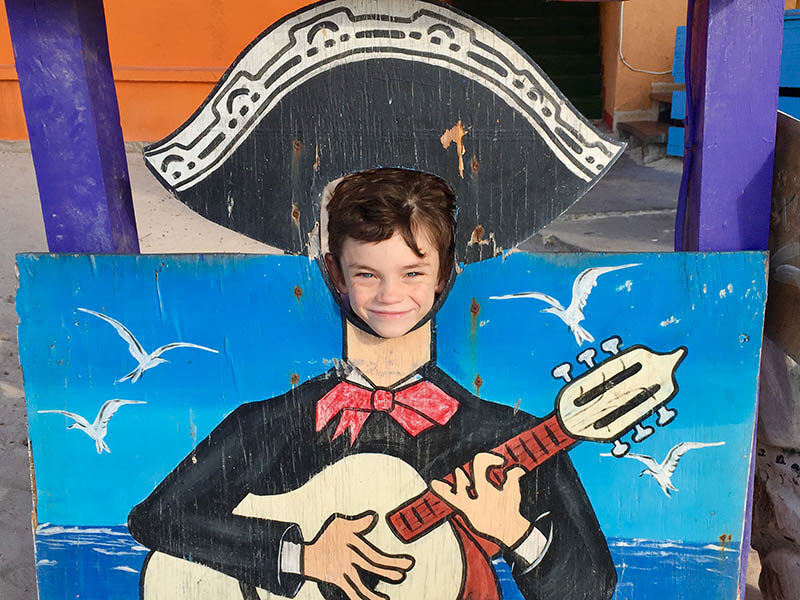 PRO TIP: While private residences and businesses can have beachfront property in Belize, 60-feet of shoreline from the water's edge belongs to the government and people of Belize. By law the property is publicly accessible between sunrise and sunset. You may see a few "Private" and "No Trespassing" signs along the waterfront, but there mostly intended to prevent further beach erosion in specific areas rather that to prohibit access.
Charter a Fishing Trip
For those that follow our travels, you know that one of the things we love to do on vacation is fishing. With two boys in tow, one of whom is an avid angler, spending time on the water is a sure-fire way to please the whole crew. Our trip to Belize was no different. While I had a hard time finding a well-reviewed and affordable charter to book before our arrival, I felt confident that in a town like San Pedro we'd find someone to take us.
Obviously the best place to look for a local fishing guide is near the docks, so that's where we headed. During one of our afore mentioned waterfront walks we decided to stop into Chuck & Robbie's and ask advice. The pirate flag flapping boldly above a turquoise building with a long, wooden pier seemed a likely spot to find some help. And we were right. Speaking with the owner he made a quick call to a friend that lived just up the beach, and within the hour we were speaking with a captain. We arranged a half-day trip for the next day.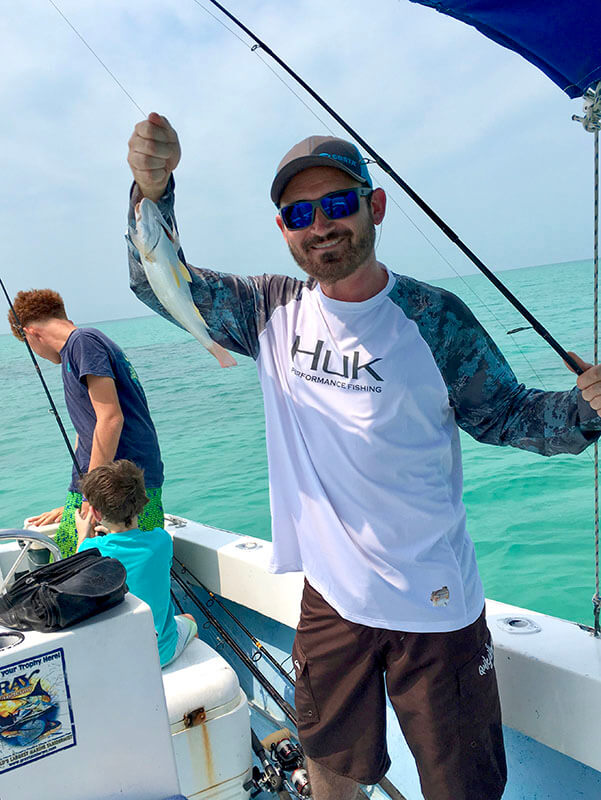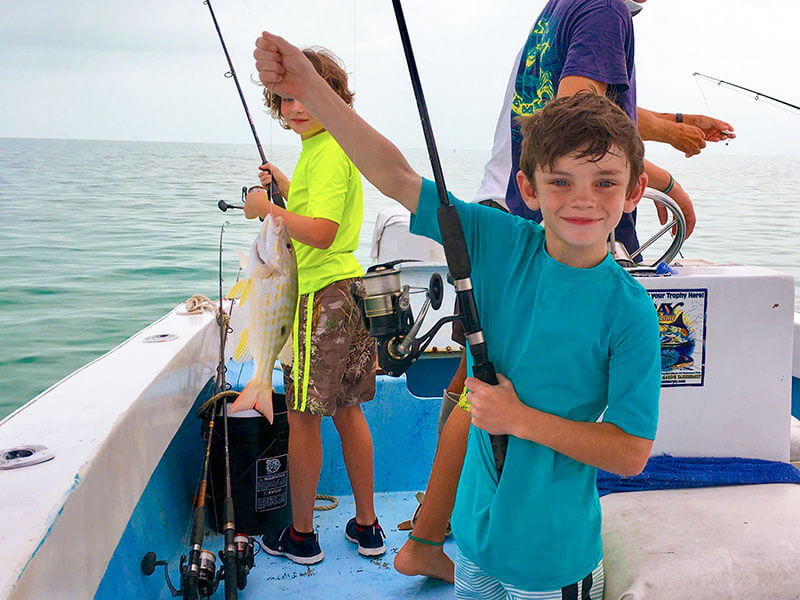 We were out on the water by 8 am. The skies were overcast and hazy, so it wasn't the best conditions for picture-taking. But clouds reduced the chance of sunburn and the water was calm so it was great conditions for fishing. We spent about 4-hours on the water; fishing in-shore and along the reef. The captain and his first mate kept the waters chummed and our lines tight.
The kids had a ball reeling in fish after fish. We caught more that we could eat during our short stay in San Pedro, but our captain and first mate were happy to keep the rest. They cleaned and iced our pick of the fish when we returned to the docks. We happily cooked meals at home for the next few nights. It was a fun and fruitful way to spend a day on Ambergris Caye.
Visit Secret Beach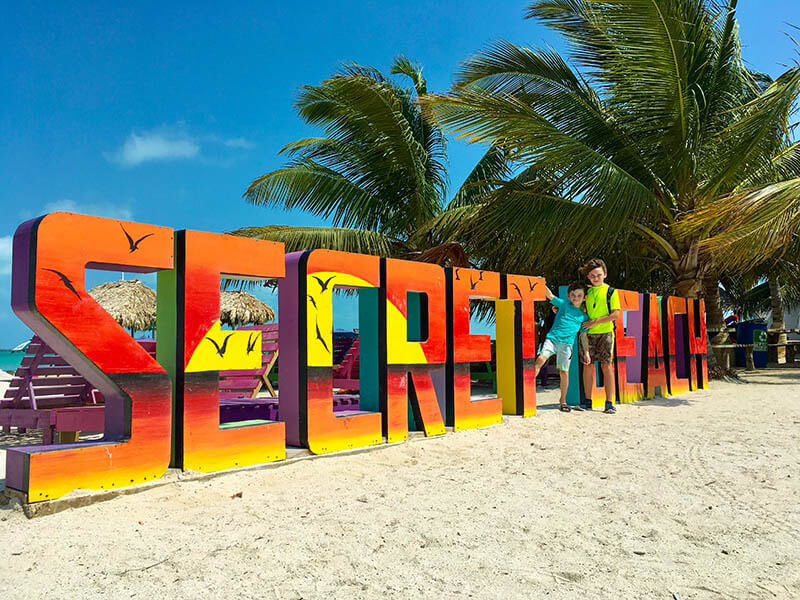 It might be more aptly named "Not-So-Secret Beach," nonetheless it typically tops the list of things to do in Belize if your visiting Ambergris Caye. Located about 4-miles north of San Pedro, on mostly paved roads, and other 4-miles west on mostly shell roads, Secret Beach is essentially a tourist destination populated with pricey beach bars. But, because of its remote location it doesn't draw huge tourist crowds. Making it the perfect place to spend the day swimming and relaxing in the sun.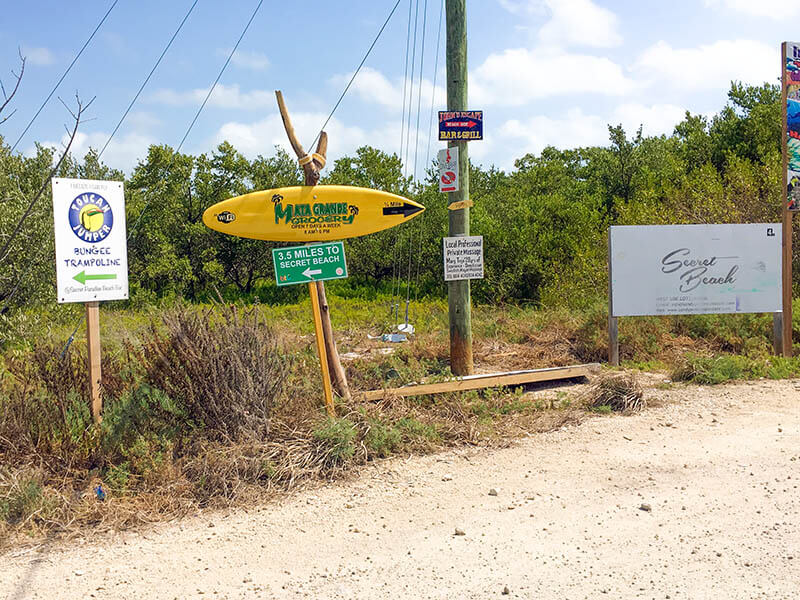 The beach is best known for its laid back atmosphere and crystal clear waters, which are calm and perfect for swimming. Most of the bars and restaurants on the beach have large collections of lounge chairs in front of their establishments. Typically, the use of the chairs and umbrellas is free, and on a first come first serve basis, as long as you're purchasing their food and drinks. There are kayaks, paddle boards, pedal boats and float beds for rent from various locations on the beach and some of the bars have additional entertainment options like volleyball courts and a bungee trampoline.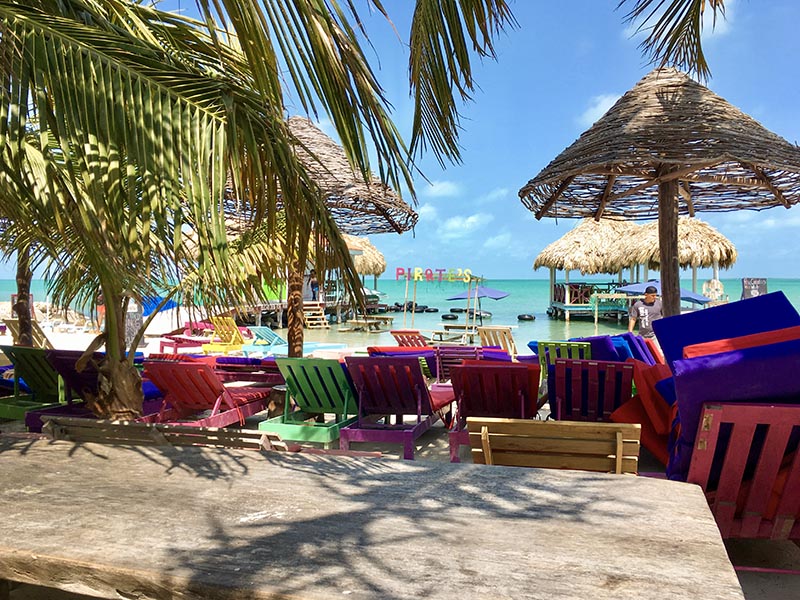 Secret Beach is a must-see spot on Ambergris Caye, our only complaint about our afternoons at there are the hawkers. There are lots of people that approach you over and over to purchase, jewelry, hair braids, massages, etc. It's a fairly common practice in the Caribbean, but be prepared to be friendly but firm if you want to be left alone. We had one lady that was so relentless about braiding our son's hair that we finally gave her our last remaining dollars in hopes of being left alone. She insisted on braiding his hair in exchange, but she was very vocal with her displeasure with the amount of cash we could give her.
PRO TIP: The lounge chairs outside of the restaurants tend to fill up as the day goes on, so if possible arrive to Secret Beach mid-morning to pick the perfect spot.
Make a Stop at Truck Stop
Have you ever stumbled onto a place and thought, Wow this place is perfect! Like finding our AirBnB in San Ignacio, we found another perfect Belizean locale in San Pedro – Truck Stop. Along the route to Secret Beach there's a collection of cargo containers that have been modified into a sort of outdoor, family-friendly food court. This place is so unique its hard to describe, but it's definitely a place not to be missed.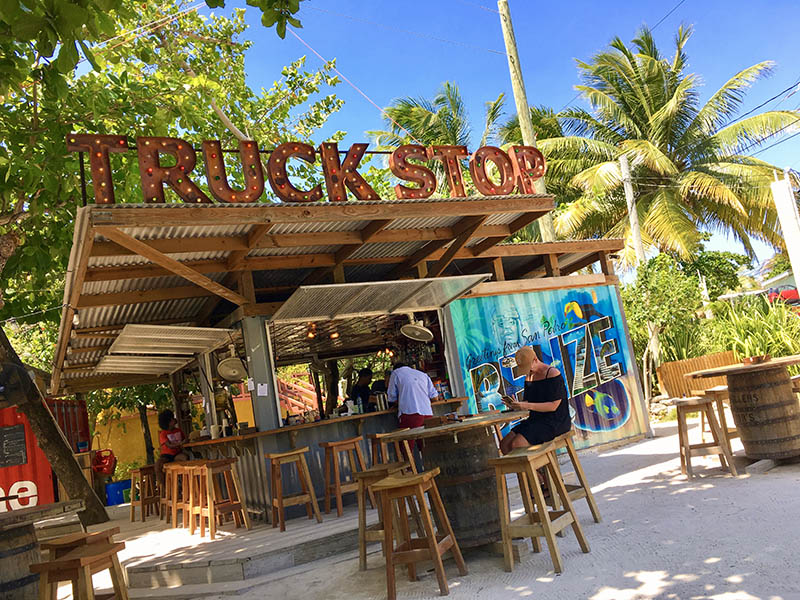 An eclectic mix or of food options including Malaysian, Latin American, pizza and ice cream; along with a beer garden; an extensive assortment of outdoor games; and a swimming pool with a swim up bar and an 18-foot movie screen – This place is unbelievable cool! We stopped on multiple occasions on our way back and forth to Secret Beach and were never disappointed. We had a great time playing games with the kids, and the food is unbelievably good. It's also the only place on the island that where we found local craft beer.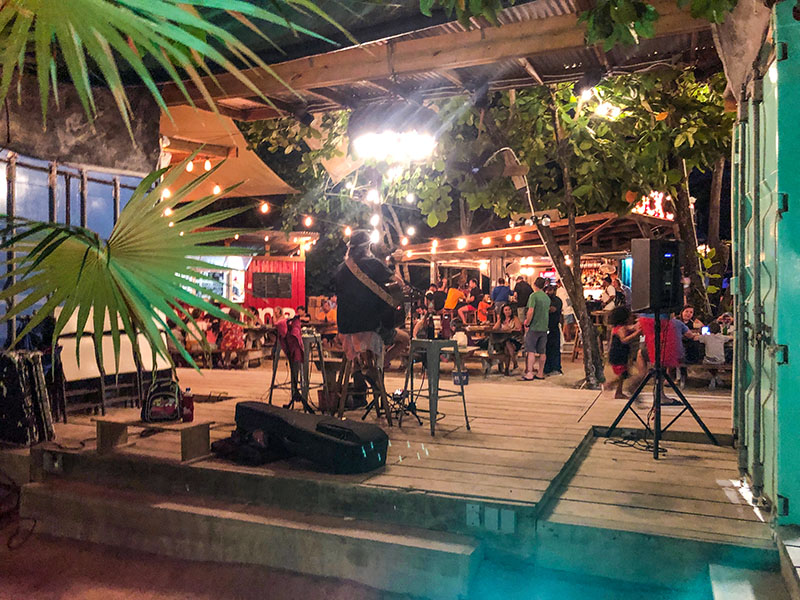 Truck Stop offers live music, events, games and movies every night. We made the trip for movie night during their showing of Moana and it was the perfect way to spend the evening. If you're visiting San Pedro and you have a golf cart, you simply have to make the one-mile trip north to Truck Stop.