The first thing you need to know before traveling to Cuba. It requires a bit more planning than other Caribbean destinations. It's not complicated. It's just important to be prepared. Here's a list of what you need to know.
1.Visas
Before traveling to Cuba you need to know which visa to purchase. The U.S. Department of Treasury's Office of Foreign Assets Control (OFAC) has authorized people to travel to Cuba under one of 12 "general" license categories. Individuals who meet the requirements of one of the 12 general license categories do not need to apply to OFAC for a "specific" license to travel to Cuba.
The 12 "general" license categories include:
Family visits
Official business of the U.S. government, foreign governments, and certain intergovernmental organizations
Journalistic activity
Professional research and professional meetings
Educational activities
Religious activities
Public performances, clinics, workshops, athletic and other competitions, and exhibitions
Support for the Cuban people
Humanitarian projects
Activities of private foundations or research or educational institutes
Exportation, importation, or transmission of information or informational materials
Certain authorized export transactions
All U.S. citizens can travel with a group tour or cruise under the "People to People" educational category. Individuals can travel under the "Support for the Cuban People" category. Both require you to adhere to specific regulations. Including, refraining from using entities owned by the Cuban military. These regulations are administered by the Office of Foreign Assets Control. For more information go to OFAC.
Visas are sold by airline companies. You can purchase visas at gateway airports (final airport before leaving the United States.) Visas cost around $50 per person. Depending on the airline. Credit cards are accepted for purchasing visas.
2. Credit Cards
Another important thing to know before traveling to Cuba is that you can't use credit cards issued by U.S. banks. The is part of the U.S. trade embargo. Very few establishments accept any credit/debit cards. Namely a select few large resorts and hotels. Cash is vital for your trip. ATMs are very rare in Cuba. They will not accept debit cards issued from U.S. banks. If you're planning to take tours, trips, or excursions it's a good idea to pay in advance. Use your credit in the United States to make the reservations. Avoid traveling to Cuba with a lot of cash.
3. Medical Insurance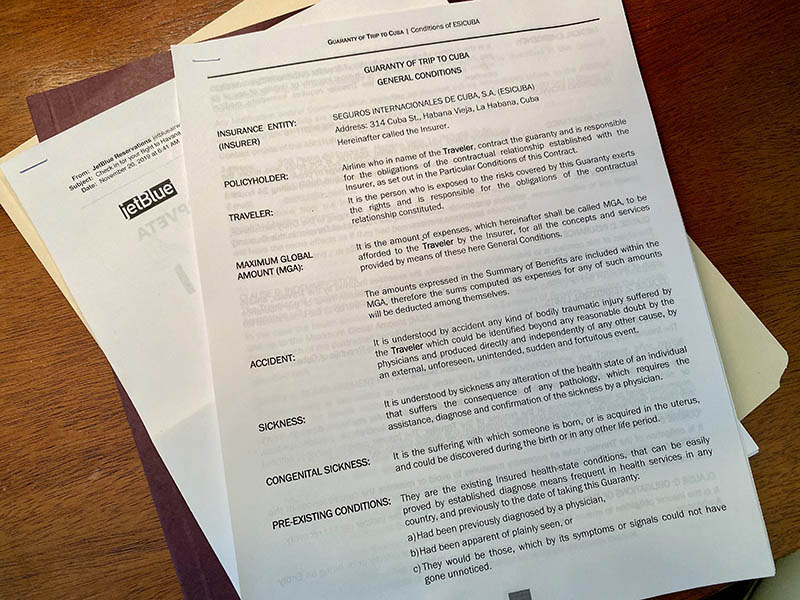 The Cuban government requires all visitors to have health insurance. The insurance must cover the territory of Cuba. Cuban authorities will accept policies from foreign insurers. A quick web search provides plenty of affordable carriers. If you don't purchase coverage before traveling to Cuba. There are insurance offices in the arrival terminal of most Cuban airports. These offices sell plans for about 3 CUC per day. If you fly to Cuba with JetBlue Airlines your ticket automatically includes a $25 surcharge for Cuban health insurance. Its provided by ESICUBA and administered by Asistur. Cuban health insurance provided by ESICUBA is valid for 30 calendar days from your date of entry.
4. Cash
Cuba has two currencies, the Cuban Convertible Peso (CUC) pronounced "cook" and the Cuban Peso (CUP, Moneda National, or MN). The value of the CUC is tied directly to the U.S. dollar. 1 USD is equal to 1 CUC. The Cuban Peso is the national currency of Cuba. The Cuban Peso is significanlty less valuable than the CUC. 1 USD is equal to 24 MN.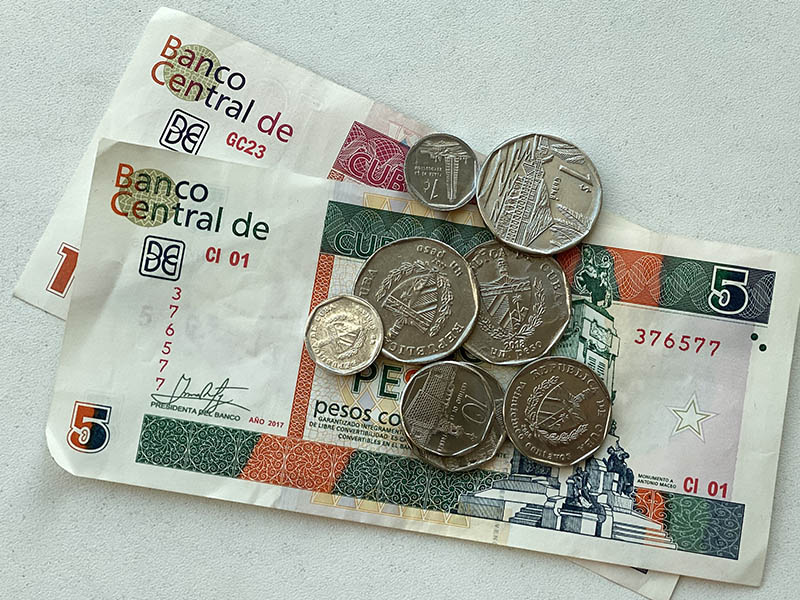 Pro Tip: Pay attention to the bills you accept as change. People will try to give you a MN in the place of a CUC. You will lose the value of your money.
You really only need to convert your money into CUCs. Be aware there's a 10% tax for converting USD to CUCs. The tax is part of the U.S. trade embargo. Some travelers recommend converting USD into Euros in the U.S. and then, converting Euros to CUCs in Cuba. This will avoid the 10% conversion tax. However, depending on current exchange rates and bank fees. This may not be a real savings. It may just be an additional step.
Exchanging cash in Cuba is easy. You can exchange money in state-operated exchange houses called CADECAs. These exchange houses are located in all cities, airports, and in most hotels. Locations are highly visible and easy to find. It's important to note that you must show your passport to exchange money. It's best to exchange a minimal amount of money at the airport. Almost all other CADECAs offer better rates.
Pro Tip: Some businesses in Havana will exchange money for little to no charge. We received multiple offers from store clerks. Also, check with your hosts and tour guides. There is a growing demand for U.S. dollars.
5. Internet
The government regulates the internet in Cuba. Access and service are unreliable. There are Public WIFI zones throughout Havana. They are open to locals and foreigners. You must purchase a WIFI card in advance to access the Public Wifi. This is true for use in AirBnBs and hotels. You can purchase WIFI cards directly from ETECSA (Cuban National Telecom Co.) offices. They can also be purchased in the lobby of most hotels. The cost is 1 CUC per hour. If an AirBnB advertises free WiFi it generally means the host will pre-purchase a WiFi card.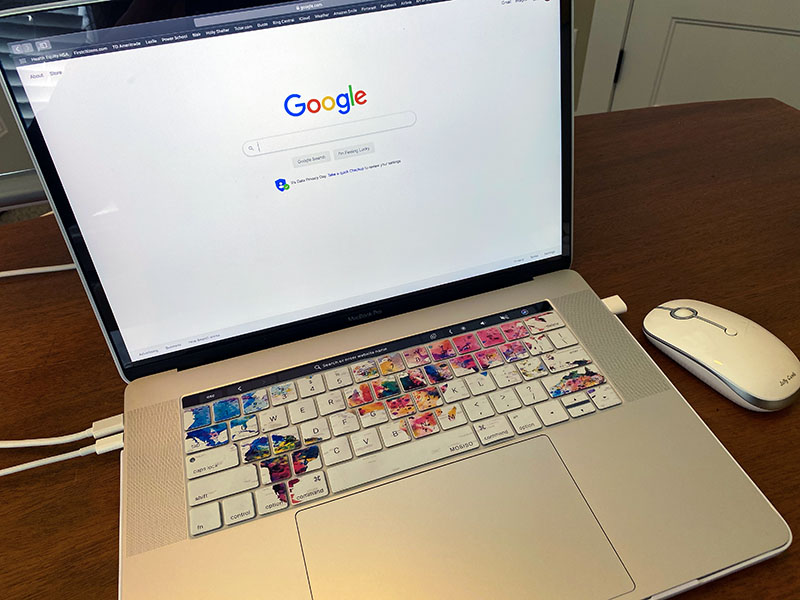 The WiFi connection in Cuba is slow and spotty. It's works ok for basic data needs like checking email. Just don't expect to keep up with your social media accounts. Embrace the opportunity to 'unplug' and enjoy Cuba.
If a reliable internet connection is essential. You can use the WIFI in higher-end hotels for an additional fee. Hotel connections require WiFi cards. We've read that some American service providers block traffic from IP addresses in Cuba. In this case, it may be helpful to use a VPN.
6. Maps
Getting around Havana is relatively easy. Most streets and intersections are clearly marked. If you typically rely on your phone or GPS for directions. We recommend downloading the MAPS.ME. app before your trip. MAPS.ME provides free, detailed, downloadable maps (entirely offline). It even has turn-by-turn navigation. Its great for finding tourist destinations and restaurants. This app was essential for getting around Havana easily.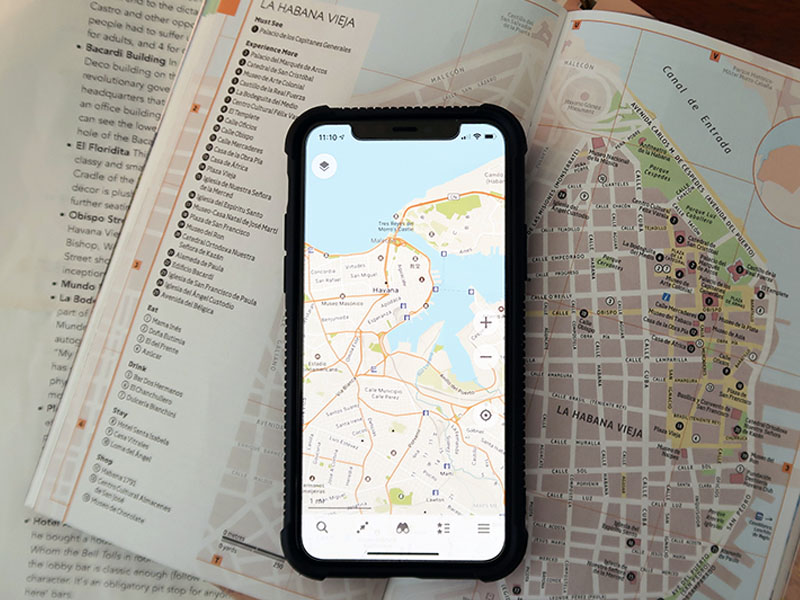 7. Cell Phones
If you intend to use a U.S. based cell phone in Cuba, you should expect to incur roaming charges. Most plans, even international ones, don't include Cuba. Roaming charges can be expensive. If you plan to use your cell phone regularly in Cuba. Contact your service provider. Know what your roaming charges will be in advance.
8. Gifts for Locals
People will ask you for handouts. A lot. This isn't unusual in a third world country. In Cuba its a regular occurrence. It's especially common around Old Havana. Prepare yourself. It's a good idea to bring small gifts or food items to carry with you. We brought small toys we cleaned out of our boys' closets. Having them on-hand was a great way to fill an outreached hand with kindness. It was always met gratitude.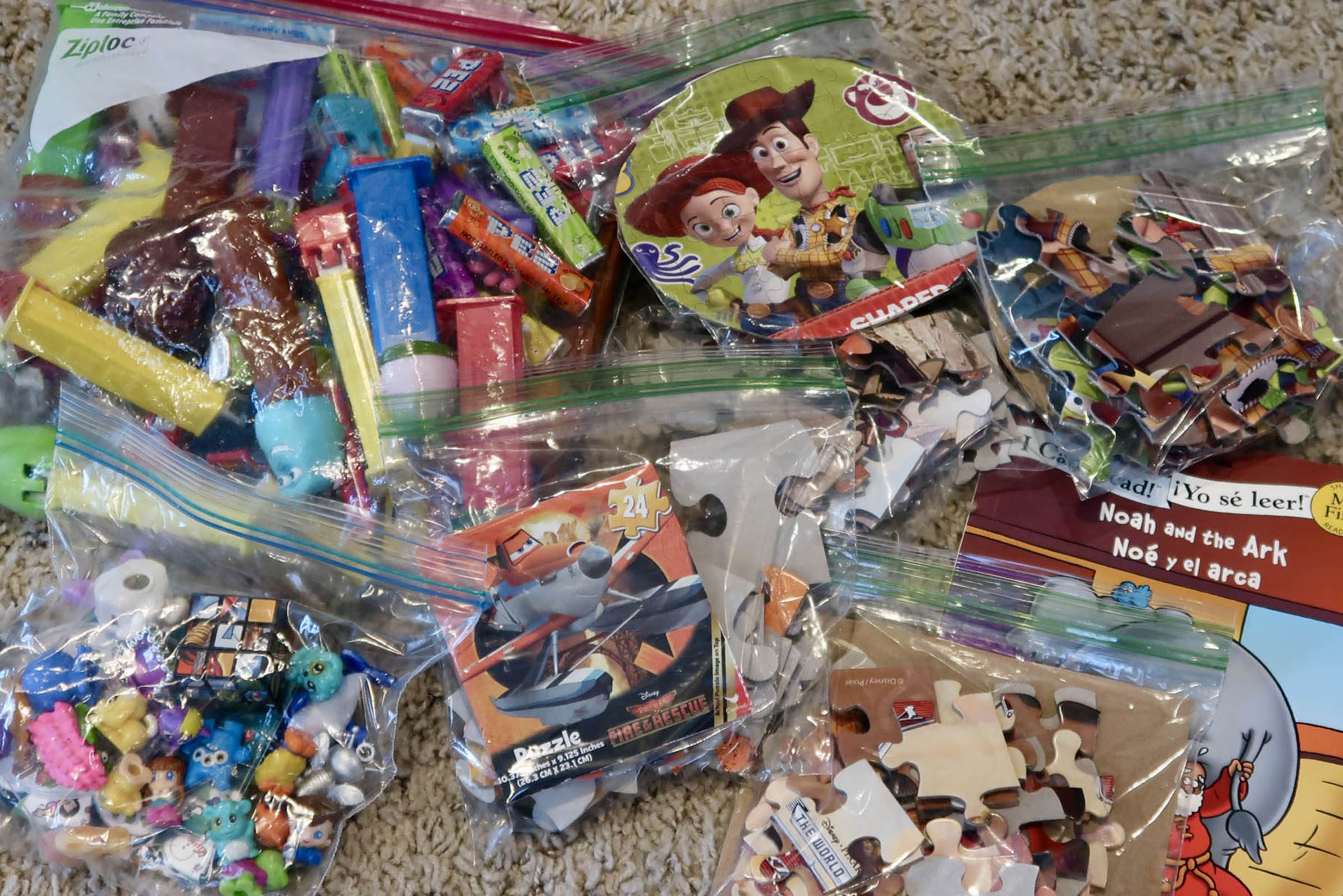 9. Grocery Stores
Planning to cook for yourself in Cuba? You may be surprised by what you find in the grocery stores. More pointedly. You may be surprised by what you don't find… food.
Something not mentioned on most lists of things to know before traveling to Cuba is the scarcity of basic groceries and hygiene items. The state-run grocery stores are highly subject to limited supply and variety. We visited multiple grocery stores in Havana. Most of the shelves were bare. Finding enough ingredients to comprise a meal was very difficult. The same is true for things like soap, deodorant, and toothpaste. Be sure to bring enough for your entire stay in Cuba. Consistently available grocery items included: cooking oil, coffee, pasta, powdered milk, random canned vegetables, and rum. There's always rum! The only meat we found was chicken hot dogs (and they were not what we expected.)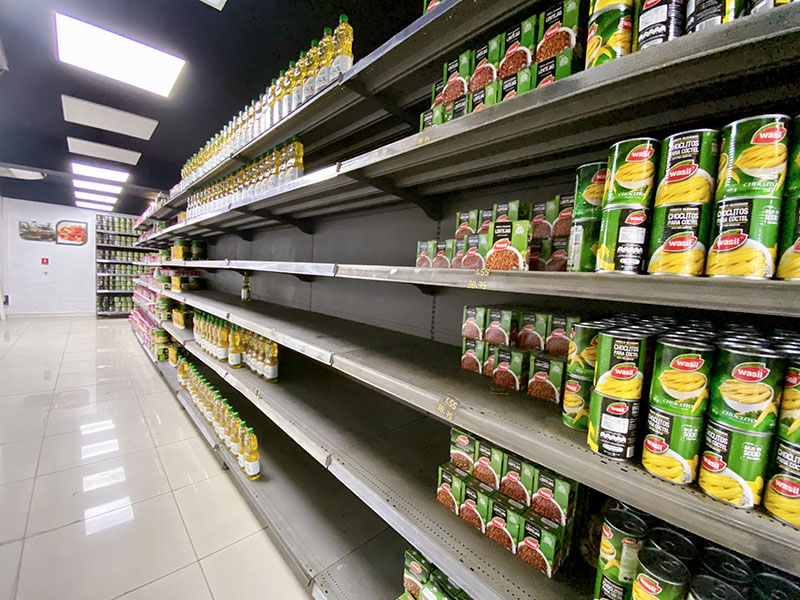 There are a few local produce markets in Havana. They carry fresh fruits, root vegetables and dried beans. These may provide enough if you're creative in your culinary explorations. We found one that offered butchered pork. Freshness and sanitation were questionable.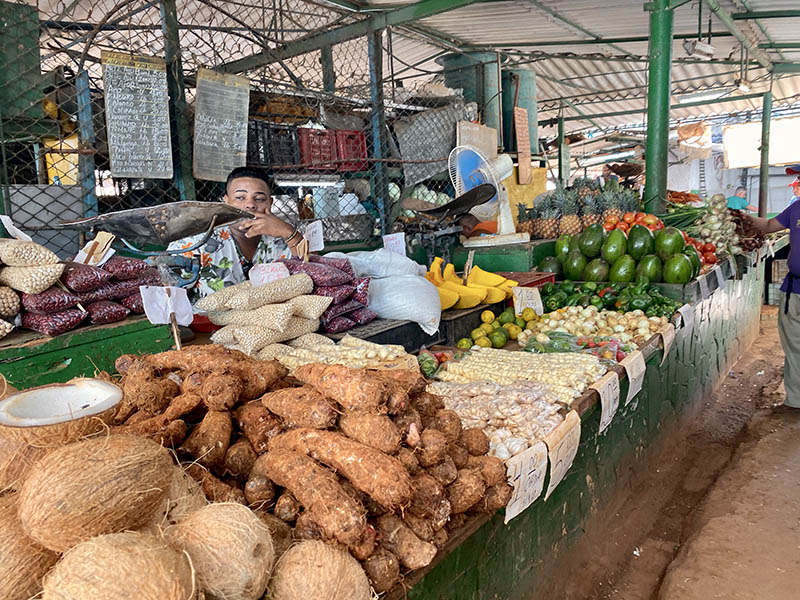 If you plan to cook for yourself. Bring some basic ingredients. Bring some backup items for days you can't find ingredients. Our boys are among the pickiest eaters on earth. Bringing food from home is the norm for us. For our trip to Cuba, we doubled down. It served us well. We had plenty. The extra snacks made great gifts for locals.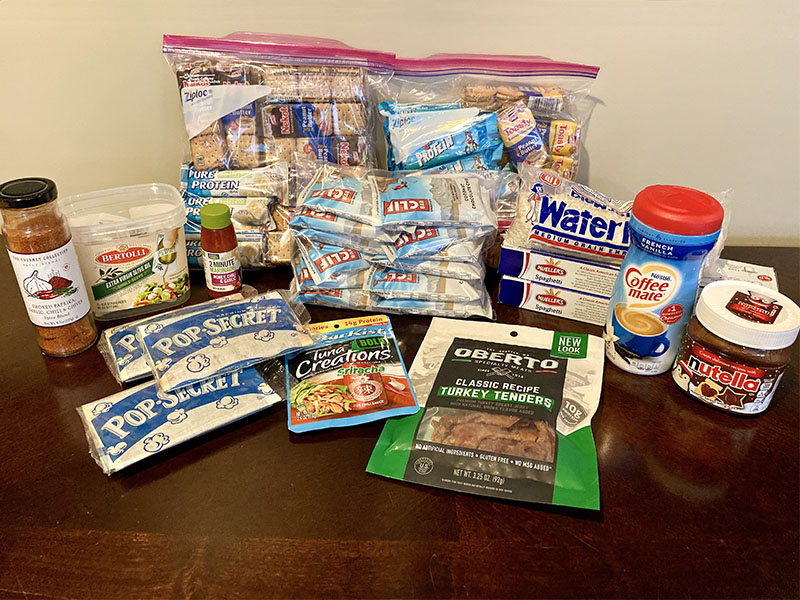 10. Drinking Water
We never found definitive information about drinking tap water in Cuba. Most sources have differing advise. It's best to play it safe. We only drank bottled water while we were in Cuba. Fortunately, bottled water is easy to find and cheap.
Pro Tip: Check the Department of State webpage. Be aware of current advisories, alerts, health risks, and other information you need to know Before traveling to Cuba.
You might like these related posts:
Boxing Lesson at Cuba's Famous Rafael Trejo Gimnasio in Havana
8 Awesome Things to do in Havana, Cuba with Kids
Viñales Valley Day Trip: Cigars, Horses & History
Convenient AirBnB in Central Havana, Cuba
Should You Travel to Cuba?