Sunset in Oia
Most travel books and bloggers tout Oia as the premier destination to watch sunset on the island of Santorini. That may be the case if you're dead set on snapping that iconic image of the sun sinking behind the village's windmills and white-washed houses. But, Oia is certainly not the only vantage point that offers a spectacular view of sunset. During our visit, we found the best sunset destination on Santorini – Santo Winery.
Before deciding to head to Oia, remember nearly every travel resource points to Oia for sunset. Crowds of tourists make the same early evening pilgrimage to island's northernmost village. If you're commited to taking that postcard perfect photo be prepared to jockey for position along the village edge early. Or be willing to accept that there will be a host of people in your photos.
Or better yet, scrap that plan and opt for a more relaxing sunset experience. At your own private table with a bottle of local wine and an unimpeded view of the the caldera.
A Better Plan
Located less than a 10-minute drive from Fira, directly above the Santorini harbor, Santo Winery is a magnificent venue for sunset. The large modern facility includes a restaurant with abundant outdoor seating and an unparalleled view of Santorini's highly-acclaimed twilight display. The winery has a multi-level design that creates a perfect panorama of the caldera and Aegean Sea. There's not a bad seat in the house.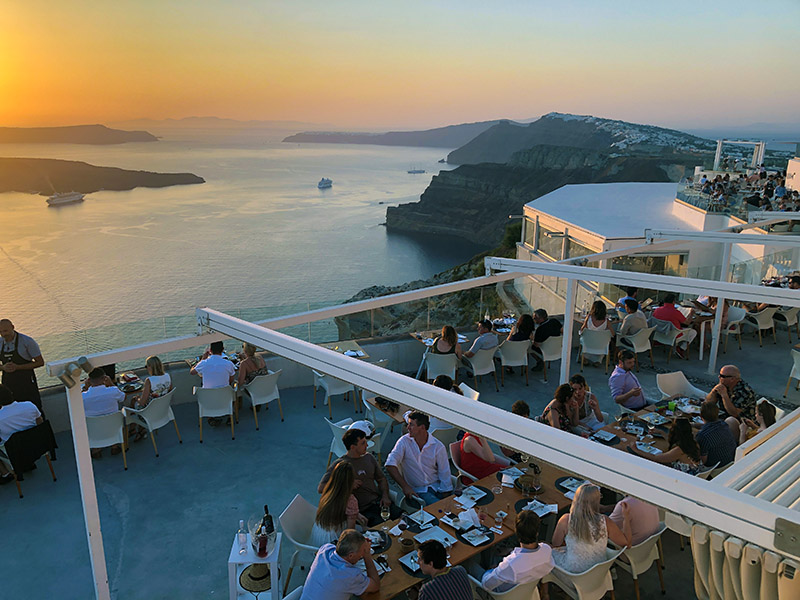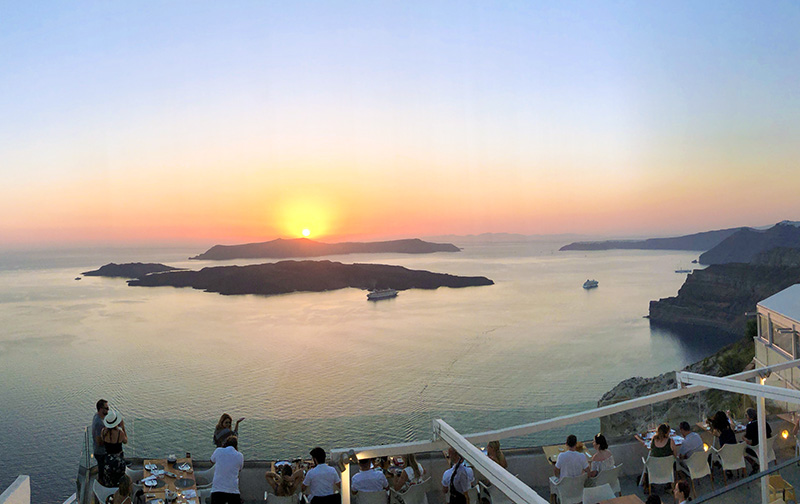 The Santo vineyard on Santorini (one of the oldest in the world) has a 3,500-year history; and is a designated World Heritage site. Santorini wines benefit from the unique growing conditions on the island. The vines are not artificially irrigated and rainfall is rare. The plants depend on humidity and the sea mist absorbed by the volcanic soil to provide the moisture necessary to grow. The rich volcanic soil provides a distinct characteristic to wines grown here.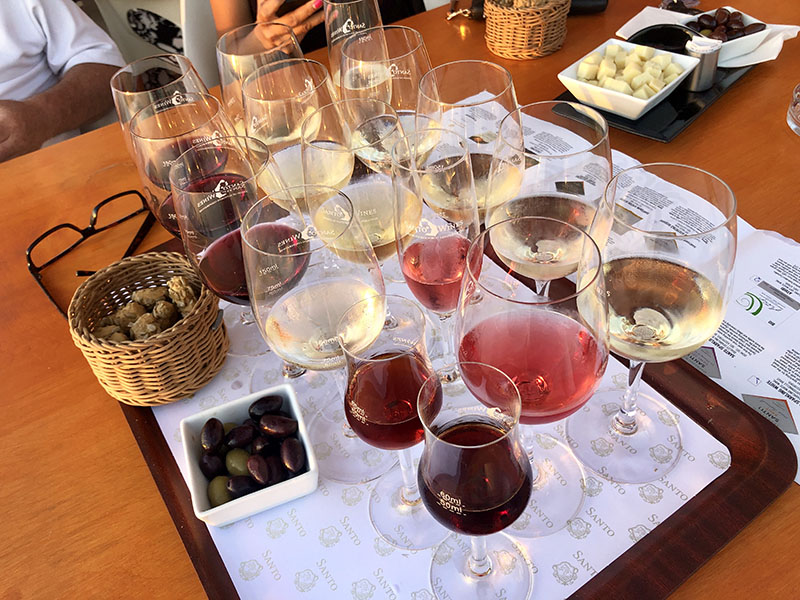 Santo Winery
Santo Winery offers a variety of wine flights, tasting combinations and food parings, ranging from 18.50€ to 98€. They also offer à la carte appetizers and entrees. Santo Winery Wine and Food Menu Additionally, the winery boasts a large wine shop carrying an extensive sections of bottles. As well as a wide variety of locally made gourmet items.
If you're planning to visit Santorini, and want a once in a lifetime sunset experience we recommend outsmarting the crowds. Skip Oia and head to Santo Winery, the best destination for sunset. The view is perfect, the wine and food are delicious, and the experience is unforgettable.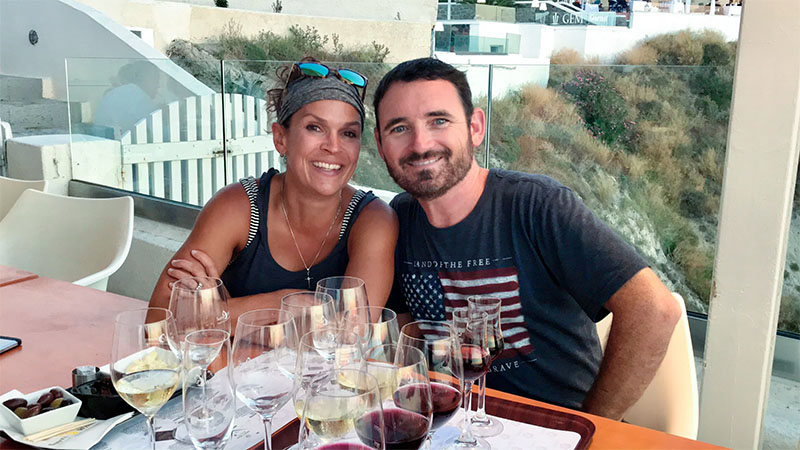 You might also like these related posts:
Oia, Santorini: Trip it or Skip it?
Pyrgos, Greece: Santorini's Hidden Gem
3 Days in Athens – A Detailed Itinerary
Brew Review: Santorini Brewing Company