Going Back to Ballena
As a matter of preference, we try to stay off the beaten path as much as possible when we travel. In our experience, it's the less commercialized destinations that better convey the authenticity of a country and its people. We recently made our fourth trip to Costa Rica and revisited the Puntarenas Province, a region we first explored back in 2010.
This was our third trip to Costa Rica as a family, and we were joined by Craig's brother, his wife, and their two boys. Their boys are considerably younger than ours. So, we had to adjust our typical travel tactic of 'seeing it all' and move at a slightly slower pace. However, we maintained our long-standing strategy of steering clear of the most popular tourist hubs.
Jaco is probably the most visited city in the Puntarenas province, due to its proximity to San Jose. But, there are many other worthwhile destinations further south. Although Jaco is renowned for its unsurpassed sport-fishing and vibrant nightlife. We prefer the smaller towns of Costa Ballena the lesser-known locales around Manuel Antonio.
Puntarenas Province
The Puntarenas Province extends the entire length of Costa Rica's Central Pacific coast, from Guanacaste to the Panamanian border. It's one of the most biologically diverse areas in the world. This richly vegetated and temperate region is also one of Costa Rica's most popular tourist zones. Most notably for Manuel Antonio National Park, which draws 360,000+ visitors a year.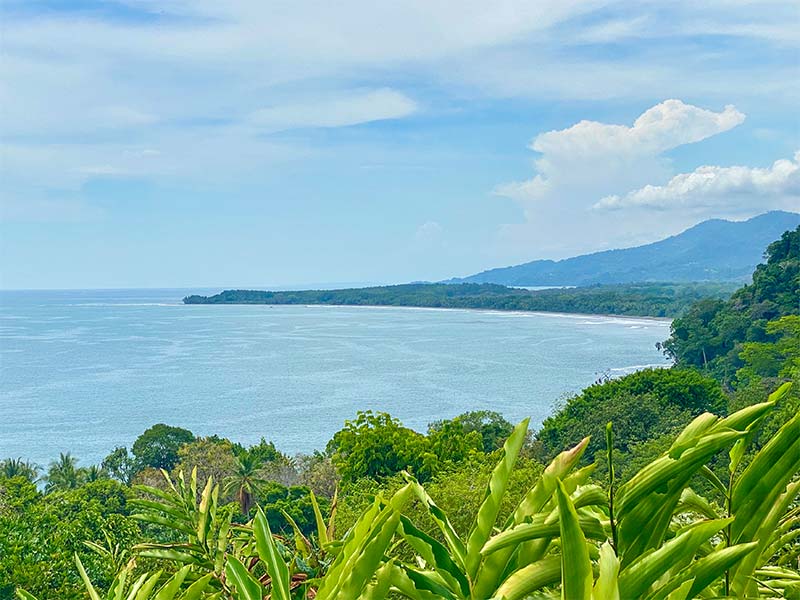 Manuel Antonio – Off the Beaten Path
Manuel Antonio National Park is home to an unprecedented abundance of plant and animal life. Ironically, it's actually among Costa Rica's smallest national parks in terms of geographical size. Lots of visitors in a relatively small park means it can get crowded and chaotic, especially during the high season.
We visited Manuel Antonio Park in 2010. Admittedly, it's a great place to see monkeys, sloths, and a wide variety of birds, frogs, and butterflies. But, crowds of tourists are typically something we try to avoid. The drive into the park alone is enough to make you question the value of a visit.
Mobs of aggressive would-be rangers and guides solicit your attention (and money) as you make your way to the entrance. It's anxiety-inducing and disconcerting, to say the least. This trip, we decided it just wasn't worth it.
More importantly, for those willing to get off the beaten path, Manuel Antonio Park isn't the only game in town. There are fantastic alternatives nearby that offer just as much, if not more, of what draws people to the area.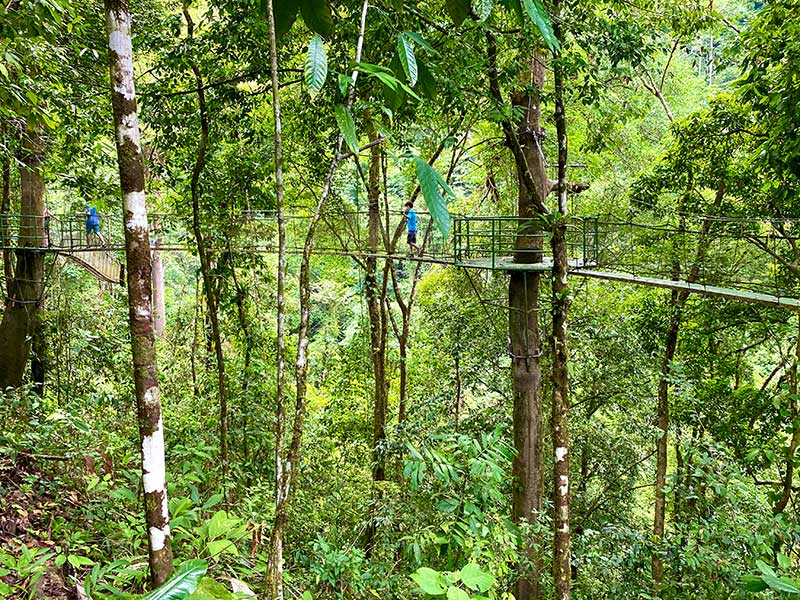 Rainmaker Project
During our first visit to Puntarenas, Craig and I discovered a lesser-known ecological park called the Rainmaker Project. Unlike Manuel Antonio National Park, which is trodden by hundreds of thousands of feet a year. Rainmaker maintains the essence of what makes Costa Rica one of the greenest countries in the world. Located just 20 minutes from the resorts of Manuel Antonio. It's a 1500-acre gem in the heart of the Quepos Biological Corridor.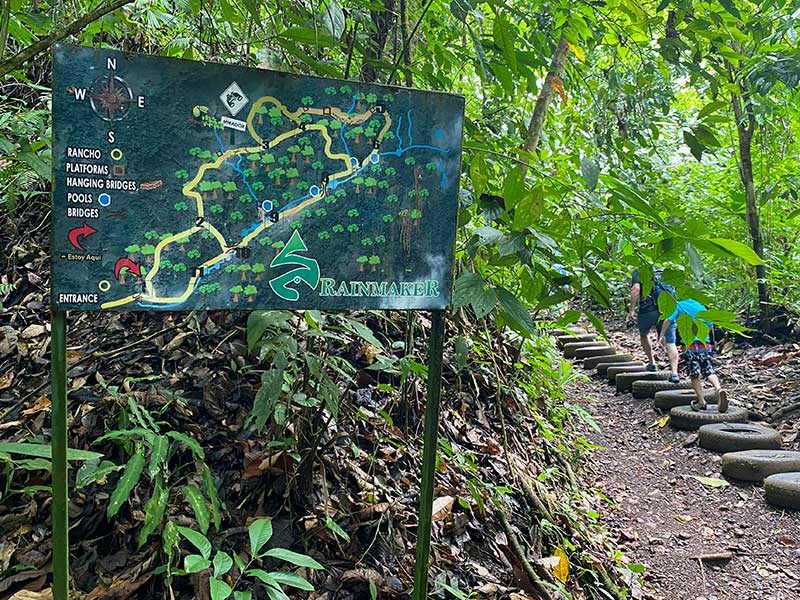 The project has been renamed since our first visit and is now officially known as Rainmaker Conservation Park. However, it still offers the same unique opportunity to experience a rainforest preserve that's isolated and protected from the outside world. It has everything inherent to Costa Rica… pure water, tropical rainforest, flora and fauna at unimaginable densities, and a beauty beyond words.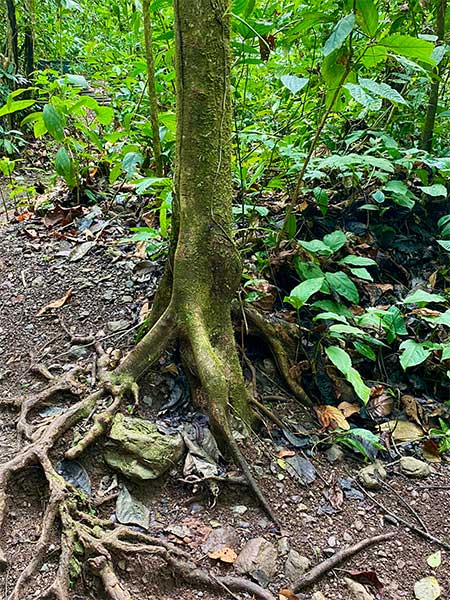 The Costa Rican government recognizes Rainmaker Conservation Park as a valuable, sustainable private preserve and vital watershed. It maintains 1450 acres of pristine rainforest, 80% of which is virgin. This makes it one of the most biologically diverse properties in Central America.
The park also boasts three distinct ecosystems in a single location. It also offers an extensive canopy bridge system, hiking trails, waterfalls, swimming holes, and a small family-run restaurant. It truly is an experience like no other! Check out this post Rainmaker Conservation Park, Costa Rica to learn more details about visiting
Eco Termales Quepos
Another remarkable off the beaten path destination near Manuel Antonio is Eco Termales Quepos. This hidden gem was a fortunate 'Facebook find' we stumbled across while researching things to do in the area. There isn't a lot of information about Eco Termales Quepos available online. So, our decision to make the arduous journey to find it was a bit of a gamble. Luckily our gamble paid off.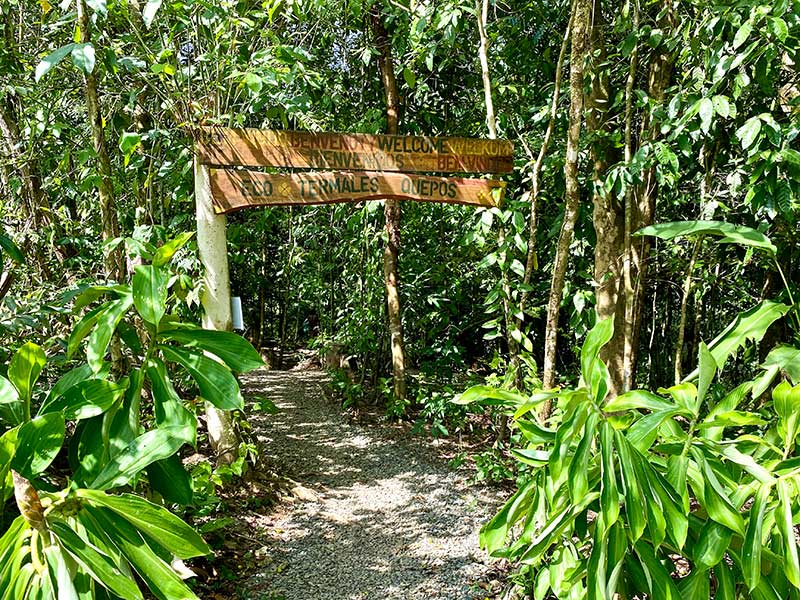 Tucked inside a small forest under a lush canopy of trees. Eco Termales Quepos is a small family-owned spring perched on the banks of a rock-hemmed river in Savegre de Aguirre. Several shallow pools have been carefully constructed into the forest floor and collect the waters of a nearby spring.
The pools are made of mostly natural materials and shrouded in greenery to create the ambiance of a jungle oasis. The water is warm in comparison to the river below but isn't as hot as the name Eco Termales might suggest. Regardless, it's relaxing, refreshing, and irrefutably an 'only in Costa Rica' experience worthy of seeking out.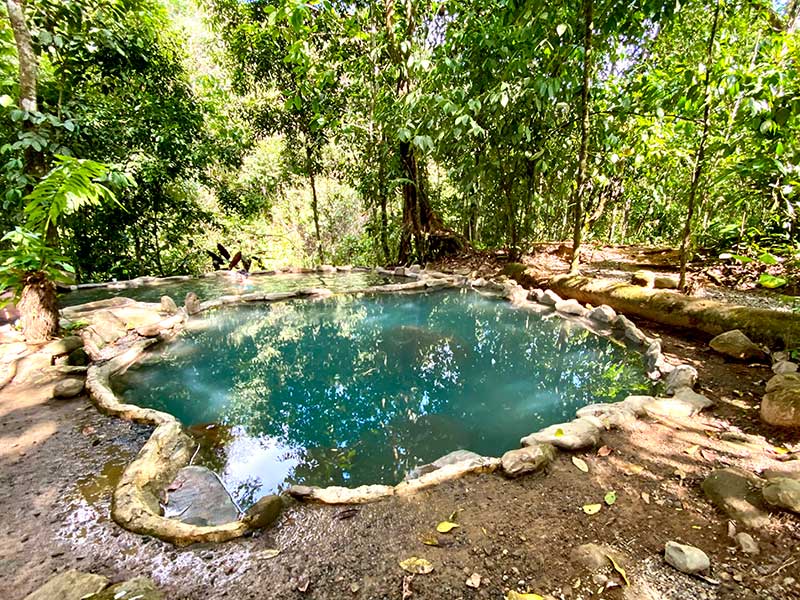 The mineral content of the water gives the pools a soft blue tinge which appears quite vibrant in the sun. Mud from the spring offers a myriad of health benefits and is available for purchase at the entrance of the pools.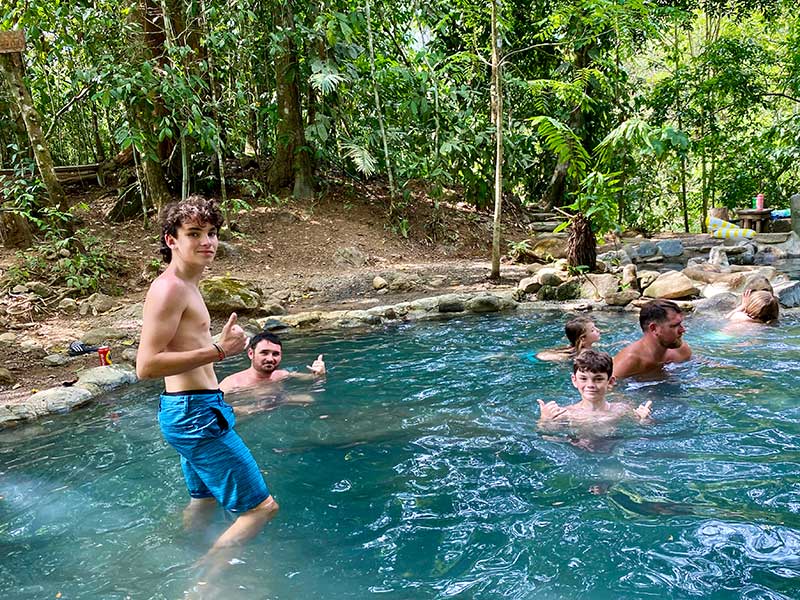 Health benefits aside. Painting yourself in mud and floating in a forest pool is just something you do when presented with the opportunity!
Dominical
Located about 45 miles south of Manuel Antonio. Dominical is considered one of the best beaches for surfing in Costa Rica. Once a sleepy fishing village turned bohemian surf haven. The town has recently recast its character and emerged with new personality. No longer the hammock-laced shantytown of surfers and vagabonds we visited in 2010. Dominical has become a lively little city of ex-pats, locals, and tourists alike.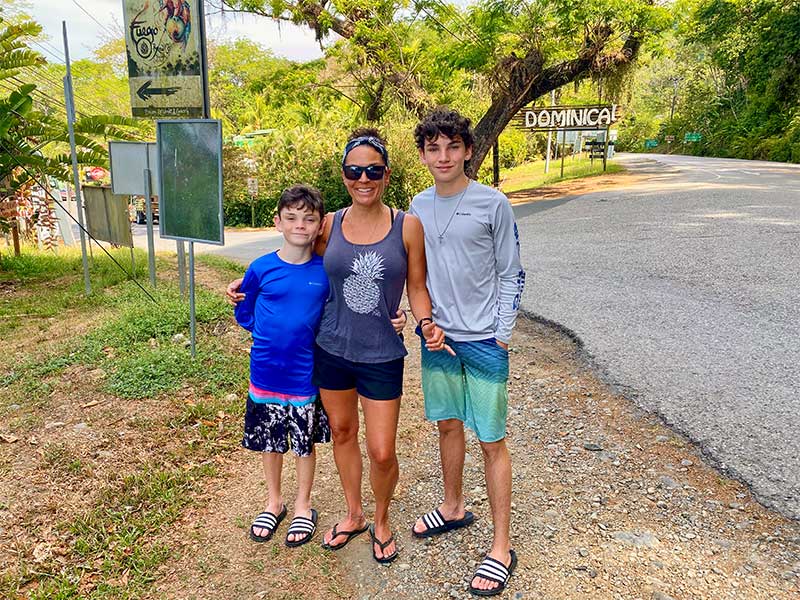 With a steady increase in visitors arriving in Dominical every year, It's probably no longer fair to call it off the beaten path. But, since it manages to maintain its friendly and funky vibe it continues to be worthy of a stop.
The town has grown considerably since our last visit. Now it boasts an impressive array of restaurants, bars, and shopping for its small size. However, in comparison to places like Jaco, it's still a distinctly eclectic community exuding creative character and local color.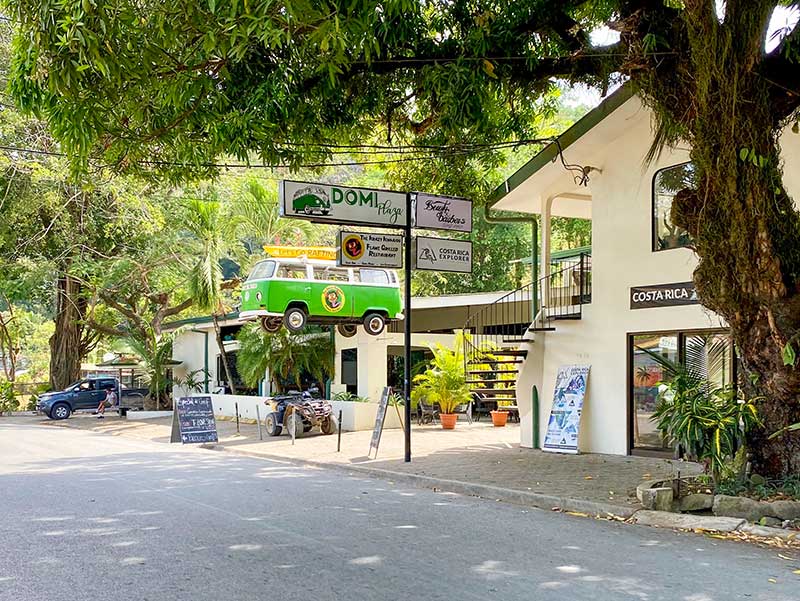 Centralized around a single paved road, Dominical is easily accessible and very walkable in a single afternoon. The town is widely known for its daily "Beach Market" which was just a smattering of local artisans in 2010. But, now consists of dozens of colorfully tented tables extending the length of the beachfront.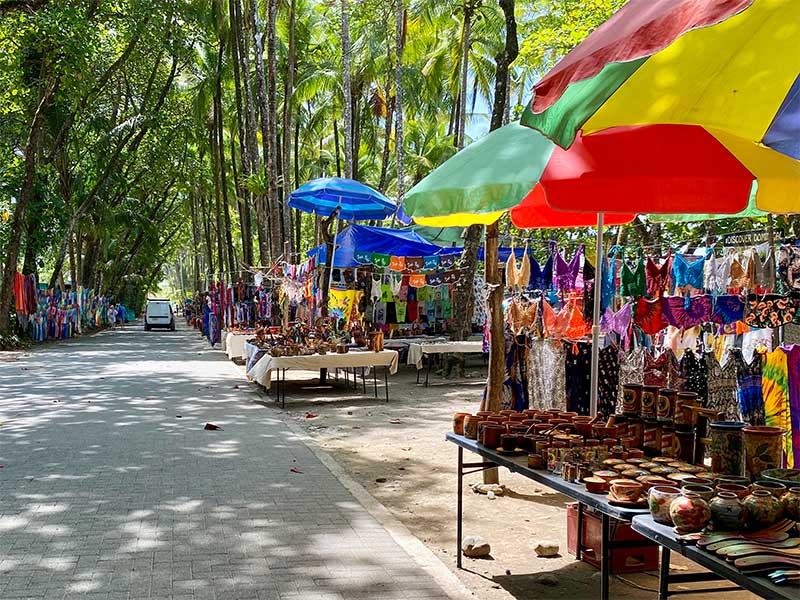 While there are vastly more vendors in the market, it has lost the majority of its artisan charm. It's now predominately what I consider 'trash and trinkets.' All of which I can safely assert, are imported from Asia in mass. The change is certainly disappointing, but It's still entertaining to wander the stalls and dig for a few cheap souvenirs. Just accept that you'll have to do lots of digging to find anything locally-made or even made in Costa Rica.
Fuego Brewing
PRO TIP: Don't miss visiting Fuego Brewing while in Dominical! Hands down the best beer we found in Puntarenas, and potentially the best beer brewed in Costa Rica. The Brewery has a fantastic restaurant, with plenty of family-friendly fare, and friendly service. The restaurant is located on the second and third floors of a large modern building. And the dining room benefits from a constant, and crucial, coastal breeze. Fuego Brewing is just off the main road in the center of town. It's the perfect place to stop for a cold beer and reprieve from the heat.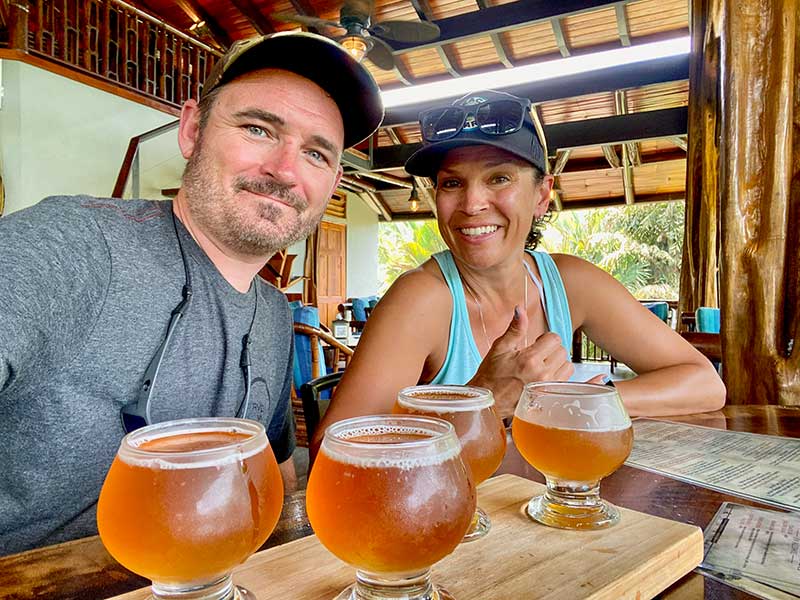 Uvita
Often considered the commercial hub of Costa Ballena — the region that includes the cities of Dominical, Uvita, and Ojochal — Uvita makes the perfect home base for visiting the area. Slightly larger than Dominical in size and population. The city offers a wider variety of conveniences like accommodations, supermarkets, banks, and gas stations.
Uvita is also a central location for numerous tour operations offering everything from rainforest zip-lining to deep-sea diving. We typically prefer to find our own way around when we travel. But, for those less comfortable planning their own excursions, the abundance of tour options might be advantageous.
Unlike, Dominical which orients around a single paved road, Uvita is much more spread out. That's not to say you can't get around on foot. It just means depending on where you're staying, you may prefer to have a vehicle.
Being in close proximity to Dominical it's no surprise that Uvita is also praised for its extraordinary beaches. Home to Marino Ballena National Park and its iconic Whale's Tail — a naturally occurring coastal formation shaped like the tail of a whale — the park boasts one of the most exceptional shorelines in Costa Rica.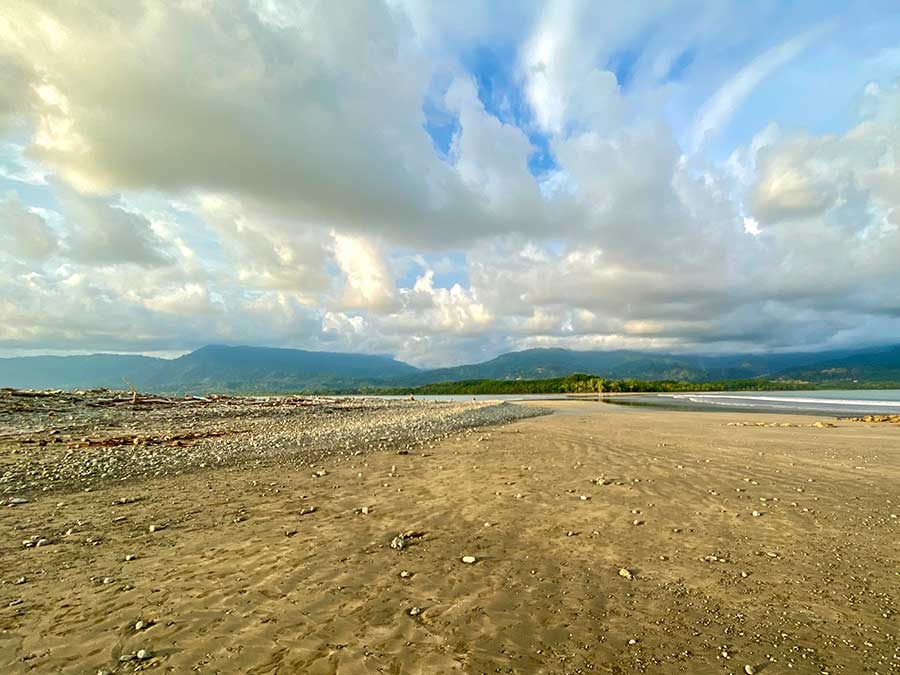 Also known as the Whale Coast for the large volume of humpback whales that migrate its waters. Uvita is unique because it offers the opportunity to spot these magnificent animals from the beach! Whale-watching season is generally December to April and July to November. The most likely chance to glimpse them from land is August and September.
Marino Ballena National Park
While staying in Uvita, paying a visit to Marino Ballena National Park is a must. The beaches within the popular marine park are easily among the most beautiful and unusual we've ever seen. It's hard to appreciate without a drone or other means of an aerial view, but opposing ocean currents have carved the beach into the perfect semblance of a whale's tail. The phenomenon is impressive in its own right. It's even more remarkable that it occurs on the beach most notable for whale-watching in Costa Rica.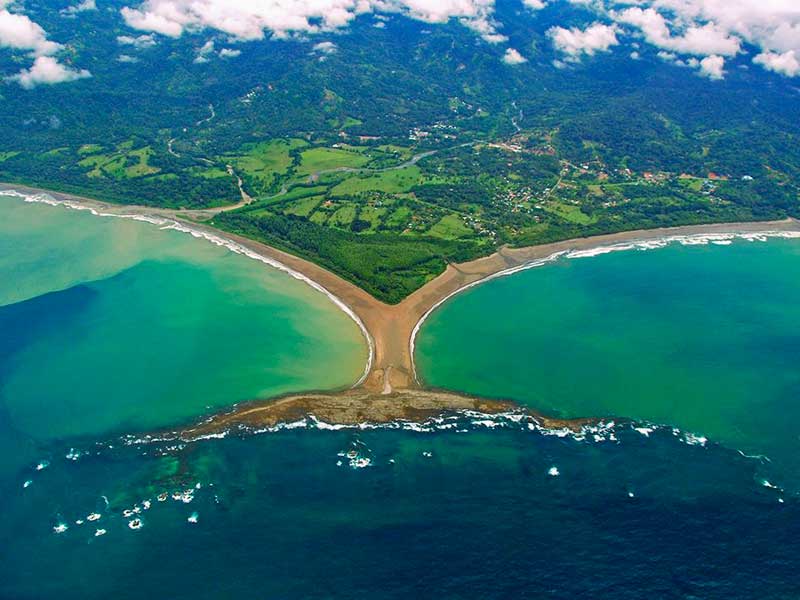 To fully appreciate the Whale's Tail, visit the park at low tide. While the tide is low, you can walk out onto the Tail and explore its unusual composition. The freshly exposed ocean floor is a treasure trove of mollusk shells and coral fragments. And, the tide pools are teeming with tiny sea creatures. Our boys loved kicking around in the ankle-deep water, chasing minnows, and catching hermit crabs.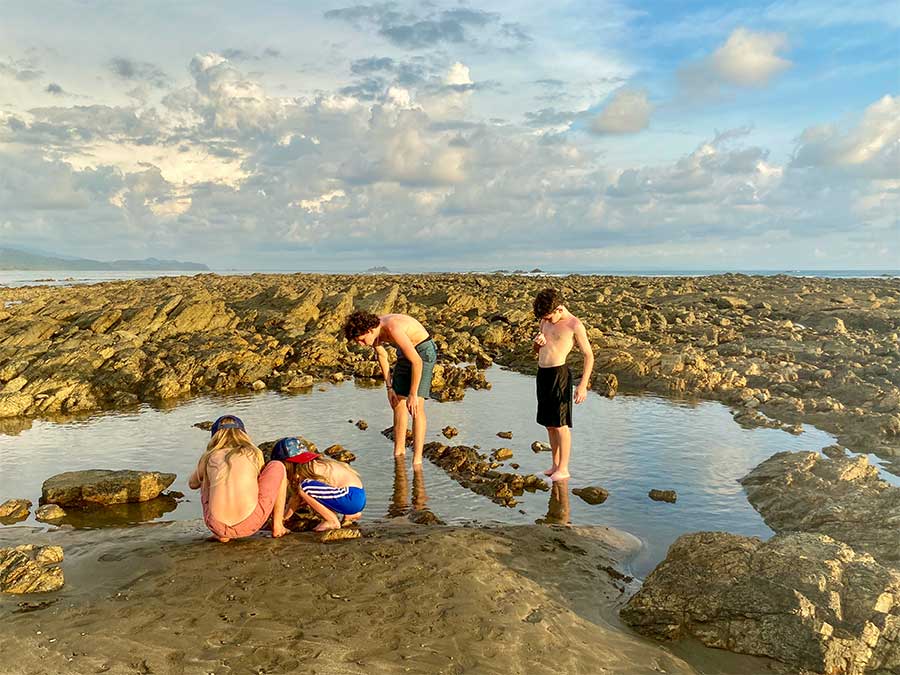 Marino Ballena Sunset
If you're lucky enough to catch a low tide near sunset, you're in for a fabulous show. The skies reflected across the seemingly endless expanse of the shallow shore is breathtaking! Sunsets in Costa Rica are almost always amazing from any location. But, the view from Marino Ballena National Park is truly spectacular.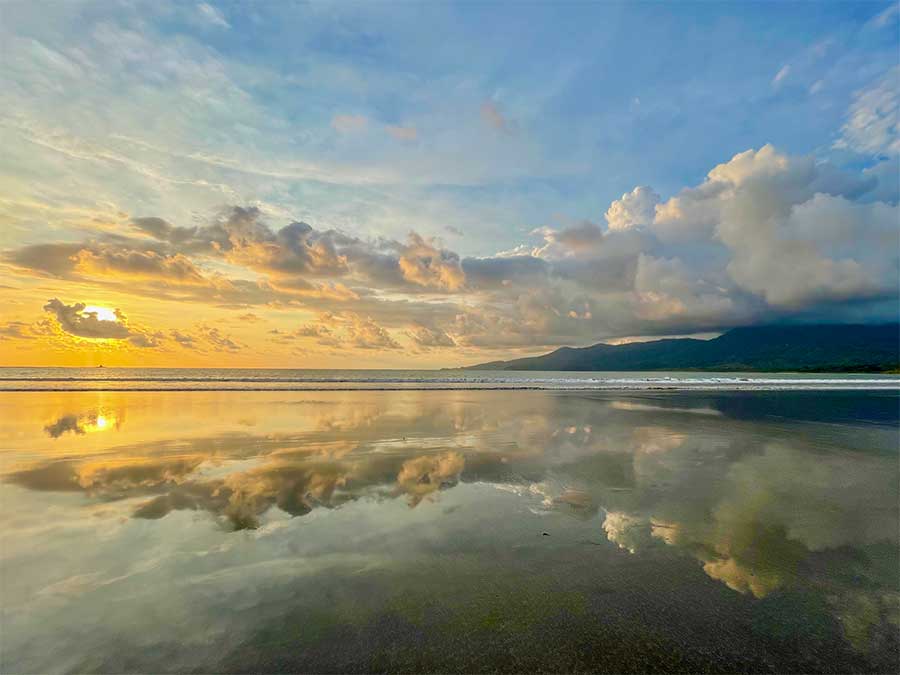 The Park is iconic for the Whale's Tail, but it comprises a much larger stretch of beautiful black sand. Marino Ballena is a splendid place to simply spend a day at the beach. Unlike Dominical, with its shred-worthy wave breaks and strong ocean currents, the waves at Marino Ballena are slow and rolling. It's an excellent beach for families and those who just prefer swimming and sunbathing over surfing. We spent several hours stretched out on the sand, soaking up the sun, and relishing the view.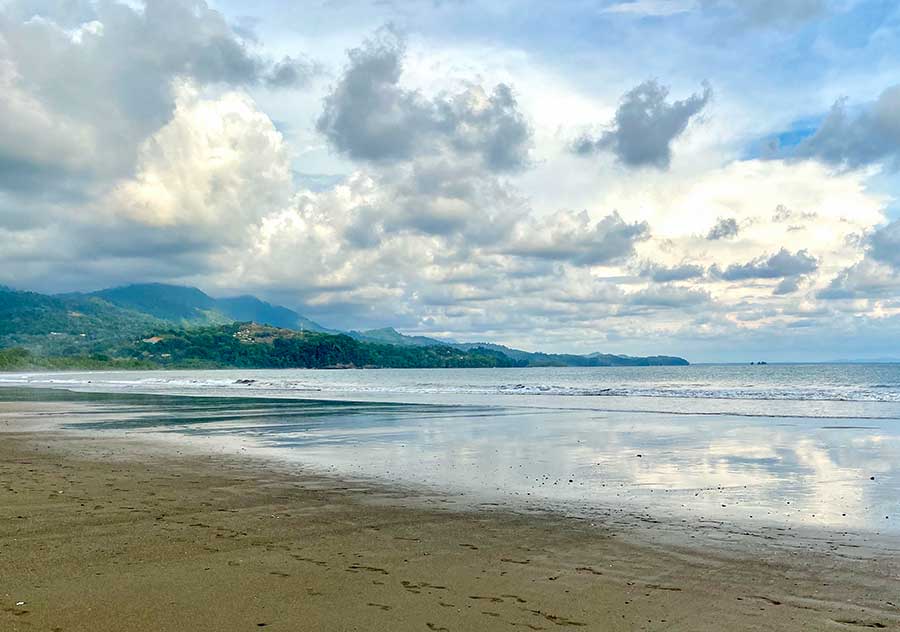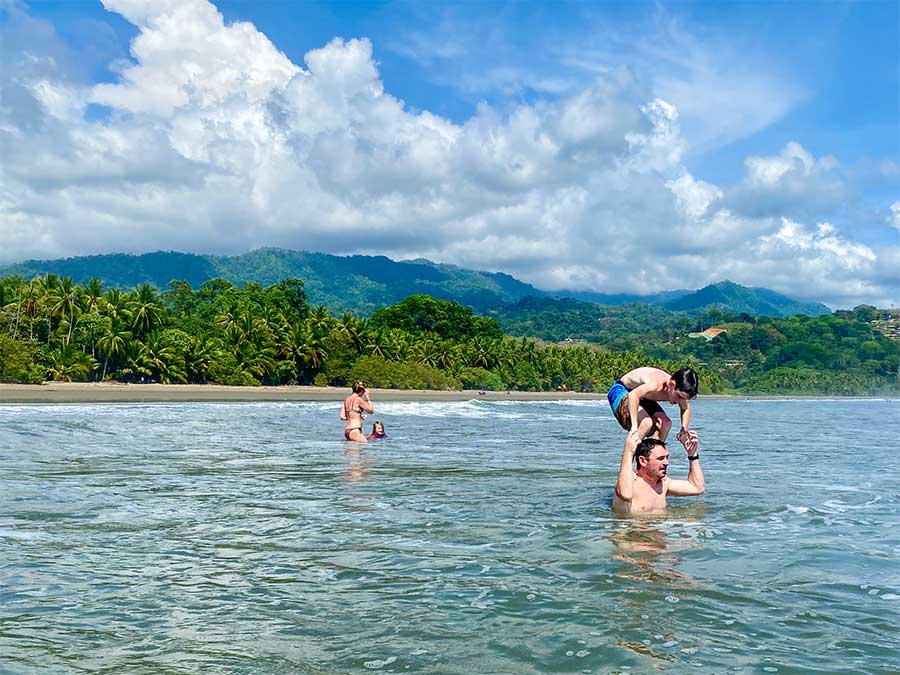 PRO TIP: Without an umbrella or makeshift covering the beach gets hot! Be sure to have plenty of sunscreen and lots of water. Also, if you're planning to bring a cooler, know that the guards at the park entrance will check its contents; you can't bring beer to the beach. (Yes, we learned that the hard way.)
Uvita Waterfall
Catarata Uvita isn't the largest or most magnificent waterfall you can visit in Costa Ballena. But, it's close to town, easy to access, and inexpensive to enter. It's also a natural waterslide! Yes — It's a waterslide! You can literally slide down the waterfall, and you shouldn't miss the opportunity to do it! It's probably not for the faint of heart. But, with guidance from a local guide, even the youngest of our crew was willing to brave the ride!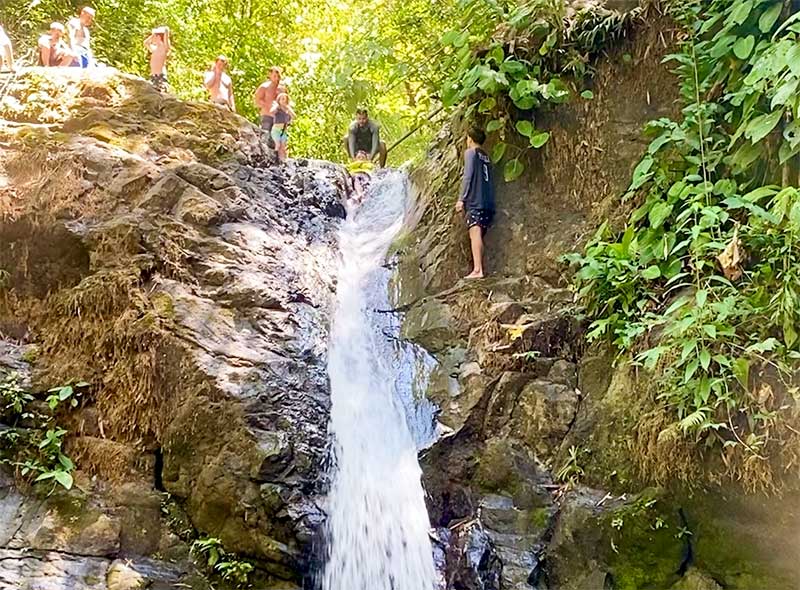 Uvita Waterfall is only a 5-minute drive from town which makes it a popular destination. But, if you arrive early you can reduce the possibility of encountering a crowd. We made it to the park around 9:30 in the morning and there were only a handful of visitors.
The park entrance is housed in a modest family-run restaurant and gift shop and offers souvenirs, snacks, and cold beers. The family also maintains a small enclosed butterfly garden which is free to enter and fun for kids. The restaurant also offers basic bathroom facilities which guests may use for changing.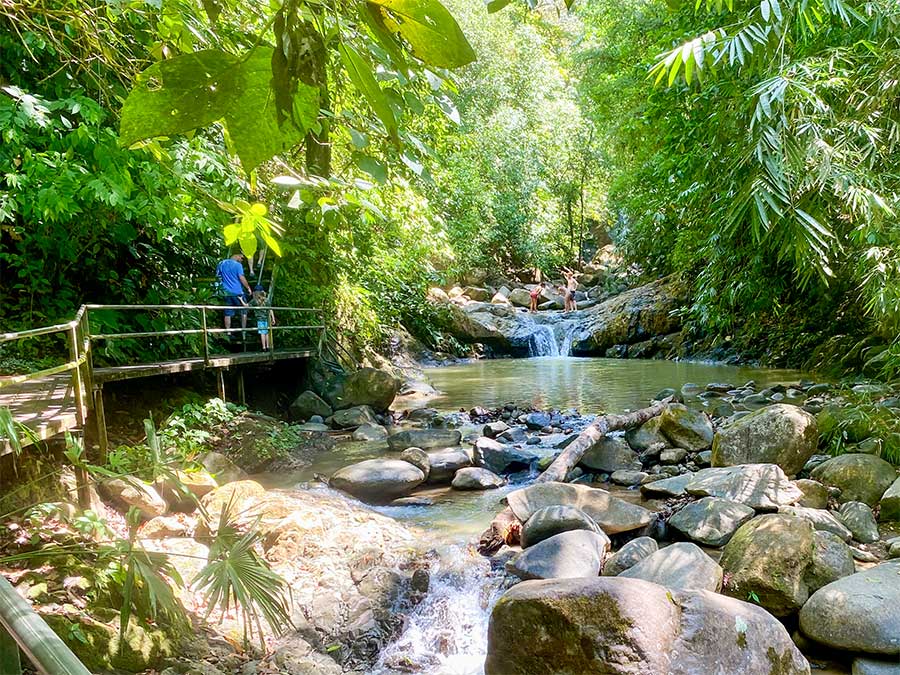 The hike to the falls is well-maintained, easy to navigate, and includes a combination of trails and metal platforms. We made the walk from the entrance to the falls in less than 10-minutes with two small children in tow. Uvita Waterfall isn't really an off the beaten path destination. But, compared to the effort it takes to visit the larger falls, it's undoubtedly less stressful. Especially with kids.
Watch Your Watch!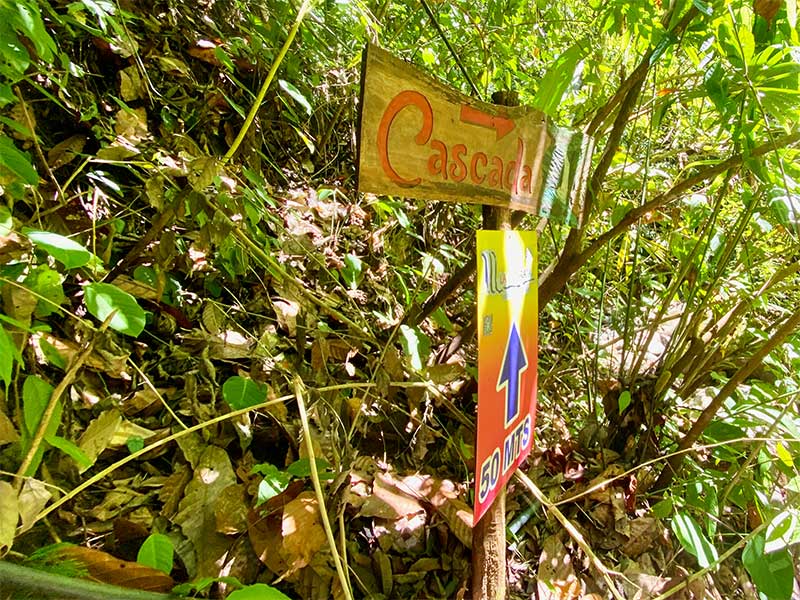 PRO TIP: Don't wear your Apple iWatch! (Yes, we learned the hard way.) In addition to sliding down the waterfall, there are several places to jump from the rocks.. Craig made the mistake of wearing his watch and lost it in the water. Thankfully, some friendly tour guides equipped with dive masks arrived just after it happened. They were quick to start a search and found it! Amazingly, they found two other watches in the process — all were iWatches. So apparently, it happens often. Do yourself a favor… remove your watch!