The Best Laid Plans of Now & Then
When I started this blog at the end of 2019, I had no idea what awaited in the wings of 2020. I'd spent months reading the advice of experienced bloggers, teaching myself new software, editing photos, and writing until my head hurt. I labored continually on editing and re-editing posts attempting to distill my thoughts into something entertaining and useful for people who like to travel. It was tedious and time-consuming, but it was a labor of love. I was building this blog to share our travel advice and itineraries, but in the process, I was creating a collection of treasured memories.
When I officially launched Art of the Itinerary on February 1, 2020, I was both excited and anxious. Excited to be bringing something to fruition that took me months to create, and anxious about creating an internet-sized window into our lives. (The internet is a [worldwide] web after all, and unpleasant things often creep in webs.)
I spent the first few weeks after launching, meticulously combing through the site creating links, building pages, and writing content. I shared pictures and posts on newly-created social media pages and started to feel a creative rhythm. I got positive feedback, connected with other bloggers, and even landed an interview on a local radio show. Things were going pretty well…
… and Then Covid.
Nothing puts a damper on a fledgling travel blog like a global pandemic and travel restrictions. Seriously bad timing.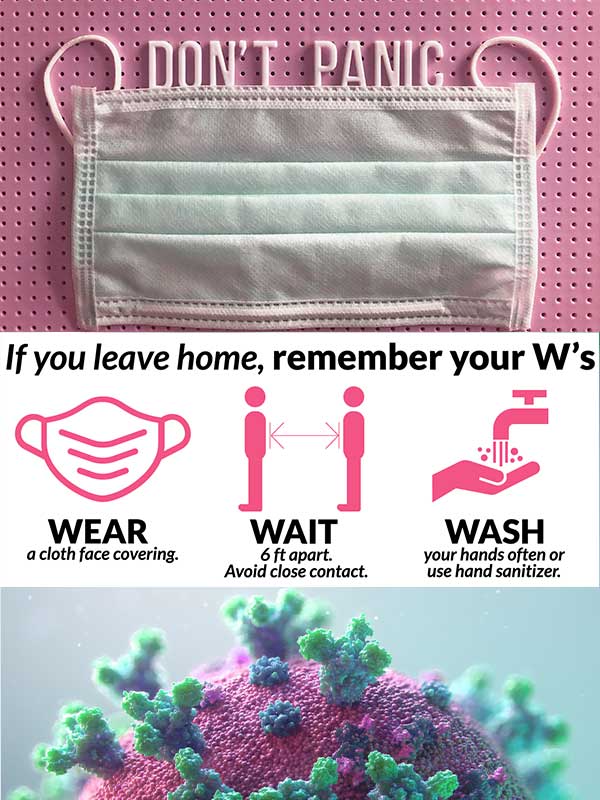 Everyone Stop What You're Doing
Like most of the country, our small city of Wilmington, NC came screeching to a halt in the middle of March. Schools were closed, businesses were shuttered, and everyone was told to stay home. Two weeks to flatten the curve. Two weeks to protect hospitals. Two weeks to devise a plan.
Two years later… and I'm not sure we managed any of that. But, the pitfalls and politics of the pandemic are everywhere, so there's no reason for me to add to it. I just want to tell the story of why this blog also came screeching to a halt as part of it.
Learning on the Fly
One of the things I love most about traveling is figuring things out on the fly. I love a good plan, don't get me wrong, but you can learn a lot about yourself, and the world around you, when you're faced with the unexpected. When your plans fall apart and obstacles arise, traveling becomes a balancing act of adversity and the ability to make decisions in the moment. Sometimes it means salvaging what you can of your plans and moving on; sometimes it means abandoning plans altogether; and sometimes it means seizing an unforeseen opportunity.
Like most families, we were immediately impacted by the closure of schools. We work from home so we could afford some flexibility, but we struggled to navigate our kids' improvised online education. The earliest days of our experience were more an exercise in tech support and communications management than anything resembling learning.
Our boys were miserable most days and it was stressful for all of us. We did the best we could to eke out the rest of the year, but we were wary about what it meant for the Fall (the beginning of a new school year.)
With a new academic year, only a few months away and the pandemic wreaking havoc around the world, it seemed likely that students would not be returning to their classrooms. We followed the decisions of our school board closely and detected no priority in reopening schools.
Uncharted Territory
I'd never considered homeschooling our kids until having to muddle through weeks of poorly executed remote learning. It was agonizing. I had no experience in education and I wasn't gifted a 'teacher's heart' but I was pretty sure I could do better. If we were going to be spending five days a week working through school together, we could at least attempt something productive.
I wasn't sure if any of us were cut out for homeschooling (especially me.) But with a long summer of quarantine ahead, it seemed like a reasonable opportunity to try. I wanted to use a legitimate homeschool curriculum and figure out how it compared to the public school option. No expectations. No consequences. If nothing else it would help us make up for learning lost at the end of the year.
We sat the boys down and had a conversation. I explained what was happening with the public schools and the likelihood they would return to remote learning in the Fall. I laid out my thoughts on a homeschool experiment and the need to make an informed decision. To my surprise, they were pretty quick to get on board.
The First Rule of Homeschool
There are no rules of homeschool! For someone like me, who loves a good plan, that was a bit overwhelming. Fortunately, there are plenty of 'open and go' style curriculums that make it easy to start. They provide the itinerary, and you get to take the journey. That's something I could understand. We didn't need to get bogged down in the details, we just needed to hash things out in broad strokes.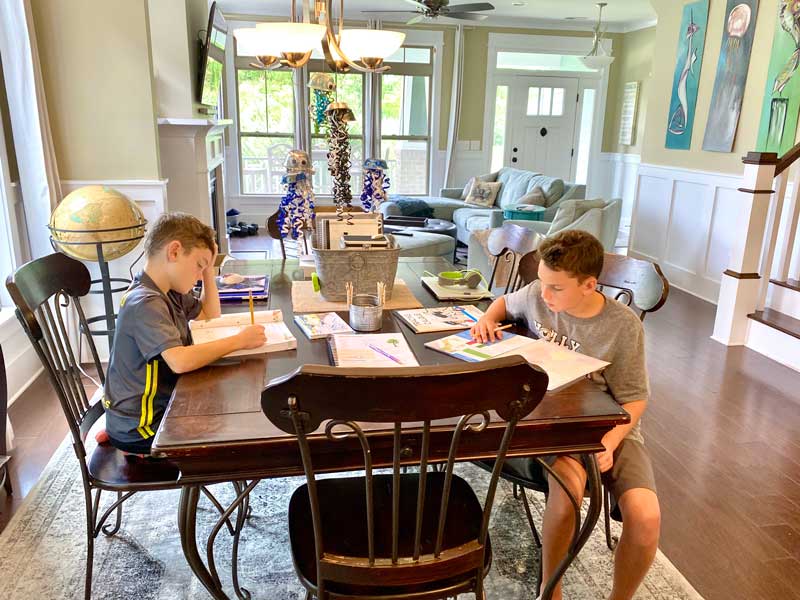 We kept it simple; working together each morning and alternating subjects. We started on time. We ended on time. That was the key to our homeschool success, and I learned it quickly. It was bumpy at first, but we figured it out. They showed me grace, and in return, I kept it concise. We spent a lot of one-on-one time just working our way through the curriculum and figuring things out. We accomplished a lot and had plenty of laughs along the way. It was unexpected and it was awesome. We made a good team!
We were proud of our little homeschool experiment. But, by the end of the summer, we were all hoping to go back to normal. Back to old schools and old routines. Unfortunately, our school board had other plans. As predicted, they announced students would be returning to remote learning — INDEFINITELY.
An Adventure Born of Abandoned Plans
Like traveling, life too becomes a balancing act when plans fall apart. Our plans of returning to normal school and normal routines were derailed and it was up to us to decide what to do about it. We could salvage what we could of our 'back to normal' plans or we could abandon them altogether. We were prepared to make the decision, but it was one that would dramatically affect ALL our plans for the coming year.
When the schools announced the decision to remain in remote learning our boys didn't hesitate to make theirs — homeschool. They hated the idea of going back to zoom classes, slideshows, and digital busywork. After experiencing what we could accomplish through homeschooling, the choice was easily made. We chose to seize an unforeseen opportunity.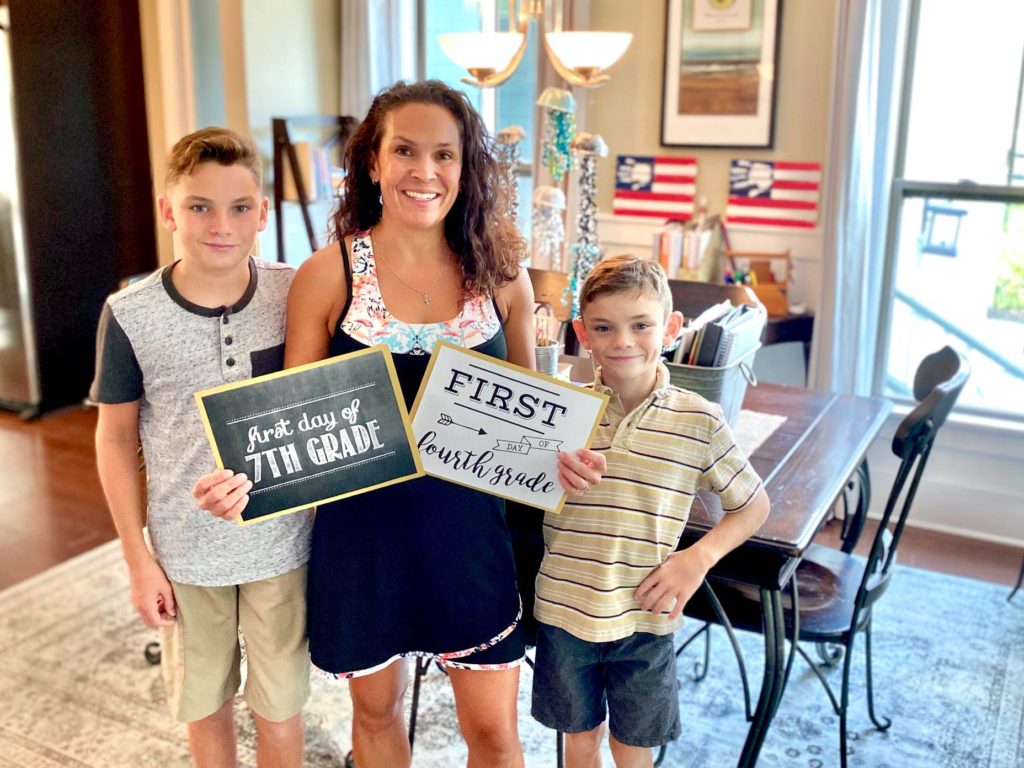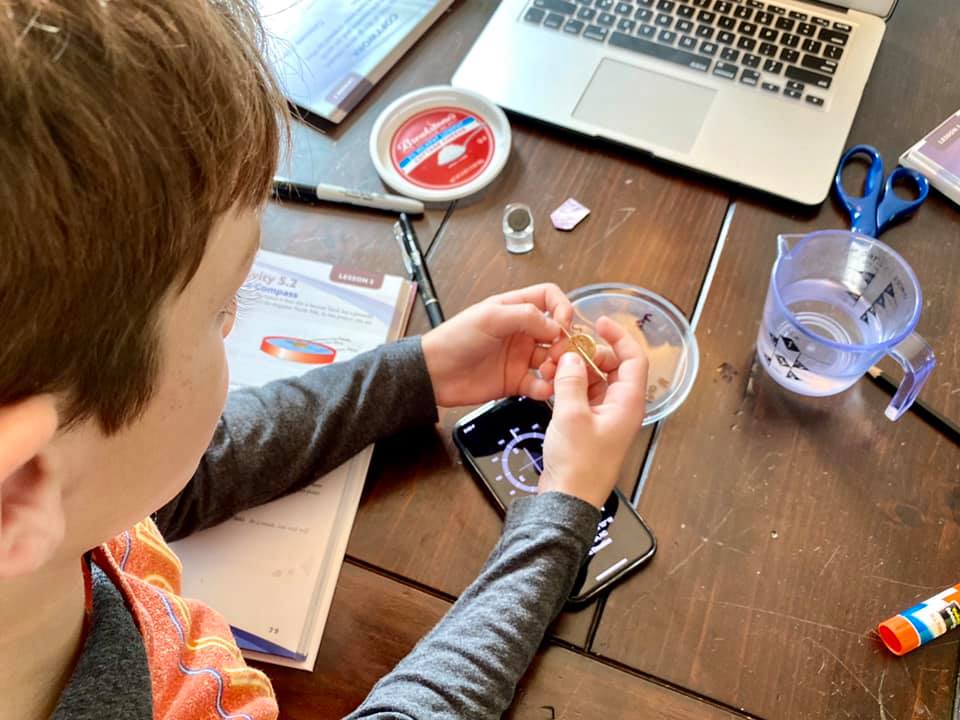 When I officially withdrew the boys from public school in August 2020, I committed myself to being the best teacher I could be. I took the job seriously and I put it ahead of all the other 'jobs' in my life, including Art of the Itinerary. Homeschool became my occupation and between school days, lesson plans, projects, and field trips it was a full-time job. It wasn't easy or without challenges, but it was worth it. Our boys flourished that year and we grew closer in the process.
Homeschooling will always be our bright spot in the pandemic, but suffice to say it's the reason this blog came screeching to a halt. It's my hope that as the world settles into some semblance of pre-pandemic normality and we can get it moving again.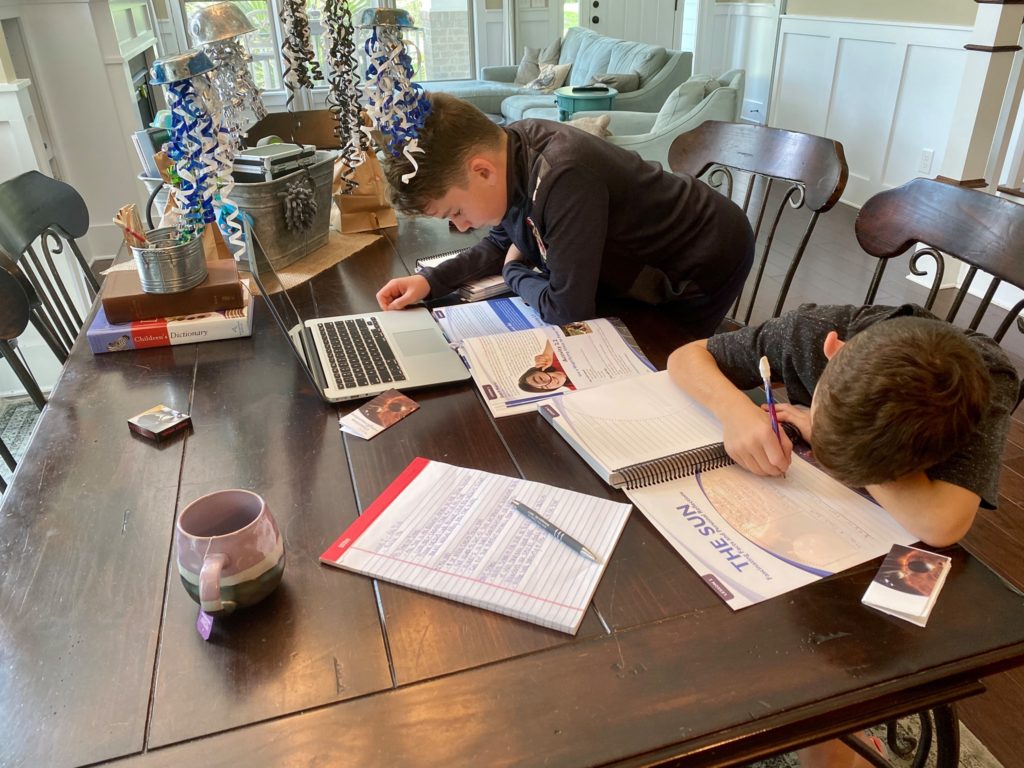 'Field Trips' & Family Adventures
We're eager to get back to international adventures, and even have a couple of things on the books! But, in the meantime, I'll share some small adventures we managed during our time as homeschoolers. Despite the quarantines and travel restrictions, we succeeded in taking some pretty epic 'field trips.'
Learning should be fun after all, and nothing teaches better than experience!
Riding the Virginia Creeper Trail
During our Fall Break, we biked the 34-mile Creeper Trail in Abingdon, VA. The trail is one of the country's premier rail-trails and the 2014 inductee into the Rails-to-Trails Conservancy's Hall of Fame. It aptly acquired its name from its former railroad route which was nicknamed 'The Virginia Creeper.' The public pedestrian/bike path now draws some 250,000 visitors a year!
From Whitetop Station, near the top of the second-highest peak in Virginia, the trail meanders mostly downhill for 17-miles through some pretty spectacular scenery. The first half (about 2.5 hours) concludes in the small town of Damascus, which boasts a variety of restaurants just off the trail, and makes the perfect pitstop for a bite to eat.
---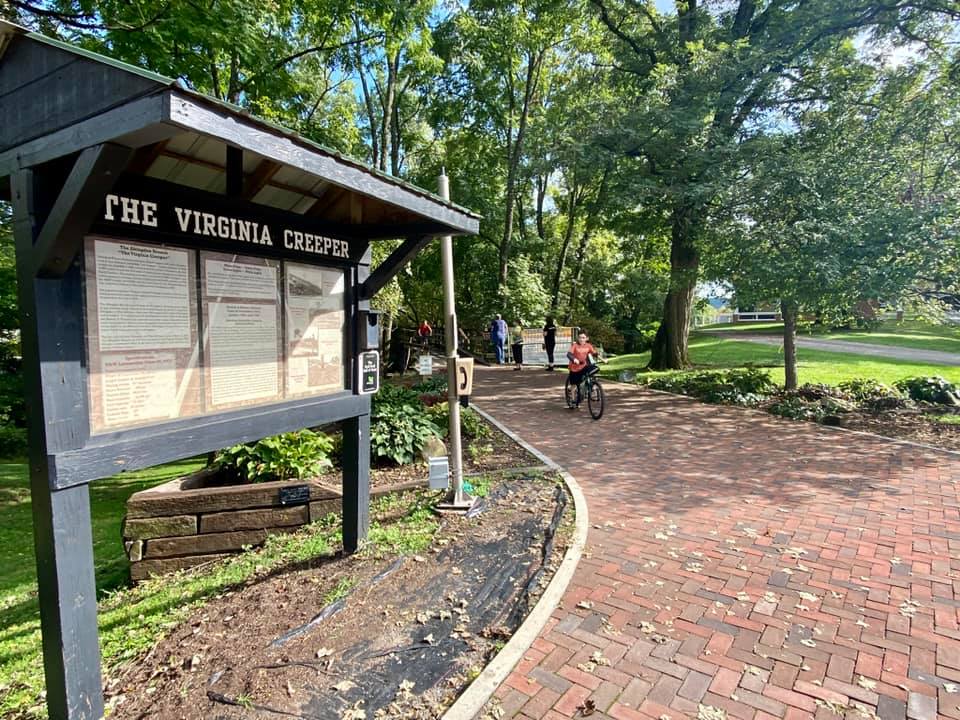 Some riders choose Damascus as their final destination and forgo the more challenging ride to Abingdon. Being predominately downhill, the first half of the ride requires very little effort to peddle. The second half, on the other hand, has a slight incline and includes a moderate climb from the Holston River to Abingdon. We have no problem making the full ride but it's markedly more challenging in the second half.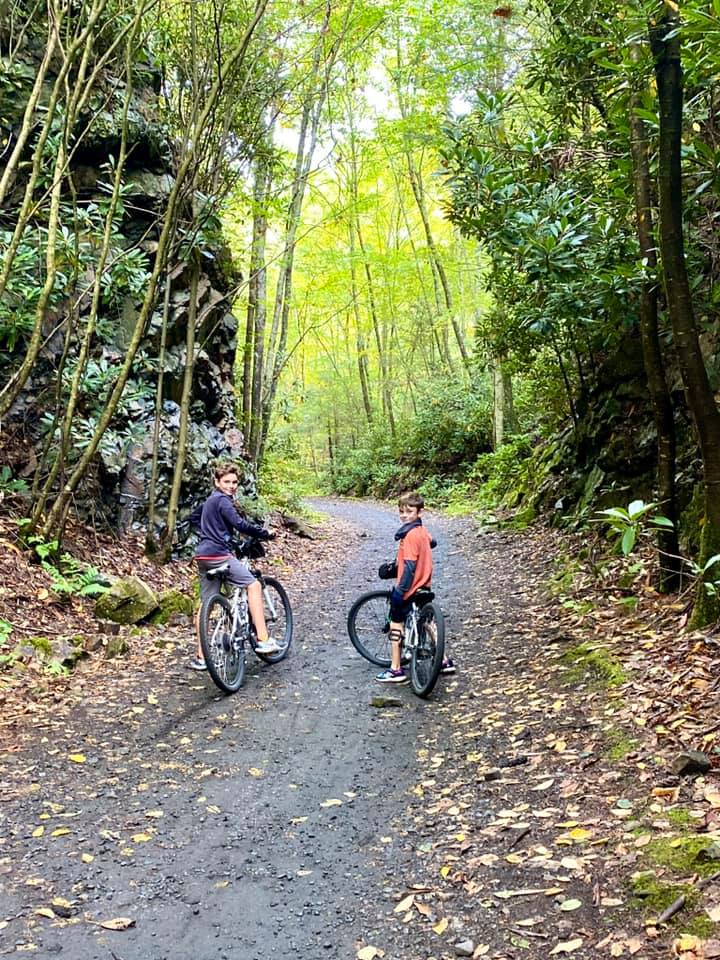 A Day on South Holston Lake
The Creeper Trail is one of our favorite family quick trips and we recommend it often. We also recommend if you're visiting the Creeper Trail to spend an afternoon on South Holston Lake. South Holston is located just outside of Abingdon and is a 7,850-acre lake shared by Virginia and Tennessee. Besides being one of Virginia's largest lakes, it's also one of the most picturesque. Almost two-thirds of the lake is surrounded by the Cherokee National Forest and it's a beautiful backdrop to a day on the water.
We like to rent a pontoon boat from a local marina and spend the afternoon cruising the lake, exploring its many coves and islands. The water is clear and calm and there are several desolate beaches that offer a serene setting for a snack and a swim. We also enjoy climbing the wooded outcrops in the interior of the lake. There's one, in particular, that's popular for cliff-jumping. We were fortunate enough to catch some experienced locals in action and they showed us where to jump safely (it's imperative to know the water is clear of hidden dangers before taking a plunge.)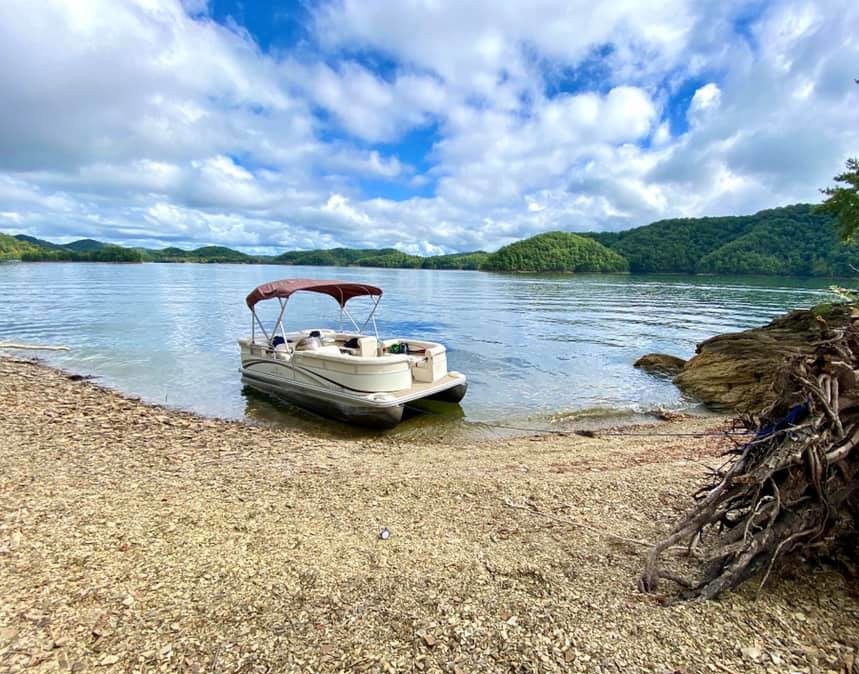 A Lesson in Pura Vida
During our Winter Break, while studying through our course in marine biology, we took advantage of our homeschool flexibility and spent 4-weeks in Guanacaste, Costa Rica! (it was supposed to be 3-weeks, but that's a different story of unexpected obstacles and derailed plans…) We were busy with activities throughout our trip but stayed true to our studies by including a few marine-centered excursions. We chartered a fishing trip in Tamarindo; explored shorelines and caught hermit crabs in Playa Honda; and took surf lessons in Nosara.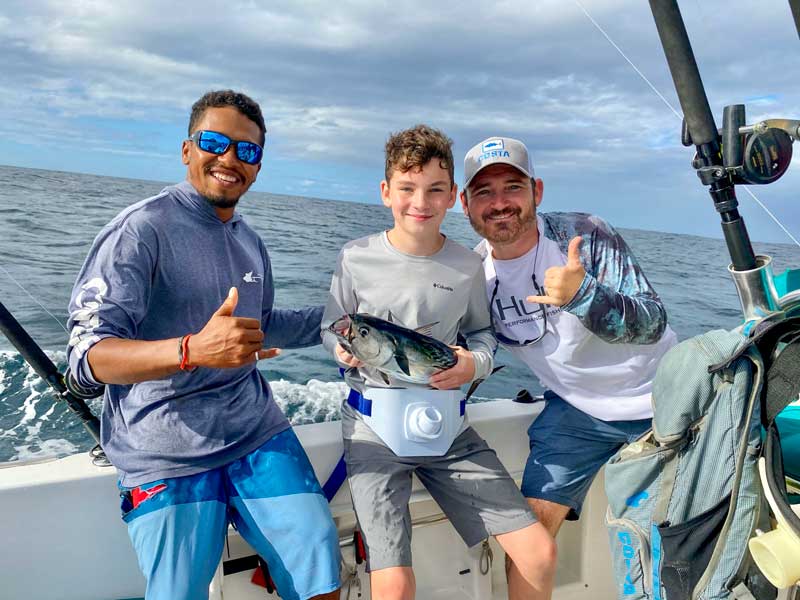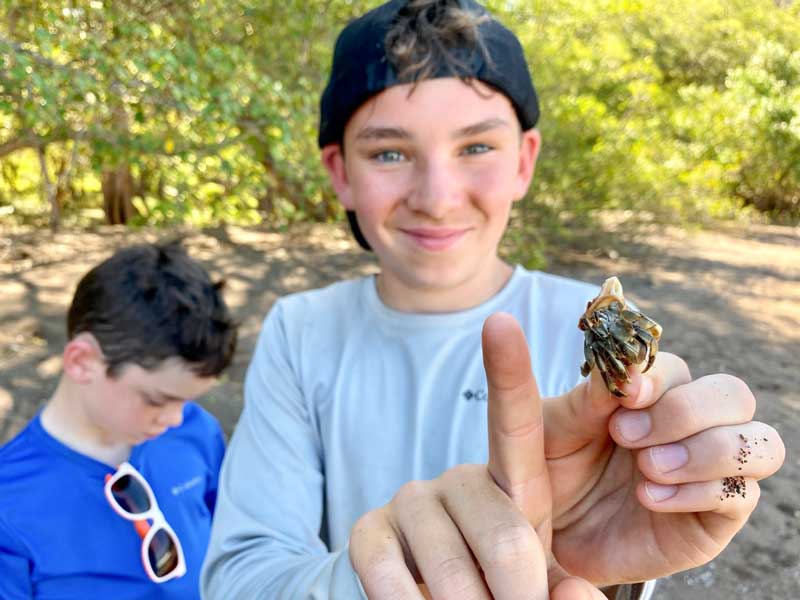 Historic Triangle Living Museums
As part of our Early American History curriculum, we took a trip to the Historic Triangle to visit Colonial Williamsburg, Jamestown Settlement, and Yorktown. These 'living museums' are much more than just actors playing characters on a set. Each community member is a historian of their trade and role in the community; they're modern-day practitioners of the 18th-century way of life. They use tools and techniques to apprentice in, and master, trades like blacksmithing, woodworking, and gunsmithing. They're world-renowned experts, who not only provide goods and services for the Historic Triangle, they also consult and produce for cultural institutions around the world.
You won't find a trades community with more experts anywhere else in the world, and here you can visit, ask questions, and observe their mesmerizing work. It's an unparalleled lesson in history and an impressive experience in its own right.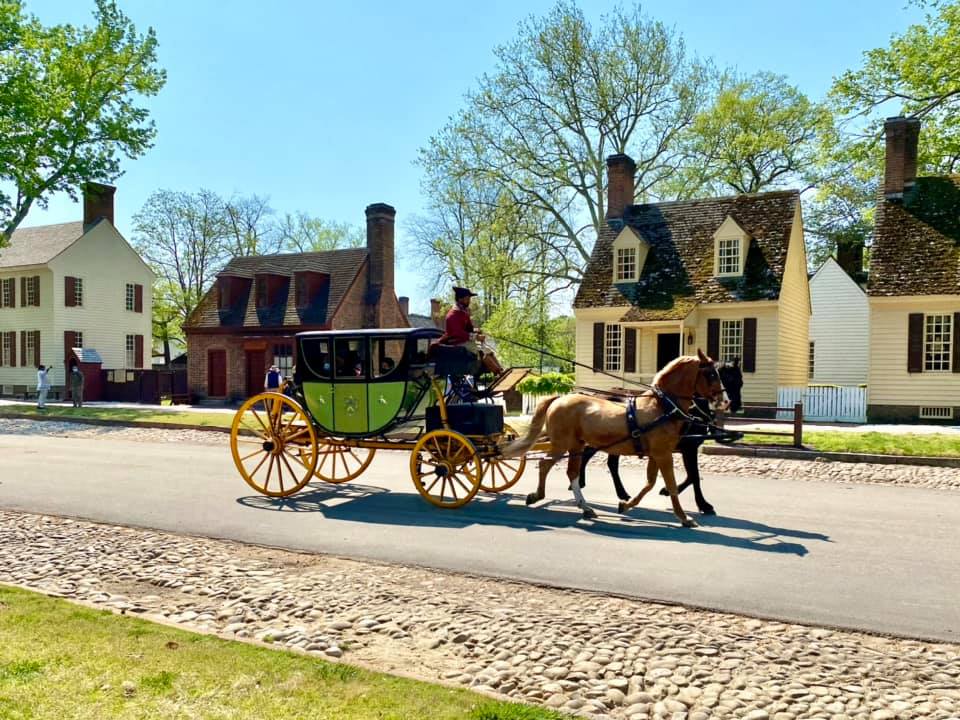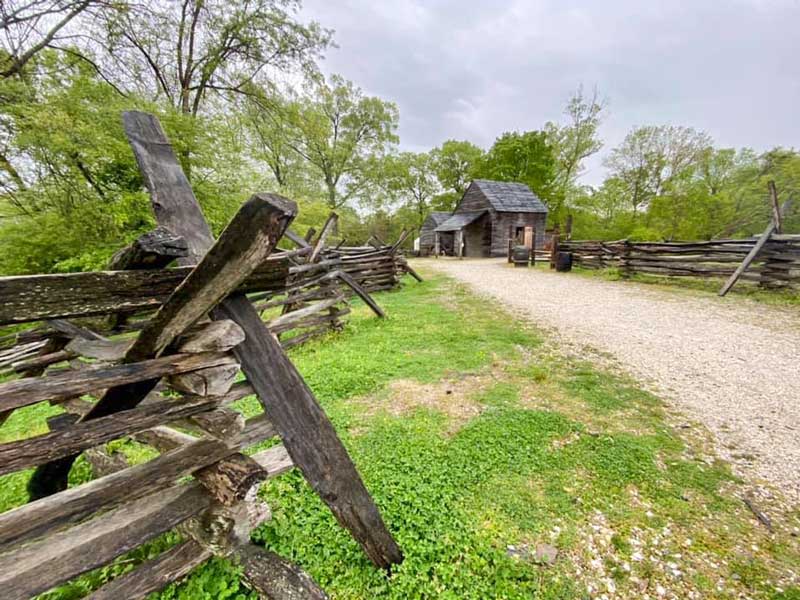 On to the Next Adventure
Obviously, our love for travel and adventure was not lost to the pandemic. We had to scale things back and learn to adapt, but homeschooling offered us that flexibility. Because we were able to travel when most people couldn't, it allowed us to take advantage of limited destinations, admissions, and hours of operation. We were able to plan our trips during off-peak dates and times. It was another unforeseen opportunity, and we embraced it. It provided for a few memorable 'field trips' and many more family memories.
Homeschooling wasn't always easy, and at times it was overwhelming, but it's an experience I would recommend to any parent willing to take up the task. If you can balance your schedule and accept that it may turn into a full-time endeavor, it offers advantages that can't be found in traditional schooling. If the need arose, I would absolutely homeschool again. But for now, our boys are back in 'regular' school and we're back to old routines. Work, school, and youth sports have reestablished their familiar rhythms in our lives and 'normal' is back in place.
The past two years have been a wild ride, but we're hopeful we've made it to the other side. It's time to get back out and see the world — It's time to get this blog moving again!